Nowhere is it written that you have to eat your entire meal in one place. State Fair visitors know this instinctively, but restaurant diners sometimes forget that simple fact.
So in wrapping up IBJ's month-long look at Clearwater-area restaurants (all of which, it turns out, can be seen from the same spot), I've opted to combine two near-neighbors, the chain cafeteria Jason's Deli (4026 E. 82nd St., 578-0543) and the local dessertery The Flying Cupcake (also 4026 E. 82nd St., 536-0817).
It was my first visit to a Jason's—there's another spot on North Meridian Street in Carmel and plans for greater expansion in the market—and my first surprise was the size. My impression from the outside was that it would be no larger than the average Qdoba. But Jason's has a long counter, a good-size salad bar, ice cream dispensers (free—a nice plus) and ample seating with room to spare.
With a push toward cutting out trans-fats, high fructose corn syrup and MSG from menu items, Jason's sells itself with freshness. We started with soups—there are a dozen or so in the daily lineup—settling on Fire Roasted Tortilla ($2.99/cup) and Chicken Pot Pie ($3.99/cup). Both were thinner than we had hoped but with plenty of flavor in the broth. Still, this was yet another case of in-store photos at chain restaurants being a dish's worst enemy, building up expectations that reality didn't meet.
I had better luck with the Nutty Mixed-Up Salad ($7.99 and available in a lighter portion for $6.49). Combining grilled chicken breast with organic field greens, grapes, feta, nuts, dried cranberries, pumpkin seeds, raisins and organic apples, the salad gave me only one regret—the thought that I might have had more if I had opted for the $7.59 salad bar, which also included sides and mini-muffins.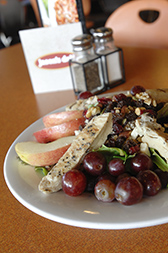 The Nutty Mixed-Up Salad from Jason's Deli. (IBJ Photo/ Perry Reichanadter)
From the substantial menu of sandwiches, paninis, potatoes and pasta we picked Jason's signature sandwich, the Muffaletta ($6.29/quarter, $7.99/half, $11.99/whole), offering grilled pleasures for those drawn to the olive-heavy, thick-breaded New Orleans staple. It's available either with turkey breast or ham and hard salami.
We bypassed the free ice cream but indulged in a fresh-baked cranberry walnut oatmeal cookie (99 cents) before scooting down the strip center to The Flying Cupcake just before it closed for the evening. (FYI: The Flying Cupcake has additional locations in Carmel, on Massachusetts Avenue, and on Illinois Street, with another slated to open in Fishers.)
Rather than hold up the lock-down, we took home the goods, including the Red Velvet Elvis ($3.50) with a heavy dose of chocolate chunks embedded in the bright cake all topped with cream cheese and white chocolate shavings. (Yes, I know that white chocolate isn't real chocolate, but that doesn't prevent it from improving just about anything it touches.) Peanut Butter Blackouts ($2.75) provided subtler pleasures, with traditional chocolate cupcakes capped with peanut butter frosting.
I'd trade a box of either, though, for the Blueberry Cream Cheese ($3.50). That reminds me that I need a few miles on the treadmill after such an indulgence. Your mileage may vary.•
–Lou Harry
__________
Last in a month-long look at Clearwater-area restaurants.
Please enable JavaScript to view this content.