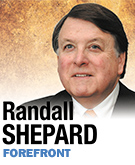 National headlines recently reminded us of the benefits Indiana reaps for its economy by thoughtful attention to our system of justice.

The newspapers reported a revised settlement covering a painful aspect of the Great Recession: the mortgage foreclosure crisis. Easiest to notice was the fact that 10 large banks had agreed to pay customers $8.5 billion to cover claims about robo-signing and the like.

Less noticeable was that, under an earlier settlement, the banks had hired outside auditors to review millions of client files to sort out the harmed from the unharmed. After two years and thousands of such reviews, the Comptroller of the Currency reported that just 6.5 percent of borrowers had suffered discernible loss. Finding those 6.5 percent had cost $1.5 billion.

The low number of actual victims and the high cost of finding them led the government and the banks to a faster, cheaper arrangement: discharge the auditors and pay something to every borrower regardless of whether they suffered a loss. This was an important reminder that transaction costs can eat up victim compensation if we allow it to happen.

Happily, Indiana's system for compensating wrongs has made great strides in reducing these transaction costs that can be such a drag on the economy. A recent U.S. Chamber of Commerce analysis of the impact of Indiana's legal system on its economic climate rated our state seventh-best on handling tort and contract claims, 10th on fairness of juries, and second on venue rules. It was far better than the ratings for any of the surrounding states with whom we compete.

Such results are hardly accidental. They are the product of continuing reforms by legislators, lawyers and judges.

Our rating on juries, for example, is partly the product of award-winning reforms that give Indiana more representative juries, improve how juries hear evidence, and instruct juries about the law in plain English.

Aside from trials, techniques like court-ordered mediation have become commonplace. Indiana's lawyers and judges commit thousands of hours a year to formal mediation training, helping avoid some of the cost of discovery. This commitment to efficient resolution has also become part of training new lawyers in Indiana's law schools.

On another important front, Indiana has made a massive effort to modernize court technology and the availability of information, benefiting everyone from individual citizens to credit agencies and insurance companies. Nearly half the state now uses the 21st century case management system called Odyssey, and the Legislature will be asked to permit faster implementation.

A seldom-appreciated aspect of Indiana's courts helps propel these improvements. Our methods of selecting trial judges make for low turnover, producing a bench of greater experience and vision.

As for the appellate courts, our system of merit appointment and retention by the voters has produced what one legislator called "raging moderates." It saves Indiana from the multimillion-dollar judicial campaigns so visibly distracting in neighboring states.

And as for foreclosures, Indiana has created a comprehensive system of facilitated settlement conferences, aimed at sorting out which loans can be salvaged and moving the rest more promptly back on the market.

A legal system committed to faster, simpler and cheaper resolution does not by itself create both a just society and a good economy, but it is a precondition. The lesson of the national foreclosure experience is that Indiana can, by force of its own will, build a healthier system.•

__________

Shepard, Indiana chief justice from 1987 to 2012, is executive in residence at Indiana University's Public Policy Institute. Send comments on this column to ibjedit@ibj.com.