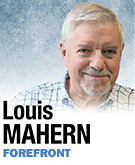 Some call it flimflam or a thimblerig. It is probably most recognized as the old shell game. Regardless of its moniker, our city leaders are about to pull it on local taxpayers.
I refer to the latest deal announced by Mayor Ballard.
The deal called for $7 million in tax increases that will primarily benefit the Capital Improvement Board and $30 million in budget cuts that primarily apply to basic city services.
Media outlets including IBJ have heralded the agreement as some sort of post-partisan coming together of Democrats and Republicans in a blessed fusion of good government. Prominently featured in virtually all the accounts is the notion that CIB will contribute $5 million to pay for public safety at its venues.
What is not mentioned in most accounts is that the city will use $5 million in tax increment finance property tax dollars to pay for roof repairs at the Capital Commons Garage that were the responsibility of CIB.
The city could have just taken the $5 million from the TIF slush fund and paid for the public safety needs, but that would have destroyed the fiction that CIB contributes to public safety. CIB is not out a dime.
The city faces a $40 million to $45 million budget gap in 2014. Meanwhile, CIB has a $50 million surplus.
So what's with taking care of CIB, no matter what?
Could it have anything to do with each CIB board member getting two suite tickets to each Colts game? These suite tickets, which come with a free VIP parking pass and complimentary food and beverages, have a street value of well over $500 apiece. Board members also get complimentary tickets to the CIB suite at Bankers Life Fieldhouse for any Pacers game. They have but to ask.
These Colts/Pacers perks alone are worth well over $10,000 per year per board member.
By the way, the mayor gets his own Colts suite along with at least 35 free tickets. While the mayor may well use some of these tickets for the Boy Scouts, etc., the fact remains they are his to use as he wishes. For instance, he might even host party officials or campaign contributors. These mayoral freebies to Colts games alone are worth nearly $200,000 a year, not counting the food and soft drinks.
The mayor also gets free tickets to the Pacers any time he wants.
You have to admire CIB for its efficiency. For a little over $300,000 a year in well-placed freebies, it is getting a tax increase return of nearly $7 million. Hedge fund managers would be borne about in sedan chairs for returns that handsome.
So now comes the hard part. I speak of the $30 million in cuts to basic services.
The $30 million in cuts come after the mayor gets his priorities met. You know, the mayor's personal staff, raises, the $10 million for the Pacers, the $6.2 million for the Broad Ripple Garagemahal and the tens of millions of dollars for private-developer subsidies in TIF districts. Etcetera.
While we await the results of this cost cutting, we can be sure of what won't be eliminated. Members of the Capital Improvement Board will collectively continue to receive well over $100,000 a year in free Colts and Pacers tickets and free VIP parking. The mayor will continue to get his sweet suite and not coincidentally the Pacers will continue to get their piece of the pie.
As the song goes, "Same Story, Different Day."•
__________
Mahern has been an assistant to U.S. Rep. Andy Jacobs and U.S. Sen. Birch Bayh and served in the Indiana Senate. Send comments on this column to ibjedit@ibj.com.
Please enable JavaScript to view this content.