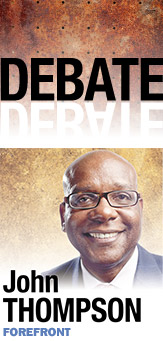 Question: State Sen. Mike Delph has introduced a bill to force the Indiana Economic Development Corp. and other state and local agencies to disclose more about businesses receiving tax incentives. Among other stipulations, the businesses would be required to publicly update information about investment levels and job creation. Is the IEDC too secretive, and to what extent should the companies be forced to reveal the information?
Answer: In just more than eight years, Indiana has become a national role model for economic development as other states have enacted similar business-friendly policies, practiced fiscal discipline, and replicated the IEDC organizational structure. Our state's emergence as an economic development leader is no accident, as the General Assembly partnered with us throughout this time to build this job-attracting machine.
IEDC was established in February 2005 to replace the former Department of Commerce. In order to respond quickly to the needs of businesses, it operates like a business. It was structured as a quasi-governmental organization to be nimble and responsive to business needs and to eliminate red tape that might make doing business in Indiana difficult.
Indiana, unlike many of our competitors, does not put tax dollars at risk by offering "upfront" incentives to companies. Businesses that come to Indiana invest in our state based primarily on our business-friendly environment, low operating costs and access to hard-working employees. Our performance-based economic development tax credits are used only to seal the deal.
When the state does offer conditional incentives, they are paid only after Hoosiers are hired. The promised level of employment is the company's best guess.
Sometimes they actually hire more, sometimes less. Businesses don't have a crystal ball, which is why the incentives are performance-based and prorated according to the actual level of hiring.
Often, at the request of companies, IEDC is asked to maintain confidentiality relative to their business and plans. While we all seek as much openness and transparency as possible, companies are entitled to a reasonable degree of privacy, and we strive to respect that.
This is why part of the restructuring in 2005 included a change in statute to allow negotiations with a company to be kept in confidence while recognizing that taxpayers have the right to know the final terms of every deal. Under this model, the public always has the ability to request any and all IEDC contracts.
We all agree that taxpayers are entitled to information concerning actual job creation and the financial impact to the state. This information is reported through IEDC's quarterly public board meetings and annual reports. For example, IEDC issues a compliance report each year listing each company and the maximum incentives allowed as well as a separate job-realization report, in cooperation with international accounting firm Crowe Horwath LLC.
IEDC has taken steps over the last several years to improve processes and now exceeds the transparency required by law. While transparency is critical, a reasonable degree of confidentiality is important so that IEDC can compete for job creation opportunities. Individuals and business entities must have confidence that they can approach the organization knowing their business plans will not be made available to competitors.
The Jan. 22 committee amendment to Senate Bill 162 offers reasonable common ground on this issue by removing language that could jeopardize the state's ability to attract new jobs and investment while also building on IEDC transparency.
Indiana has the economic development structure and climate in place that allows us to roll up our sleeves and bring business to Indiana. The Hoosier State is welcoming companies every day.•
__________
Thompson, CEO of Thompson Distribution Co. Inc. in Indianapolis, is a director of the IEDC. Send comments on this column to ibjedit@ibj.com.
Please enable JavaScript to view this content.