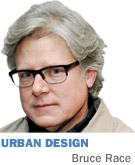 As late as 1950, Indianapolis' city limits were served by a system of streetcars and buses that resulted in compact and socially active neighborhoods. Our citywide density was more than 7,700 people per square mile back then. Today, it is about 2,100. What happened?
As is the case with most U.S. cities, we have spread out in a regional network of areas quickly subdivided after World War II. And Unigov brought city and county together under one municipal umbrella to facilitate economic expansion of the city while providing more efficient public services. So our official land area grew from 55 square miles in 1950 to 372 square miles today. As part of the merger, we inherited areas of the county that are very low density, unplanned and underserved by basic infrastructure.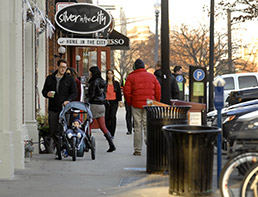 Massachusetts Avenue is one of the walkable arteries in the old city that was once served by a streetcar line and could be again. (IBJ Photo/ Perry Reichanadter)
But in our city's core, the traditional framework of streets, commercial blocks, schools and churches from before 1950 continues to provide infrastructure supportable by transit.
A tour of College Avenue from downtown to Broad Ripple or Washington Street from downtown to Irvington reveals neighborhoods developed during our streetcar era. Many of my favorite places in Indy—Mass Ave, Broad Ripple, Irvington and Meridian-Kessler—are former streetcar neighborhoods, districts and intersections.
These streetcar neighborhoods have great walk scores, and as I discussed in my April 2012 column, they sport the region's highest residential sales prices per square foot. People want to live in these places. Their block patterns, streets and buildings are organized to support walking and are socially attractive. As a result, they are popular destinations for dining, bar-hopping and shopping.
Other areas in the south part of the city are also building on their traditional transit-oriented patterns and compactness. Virginia Avenue and Fountain Square are becoming increasingly desirable and affordable alternatives to neighborhoods to their north. Nightlife and foodie opportunities have ballooned in Fountain Square the past couple of years.
I think University Heights by the University of Indianapolis is another sleeper value that will mature into a cool neighborhood, especially if we extend a Bus Rapid Transit line down Madison Avenue as called for in the Indy Connect regional transportation strategy.
Enhancing our legacy streetcar neighborhoods and creating new ones is the objective of a lot of what's going on today.
Indy Rezone, for example, is an effort to rework our Sputnik-era zoning to support traditional patterns rather than erode neighborhoods with post-war, suburban, auto-centric design. Redevelop Indy is targeting strategic public-private catalyst investments.
Reconnecting to Our Waterways is an effort funded by Lilly Endowment and co-sponsored by more than 100 organizations to imagine how to turn our streams and rivers into recreational and community assets. There are also 23 community development corporations working every day to improve housing and public safety and to revitalize commercial districts. This just scratches the surface.
In this busy region of almost 2 million people, many of our most promising assets are the product of our streetcar past. And those assets don't stop at the pre-Unigov city limits. If you enjoy walking and dining in small-town centers in the region, you can thank the railroads and the streetcar for those, too. They are part of the same legacy. There were five interurban streetcar companies that linked central Indiana's walkable main streets together.
In urban design and planning there is a concept, coined by German geographer Walter Christaller in the 1930s, called "central place theory." Transportation and economic geography help define the central place or places for a market area.
Central Indiana has a constellation of such places that are, and have always been, interdependent. They must be connected. And they are connected in one sense with an adequate road network. That is a must for a strong, resilient regional economy. But the most dynamic regional economies also have a comprehensive transit system. Transit creates value.
The Indiana Legislature will vote whether to let us vote to self-fund transit. Even if they allow us to vote to fund transit, we actually have to have the collective vision and will to do so.
Our future economic well-being as a state and region is riding on the transit vote. Just like changing our zoning to reflect a contemporary economy, we need to create a transportation infrastructure that interconnects our communities to keep pace with peer regions.•
__________
Bruce Race, FAIA, FAICP, is an award-winning architect and urban planner, owner of RaceStudio and recipient of the Indiana Sagamore Planning Award. He lives in a historic Indianapolis neighborhood and teaches urban design at Ball State University's Downtown Indianapolis Center. His column appears monthly. He can be reached at br@racestudio.com.
Please enable JavaScript to view this content.