Paul Brenner didn't arrive at Emmis Communications Corp. with a pedigree suggesting he was capable of technological innovations that could shake up the radio industry.

Brenner is Ivy Tech, after all, not MIT.

But Emmis' chief technology officer is making a name for himself on a national stage.

Brenner—and Emmis—is largely credited with pioneering two recent technological breakthroughs that could pump badly needed revenue into the radio industry.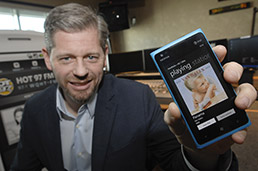 Paul Brenner often tells fellow Ivy Tech graduates to be proud of their backgrounds and that they don't have to have an Ivy League education to reach great heights.(IBJ photo/Perry Reichanadter)
Brenner, who joined Emmis in 1996, was recently awarded the 2012 Excellence in Engineering Award by Radio World magazine for his work in allowing FM radio to be broadcast through Sprint cell phones starting later this year. The award also recognizes his role in technology that transmits continuous real-time traffic information through high-definition FM radio.

"He's an entrepreneur as well as a technological leader," said Radio World Editor Paul McLane. "He's someone who knows how to promote our industry but also help us find new ways of doing things."

The 44-year-old Evansville native is clearly more than an inventor. After he developed the technology that brings real-time local traffic information to mobile devices and digital dashboard displays, he made sure someone would want it. He sold the idea to the likes of Honda, Mitsubishi, Audi, Mercedes and GPS-maker Garmin.

"We're going to add another large, Asian automaker in the next month," Brenner said.

After the technology was invented, a few more pieces had to fall into place to make it work. Brenner enlisted the tech firm Nokia to collect the traffic information from local sources. And he made sure there was a radio network in place to distribute it by founding the Broadcaster Traffic Consortium, of which he is now the president.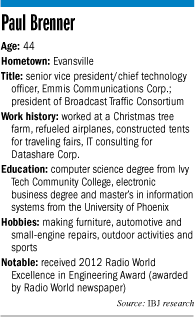 The BTC is a group of 22 radio companies that make the traffic information available through FM radio spectrum in about 100 North American markets. Most of the major radio companies—with the exception of Clear Channel—are now part of the BTC. Clear Channel has its own system—Total Traffic Network.

Car manufacturers pay the BTC a fee for every car sold that includes the technology. That revenue is then distributed to radio stations in the network based on the reach of their signal. Brenner said Emmis gets "a little less than 10 percent" of BTC's total revenue.

Industry analysts said a company like Emmis could take in a low-seven-figure annual sum from the initiative. That amount will grow as carmakers sell more cars with BTC's traffic-signal receiving capabilities.

By 2015, analysts estimate the radio stations involved in BTC will collectively rake in more than $20 million a year from the service.

"The best part about this is that it's a new way to use the high-definition spectrum," said Robert Unmacht, a partner at iN3 Partners, a Tennessee-based investment banking consultancy focused on radio. "It's a very economical way to send local information to a local audience. And it's using spectrum that's just sitting there unused, anyway."

Unmacht added that the BTC offering is a good way to induce market demand for high-definition radios, which have had difficulty catching on.

The BTC formed with just eight radio companies in 2007.

"It was three years of really, really tough work technically, politically and legally," Brenner said. "It took 18 months just to get enough broadcasters together to look like it was one cohesive initiative."

Cellular sensation

Emmis and other radio companies could see an even bigger boost from Brenner's work to integrate radios and cell phones.

Brenner developed the app—called NextRadio—that will be sold pre-loaded on Sprint cell phones starting later this year.

Brenner also developed Tag Station, a back-end cloud service application that is loaded onto radio stations' computer systems and allows station operators to transmit large amounts of interactive data to cell phones via NextRadio.

Radio stations pay Emmis what Brenner calls "a relatively low" amount for Tag Station. He said the real earning potential is in the interactive digital display ads radio stations can sell through cell phones.

Before Brenner's developments, the only information stations could transmit was song title and artist via a digital display.

Now, stations can transmit album art, complete artist bios and videos as well as information on concerts and more. An array of ad messages can also be sent through the system. Listeners will be able to make requests, purchase songs and concert tickets, and interact with the disc jockey through their cell phone. Advertisers will be able to send visual messages, including special offers and coupons to listeners based on their location—which can be tracked through the GPS chip on their phone.

"This technology married the open mic of mass market radio with a mobile device people look at 50 to 60 times a day," Brenner said.

Advertisers interested

Bruce Bryant, president of Indianapolis-based Promotus Advertising, thinks advertisers will be interested in the new radio-cell-phone technology, but added that radio programmers will have to show they're offering more than companies such as Pandora and Slacker that are already providing online music services.

One big advantage NextRadio has is that it doesn't require cell phone users to use data plan minutes to listen and interact, Brenner said. Unmacht, the investment banking consultant, isn't sold on Brenner's radio-cell-phone innovations.

"Quite frankly, I question the demand for it," he said. "I haven't heard advertisers or radio listeners clamoring for this type of service. I think it's a tough sell."

Brenner is used to tough sells. In fact, he relishes them. "I was raised by a Maine drill sergeant, German Catholic, and he taught me to fight for everything I believe in," Brenner said. "If you want me to do something, tell me I can't do it."

Brenner spent three years after graduating from Evansville Central High School working a variety of odd jobs—with the emphasis on odd. He did manual labor at a Christmas tree farm, he refueled airplanes and put up tents for traveling fairs before he enrolled in what is now Ivy Tech Community College, to study photography.

At Ivy Tech, he took a beginning computer class, and found he had a knack for programming, system work and computer hardware construction.

Growing up, Brenner was more a gearhead than a computer geek, spending his formative years doing automotive and small-engine work at home with his family. He also developed a skill for making and repairing furniture. Going to college was about the furthest thing from Brenner's mind.

"My dad was a carpenter and a locksmith," Brenner explained. "I was born into a blue-collar work family. A lot of times, I had to figure things out on my own."

With encouragement from his Ivy Tech instructors, he pursued a degree in computer science. He later earned undergraduate and graduate degrees from the University of Phoenix in electronic business and information systems.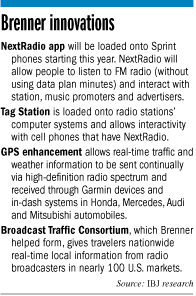 He landed a job with Datashare Corp., helping people with systems integration. At first, his job consisted of helping companies hook up to e-mail and the Web. Then he began more sophisticated work on programming and hardware development for large global companies. He traveled extensively. Not bad for someone who grew up without a computer.

Hiding his past

While Brenner said he wouldn't trade his upbringing and work history for anything, he admits there were times he tried to hide it.

"There were a lot of times where I really had to prove myself," Brenner said. "I'd walk into a room full of Harvard fellows and graduates from MIT and Dartmouth. Here I am with a diploma from Ivy Tech."

But Brenner said he found out that he knew the same things as his more highly pedigreed counterparts. And he had something they didn't.

"I came to realize the value of my diversified background," Brenner said.

He credits that background for helping him push through BTC and cell-phone radio technology.

"In my past work, I've had to be creative, figure out difficult mechanical problems and face serious physical challenges," Brenner said. "I didn't learn that stuff in books."

While at Datashare in the mid 1990s, Brenner crossed paths with Emmis Chairman Jeff Smulyan while doing consulting work for the Indianapolis-based radio conglomerate.

Smulyan hired Brenner in 1996 and put him in charge of increasingly bigger projects. Brenner's education and odd work background was never a concern to Smulyan.

"Paul demonstrated early on that he was talented," he said. "The quality of his work and his approach to challenges were more important to me than his academic degree."

Smulyan shudders to think where the initiatives he has championed would be without Brenner.

"I don't think there's anyone in the American broadcasting industry," Smulyan said, "that has had more of an impact on radio than Paul Brenner."•