The NBA is on the verge of allowing advertising on player jerseys, a potential source of revenue long resisted by major U.S. sports leagues. With advertisers sure to bite, the question now is how much money the move will generate for small-market teams like the Indiana Pacers and whether other sports will follow the NBA's lead.
Marketers think some teams could net $15 million a year from jersey ads and that the league-wide annual take could be $100 million.
Jersey ads for the Indiana Pacers are likely to be in high demand, but league sources said small-market teams should expect annual revenue of only $1 million to $5 million. That number would grow if, as expected, owners pool the new revenue stream and share at least part of it among the league's 30 teams.

Morris
"Right now, the league is dealing with this and trying to determine what makes the most sense," said Pacers President Jim Morris, adding that he "is confident the league will sort out" the issue in a way that is fair to all teams.
The NBA Board of Governors is expected to approve ads on the front of jerseys at its April meeting, allowing teams to start selling the spots this summer or fall.
Originally, NBA officials hoped to have ads on jerseys next season, but Sal LaRocca, the league's executive vice president of global merchandising, said the teams' sales executives told him they needed more time to sell the new inventory. The target debut for the ads is now the 2014-2015 season, he said.
Unlike the WNBA, which recently began putting ads all the way across the top of the jersey, NBA owners are leaning toward approving a 2-1/2-inch-by-2-1/2-inch ad placed on either the upper-left or upper-right corner of the jersey. Right now, owners want only one ad per jersey. But a source close to the league said if advertisers take to the ads, owners will consider adding a second patch.
A hit with advertisers
Despite the relatively small size of the ads, businesses are already expressing interest.
"Companies will line up for these ads," said Marc Ganis, a Chicago-based sports business consultant who counts several NBA teams as clients.
One local company, The Finish Line, has already voiced interest in putting its logo on Pacers' jerseys. The ads would appear on players' game uniforms and on replica jerseys sold to fans.

Schreibman
"We're always looking to reach our audience in new and unique ways, so we'd definitely be interested," said Steven Schreibman, chief marketing officer for The Finish Line, which signed a deal in October to put its logo on the WNBA's Indiana Fever jerseys.
Being the first company in a new advertising avenue makes an important statement about that firm, Schreibman said. "It implies that your company is cutting-edge."
NBA teams, Ganis said, are likely to use that type of exuberance to wrap the jersey deals into bigger financial arrangements with sponsors. Some team owners, league sources said, are talking about putting clauses in the jersey ad sales deal that would raise the annual price of the deal if a team makes a deep playoff run or has a certain number of its games televised nationally.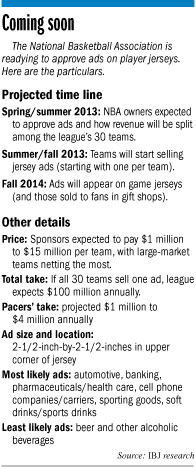 "I think a variety of local, national and even global companies would be interested in these ads," Ganis said.
Basketball is "a global sport and some teams have international stars," he added.
Companies in the automotive, banking, pharmaceuticals/health care, cell phone, sporting goods, and soft drinks/sports drinks categories are likely suitors, Ganis said.
One category sports marketers said teams might shy away from is beer.
"I think certain sin categories will definitely be off limits," said Larry DeGaris, director of academic sports marketing programs at the University of Indianapolis. "Hard liquor I think would definitely be out. With beer, it probably depends on the market."
WNBA teams started putting ads on team jerseys in 2009, with some teams reportedly charging $1 million to $2 million annually.
Ads on uniforms are common in international soccer and cycling and U.S. and international motorsports, but have long been shunned by the NFL, NBA, NHL and Major League Baseball. Those leagues have typically permitted only small logos from official outfitters such as Nike or Reebok.
But the lingering economic recession has made sports sponsorship dollars scarce. Ganis said if the NBA's jersey ads are well-received, he thinks other major U.S. sports will follow.
The NFL started allowing teams to put ads on their practice jerseys in 2009. Ganis said the 32 NFL team owners are "watching the NBA situation closely."
How to slice the pie
NBA team owners are unanimous in their desire to sell jersey ads, but small-market and large-market teams are debating how to sell the ads and distribute the revenue.
Large-market teams like Chicago, New York, L.A. and Boston prefer to sell the spots locally and let teams keep most, if not all, the revenue. But small-market teams like the Pacers argue that system would push the salary cap higher while broadening the revenue gap between large-market teams and their small-market brethren.
The salary cap is based on league-wide revenue, so anything that increases the league's collective revenue hikes the player salaries NBA owners pay.
One proposal currently on the table is for teams to share 25 percent of the collective jersey advertising revenue. That proposal gained momentum at an owners' meeting in Miami in mid-January.
However the money is split, the league and its teams will have to explain to fans why jersey ads are necessary and what fans get out of the deal, DeGaris said.
"The [Dallas] Mavericks can't sell a jersey sponsorship just for [team owner Mark] Cuban to put $15 million in his pocket," DeGaris said. "If that's what fans are thinking, the sponsorship is a disaster. NASCAR tells fans at every turn, the sponsors on the cars are what makes this sport possible. That's the message the NBA and its teams need to send to its fans."
Any new revenue stream that helps teams keep ticket prices from rising is welcome, Morris said, and he thinks fans will agree.
"There's been no pushback with the jersey ads in the WNBA whatsoever," Morris said. "This business is about using your assets, and [ad space on jerseys] is one of them. I think fans of the game understand that."
Morris isn't sure what the demand for the new jersey ad will be, but he said sponsorship demand in general for the team has increased "substantially" over the last three years, and "gets better every month."•
Please enable JavaScript to view this content.