Alan Levin has been managing partner of Barnes & Thornburg LLP for 16 years, far longer than the heads of most major Indianapolis law firms. But what most sets him apart is that he's built his firm into a national practice by taking the maverick approach of going it alone instead of merging with an out-of-state rival.

Partners in December elected Levin, 58, to another three-year term, the sixth time they've done so in his 31-year legal career spent entirely at Barnes & Thornburg.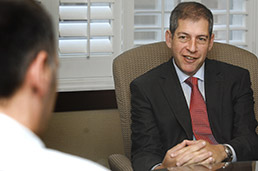 Alan Levin acknowledges that the law firm gets proposals from competitors interested in taking Barnes & Thornburg as a merger partner, but he consistently rebuffs them. (IBJ photo/Perry Reichanadter)
The firm has swelled in size since he took the helm. It now boasts about 550 lawyers in 12 offices, a whopping 135-percent increase from 16 years ago.

The firm's total number of lawyers easily ranks it among the 100 largest in the country, National Law Journal rankings show.

"With a merger, you get a lot of lawyers real quick," Levin said. "With us, it's been gradual. But we're comfortable with that approach."

Barnes & Thornburg typically launches an office with just a few lawyers and grows it as necessary. Its latest addition, in Los Angeles, is a prime example. The office launched in 2011 with one lawyer and since has grown to 25.

Where Barnes & Thornburg might put down stakes next is uncertain. But what's clear is that the growth has made it an attractive merger partner.

The firm has entertained several marriage proposals throughout the years—a few even seriously—but has never made it to the altar for fear of losing control of local operations.

Still, suitors come calling, sending out feelers to Levin nearly every month, only to be rebuffed.

Mike Williams, managing partner of Krieg DeVault LLP, the city's sixth-largest firm, respects what Levin has accomplished. Having served as managing partner for 23 years, even longer than Levin, Williams has witnessed Indianapolis' changing legal landscape that has swallowed up several firms.

"I would say from all appearances, they've been very successful with their geographic growth and their belief that they need to be in other markets outside of Indiana but still retain their corporate headquarters in Indianapolis," Williams said. "That's what we've done as well on a smaller scale."

Tennis anyone?

Levin's leadership style may best be described as fiercely competitive yet consensus-building.

His competitiveness can be traced to his love of tennis, which led him to play collegiately at the University of Pittsburgh. A native of Erie, Pa., Levin returned to the city to attend Mercyhurst College for his third and final year, graduating in 1976.

His command of the racket led him to Sandusky, Ohio, where he managed a tennis club for two years. He moved to Indiana upon landing a job as a tennis pro at a new club in Anderson.

But following in the footsteps of his father, a labor lawyer, Levin ultimately chose to pursue a legal career and enrolled in law school at Indiana University in Bloomington in 1979.

He served a summer clerkship at Barnes & Thornburg and has been at the firm since graduating in 1982.

Barnes & Thornburg formed the same year when locally based Barnes Hickam Pantzer & Boyd merged with South Bend-based Thornburg McGill Deahl Harman Carey & Murray.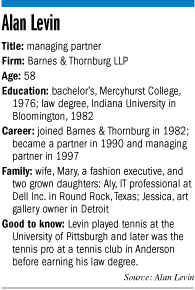 Practicing in the tax area, Levin achieved partnership in 1990 and ascended to managing partner of the entire firm in 1997 after first leading Barnes & Thornburg's Indianapolis office.

Barnes & Thornburg since has more than doubled its roster of lawyers both in Indianapolis and nationwide, often taking him out of the office and away from his law practice.

The strains of serving as a managing partner, and for as long as Levin has, are not lost on Julie Armstrong, executive director of the Indianapolis Bar Association.

"It's just so stressful, and it requires you not to just be a lawyer but a businessperson who also practices law," she said. "Many people don't have an interest to do that and even more people say they don't have the skill set to do that."

Benefits of expansion

The firm's dozen offices nationally are enough to land it coveted national law firm status among legal observers. That's significant because the firm can serve clients from multiple parts of the country rather than defer to outside lawyers for assistance. In addition, and even more important, it gains access to new clients that otherwise would be unreachable.

Barnes & Thornburg officially launched the West Coast practice in February 2011, stretching its presence to the four major regions of the United States.

Before opening the Los Angeles office, Barnes & Thornburg entered Atlanta, Minneapolis and Columbus, Ohio, in 2009. The firm has additional locations in Elkhart, Fort Wayne and South Bend, as well as in Chicago; Washington, D.C.; Grand Rapids, Mich.; and Wilmington, Del.

The Indianapolis office has 237 attorneys. The Chicago office, with about 100 lawyers, is Barnes & Thornburg's second-biggest.

Conversely, several outside firms have entered Indianapolis by opening offices or absorbing existing practices. The more prominent players include Greenville, S.C.-based Ogletree Nash Smoak & Stewart PC and Cleveland-based Benesh Friedlander Coplan & Aronoff LLP, in addition to Cincinnati firms Taft Stettinius Hollister LLP and Frost Brown Todd LLC.

Adding to the tumult: Two of Indianapolis' largest firms, Baker & Daniels LLP and Bingham McHale LLP, merged with outside rivals to become Faegre Baker Daniels LLP and Bingham Greenebaum Doll LLP.

Keeping its headquarters in Indianapolis allows Barnes & Thornburg to charge Midwestern fees, which are typically lower than in many parts of the country. Owning its building at 11 S. Meridian St. doesn't hurt the rate structure, either.

So, while Levin isn't willing to predict how many more terms he'll serve as managing partner, he's doubtful a merger is in the cards anytime soon.

"I think it's highly unlikely that that would happen," Levin said.

And that suits firm partners like John Maley just fine.

"It's not an accident," he said of the firm's strategy. "It's part of the strategic planning that the partnership has long supported."•