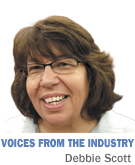 The hosting of the 2012 Super Bowl brought well-deserved recognition to the Indianapolis dining scene. We no longer wait years for trends from the coasts to reach the Midwest, and although we may never fully accept molecular gastronomy, Indy offers diverse options with a lot of innovation. Zagat surveys for Indianapolis also point to the changing climate in our city.
With the explosion of TV cooking shows, today's diners are more in tune with current food trends, which has helped us to be more educated diners and receptive to new trends. Local chefs such as Neal Brown and Ed Rudisell use their travels for creative inspiration. Virtual sharing on social networks and a communal atmosphere within the restaurant industry can take trends cross-country with lightning speed.
The beginning of a new year brings out many top trend lists.
Locavore
Arguably the No. 1 trend for 2013 is locavore concepts. Ten years ago, R Bistro was blazing trails in Indy with the use of local fresh ingredients and seasonally changing menus. Recess has taken the concept to a new level with daily changing menus created from the best available ingredients—that day.
The concept of local and sustainable has reached the chains with the success of restaurants such as Seasons 52. Look for head-to-tail use of the whole carcass, new cuts of meat, and organ meats on menus.
Hyper-local sourcing including restaurant gardens will continue to grow. Restaurant settings will include salvaged fixtures or building materials, such as Bluebeard has created.
Food trucks
Will there be a shakeout from the food truck explosion? Just three years ago, there were two trucks—West Coast Tacos and Tacos without Borders. Today, there are more than 60. Food trucks can be an entry into opening a restaurant, such as Duos Kitchen has done, or an opportunity for a brick-and-mortar restaurant to add growth options, such as Edwards Diner's Dashboard Diner.
Indianapolis is fortunate that food trucks and restaurants are mostly able to coexist. Although we will see a continual shakeup in the players, the trucks are finding ways to supplement the lunch crowd business with catering and events.
Snackification
Snackification is a new concept formed out of young people's interest in frequent, smaller meals shared with friends. Small plates are popping up on menus around the city including Black Market, which has a communal table.
Restaurant nutrition
Growth in nutrition awareness compels operators to expand their use of super foods. Whole grains, kale, beet greens and gluten-free are making a success of restaurants such as Zest! Salts are being used more for finishing and less for cooking. Look for restaurants to begin charging for bread baskets rather than their being mainstays on tables.
Allergen awareness will come more to the forefront as the Americans with Disabilities Act makes recommendations to accommodate people with allergies. Many chains already have procedures in place to avoid cross-contamination when informed of a guest's allergy.
Mixology
Classic cocktails, artisanal spirits and craft beer are exploding. Although labor-intensive and slow in the making, Prohibition-style cocktails (1933 Lounge) and little-known spirits (Libertine) are making their way onto bar shelves throughout the city.
Platt 99 is the newest to focus on mixology as an art. Indy's microbrew scene is one of the finest in the country. It includes brew pubs with inventive menus such as Brugge as well as those focusing strictly on the beer, such as Sun King and Flat 12.
Brewers are in the expansion mode. The Owner's Wife will open soon, and Bent Rail is looking for a location. If the Artisanal Distillery legislation passes at the Statehouse, watch for quality hand-crafted spirits to be added to the mix.
Prix fixe menus
The success of Restaurant Week promotions offering value and crafted multi-course menus (Indy-Devour, Chowdown, Northside Nights) have started to appear in chains in the form of 2fers and in upscale restaurants as tasting menus.
Pop-up restaurants
Pop-up restaurants will be the next thing to watch for. Popular on the West Coast, followers show up seemingly at a whim in unique locations for upscale wine and dining.
Indiana is projected to reach $9 billion in restaurant sales this year. The economics of opening and running a restaurant might play a big part in what we will see in new trends. The effects of the Affordable Care Act, proposed food and beverage taxes, unresolved payroll tax obligations, and labor and food costs could all soften growth potential.•
__________
Scott is executive vice president of the Indiana Restaurant & Lodging Association. Views expressed here are the author's.
Please enable JavaScript to view this content.