The Indianapolis Museum of Art's $326 million endowment needs some R&R, its new leader says.
Charles Venable, who became the Melvin and Bren Simon director and CEO in October, plans to cut costs and use major exhibits to boost attendance—a strategy aimed at reducing the museum's reliance on investment returns and allowing the endowment to grow back to its pre-recession level.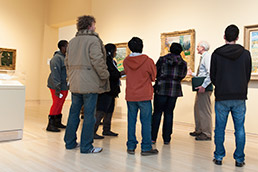 A guide leads visitors through the Indianapolis Museum of Art. (IBJ photo/Eric Learned)
"This is a very strong organization, and this is a nice endowment. But I do want to make sure we get back as soon as possible to taking a conservative amount from our endowment," said Venable, 52, who previously spent five years in the top position at the Speed Art Museum in Louisville.
He succeeded Maxwell Anderson, who resigned in October 2011 after five years on the job, to take the top post at the Dallas Museum of Art. Under his watch, the IMA raised its profile—in part by opening the 100 Acres Art and Nature Park and acquiring the historic Miller House and Garden in Columbus—but also faced financial challenges.
Perhaps the biggest: The market crash of 2008 and 2009 sent the IMA's endowment—the museum's biggest source of revenue—tumbling from a pre-recession high of $393 million to $266 million.
The market rebound has eased some of the pain, and the endowment—technically a collection of smaller investment funds, some earmarked for specific purposes—closed the fiscal year that ended June 30 with $326 million.
During the year, the IMA drew down 6.3 percent of the endowment, with most of the cash used for operating expenses.
But that's not the number that worries Venable.
More than one-third of the endowment is earmarked for art purchases and other specific purposes. The portion of funding the IMA can use for operations ended the year at $203 million after an uncomfortably high 8-percent draw.
Venable wants the museum to reduce its dependency on the fund to 5 percent, ideally reaching the 4-percent range.
IMA board member Tom Hiatt, who spearheaded the CEO search last year, praised Venable for exercising similar restraint with the Louisville museum's endowment while significantly expanding programming.
Venable also was able to raise the Speed museum's profile by raising $50 million for a massive expansion.
"Of course, we're not anticipating any major building project, but I think every institution needs a clear vision of the future and clear understanding of its areas of excellence and what it needs to build upon to aspire," said Hiatt, founding partner of Centerfield Capital Partners in Indianapolis. "There's a lot that we can do to sort of develop a new business model."
Step one for the IMA, Venable said, is reducing the institution's $22 million annual budget.
Venable said it's premature to get into specifics. He said he needs a few more months to figure out how to shuffle positions and where to cut among the museum's 250 jobs.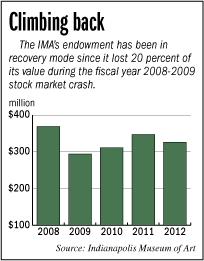 He already has unleashed one key move. Last month, Venable eliminated the position of Chief Operating Officer Nick Cameron, who had earned about $195,000 in salary and benefits a year, as part of a restructuring that merged seven departments into five.
While more cuts may happen down the road, Venable said he's more concerned about boosting revenue—principally by increasing attendance. About 400,000 visitors come through the IMA's doors annually, a figure he wants to double.
"With earned income, frankly, I need more customers in the buildings," he said. "Then you will get a higher number of people … who will actually buy lunch and buy cups of coffee and buy from the gift shop and buy tickets to exhibitions."
Betting on big shows
Attendance has been creeping back since bottoming out below 380,000 visitors in 2009. But even with the improvement, the museum is attracting fewer than half of the 1 million visitors it could accommodate annually.
Venable attributed the low numbers to a lack of major special exhibits.
That's why he approved spending more than $1 million on the three-month Henri Matisse exhibit that opens in October.
The exhibit alone has the potential to draw in 80,000 to 100,000 people, the museum projects. With adult tickets for the exhibit costing $20, Venable is confident the IMA will come out ahead even after shouldering the steep cost.
"We have to get over a certain threshold where we gamble that we can get that many people," he said.
If the IMA does well with Matisse, Venable sees the organization exhibiting three or four world-renowned artists a year, compared with the current one or two.
"Certain artists just have followings. What you have to do is balance those kinds of things—hit-it-out-of-the-ballpark artists—with local artists, emerging artists. You just can't spend $1 million" bringing in lesser-known works, he said.
He said investing in big shows is the first step in a multi-pronged approach to boosting other sources of revenue.
Members matter
Increased attendance wouldn't flow directly to the bottom line because general admission to the not-for-profit—excluding the special exhibits—is free.
More people coming through the doors requires the IMA to hire more staff to serve those guests and maintain the facility.
"If you just do the straight math and say it's all about the bottom line, the more people we have in this building, the more it will cost us," Venable said.
That's why he wants to mimic the Virginia Museum of Fine Arts in Richmond.
Paid annual memberships at the museum have exploded from a 2009 low of 6,900—still higher than the IMA's 6,400—to 37,000.
Memberships at both museums cover perks such as admission to special exhibits and parking, as well as discounts at gift shops and restaurants.
The Virginia Museum—which, like the IMA, has free admission—became more aggressive about staging high-profile exhibits after completing a $200 million face-lift in May 2010. Shows since the reopening, for instance, have featured Pablo Picasso paintings and Faberge decorative objects.
In addition to boosting paid admissions, the exhibits helped generate several million dollars a year in revenue from new members, Director Alex Nyerges said.
The strategy has helped the Virginia Museum increase its budget from less than $17 million a year to $32 million ($10 million comes from the state of Virginia).
"To boost attendance and boost membership, they go hand in hand," said Nyerges, who's led the museum since 2006.
"So we create a very broad and varied program of major banner exhibitions to introduce the museum to audiences."
Charging ahead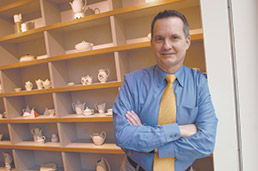 Charles Venable, Melvin and Bren Simon director and CEO of the Indianapolis Museum of Art, wants to double patronage to lighten the draw on the endowment.(IBJ photo/Perry Reichanadter)
Drawing more visitors every year could pave the way for the IMA to start charging for general admission, Venable said.
Venable envies The Children's Museum of Indianapolis' successful transition from having free admission before 1991 to charging $18.50 for adult general admission today.
"It's expensive," Venable said. "This year, they're doing 1.2 million visitors, which is—what?—three times the people [as the IMA]? And it's $18 just to get in the door."
The Children's Museum's $25 million in annual operating costs are comparable to the IMA's $22 million. But the Children's Museum is able to draw more than 1 million visitors a year and has 32,000 members.
Children's Museum CEO Jeff Patchen followed Venable's and Nyerges' strategy: Big exhibits draw big crowds that lead to bigger revenue.
The shift to paid admission "was about long-term strategy that would allow the museum to change temporary exhibits much more frequently," Patchen said. "Today, we change our exhibits three or four times a year in two regularly changing galleries.
"The cost to do that, to remain relevant, is significant. But having that earned revenue is very, very important."
A downside to charging admission, of course, is that it limits access to people who can't afford to pay. Museums also face the risk that paid admission will cause potential visitors to think twice about coming.
The IMA tried charging $7 general admission after it reopened from renovation in 2005. But it eliminated the fees less than two years later to boost attendance.
New positions
Venable is searching for someone to head his recently created division of business development and marketing—one of two new positions that are key to his strategy of boosting attendance and earned income.
In January, Venable named Preston Bautista to the other new role, deputy director for public programs and audience engagement. Bautista has been with the IMA since December 2011.
Bautista will work closely with the new hire, who will handle the former COO's business-management functions in addition to focusing on improving visitor services and finding ways to generate additional revenue from existing facilities, such as the historic, IMA-owned Lilly House.
"All the programming that we do—whether it's art, music, literature—how does that mesh into the retail sales shops, selling tickets?" Venable said. "[Bautista's] creating the product. How does that other person sell it?"
Venable said he wants those executives, and his entire team, to use market research and data analysis in sophisticated ways to gain a better understanding of the drawing power of potential new exhibits.
He said analysis of education levels, incomes, ages and home locations of Hoosiers also will help the IMA identify "low-hanging fruit" to attract as visitors and members.
"There are huge demographic databases," he said. "Very few museums, certainly not this one, have taken advantage of all that, even though every commercial company has been poring over all that data.
"I want us to get extremely good at knowing who our current customers are, knowing who our would-be customers are, knowing we're never going to get [a particular] group of people, so why are we wasting money begging them to come here?"•
Please enable JavaScript to view this content.