The first time I ate at a Dick's Last Resort, I was in Las Vegas, looking for some grub to soak up the free drinks I'd been inhaling at the blackjack table. The food was good and the service surly—just as it should be at a joint that prides itself on walking the line between outrageous and out-of-bounds.
My dining companions and I had no idea that was Dick's schtick, but we figured it out pretty quickly. Hubby tried to grab a beer at the bar while we were waiting to be seated, only to have the bartender toss back his ID and call him a hillbilly (and ignore his order). Our server delivered extra napkins by throwing a stack in the air as she walked by. The tableside entertainment was a guy who made sexually explicit balloon-animal hats for tips.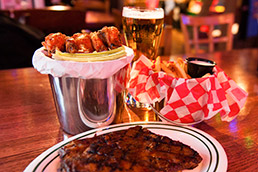 Ribs and wings are staples at Dick's Last Resort. So are crude T-shirts. (IBJ Photo/ IBJ photo/Eric Learned)
It was great fun, given our free-spirited vacation mind-set and impressive blood-alcohol content.
So when I heard that Dick's was headed to downtown Indianapolis, I couldn't help but wonder how it would fare in our decidedly tamer surroundings. Although the jury is still out—the Indy location (111 W. Maryland St., 608-2456) has been open less than a month—it definitely was a different experience. And not just because I stuck to Diet Coke.
A colleague and I visited for lunch, arriving early enough that we were greeted by a line of employees eagerly awaiting customers. The result was the kind of solicitous service I expect to see everywhere except a restaurant like this.
There were lots of pleases and thank yous, instant refills and repeated inquiries about our satisfaction. Our server even made sure we knew that everything on the menu came with a side of sarcasm, a kind gesture that nevertheless ruined the joke.
Oh, we still amused ourselves by perusing the crude T-shirts ("We put the F U in Fun" and "I Like it Dirty" are among the examples that can be shared in mixed company) and chuckling over risqué menu items like the Ass Byte Burgers and Crabby Balls, but that's not quite the same as wearing a pair of copulating sheep on your head, like in Vegas courtesy of the balloon artist. Here I had to make do with a paper hat that would have been funnier if it hadn't been true: "I'm still hot … It just comes in flashes."
As for the food, it was the typical pub grub we expected.
We took our server's recommendation and started with the Wicked Gator ($8.99), a basket of deep-fried alligator bites and battered jalapeno slices served with the ubiquitous ranch dipping sauce. It may be a novel menu item this far north, but the meat was indistinguishable from more common options.
The Rib N Wing Combo ($13.99 plus $1.99 to add chili and cheese to fries, which a confused waiter brought even though we didn't order them) looked more impressive before we accepted an offer to have the meal dumped off of the bucket it was served on. It was better suited to chomping while engaged in rowdy conversation with convention buddies than to savoring over a lower-key lunch. 
I had no complaints about Dick's Big Pig ($8.99), a pulled pork "sammich" topped with barbecue sauce and coleslaw. The meat was tender and well-seasoned, and the toppings appropriately restrained. And though I would have preferred a side salad to the standard fries, they were good enough to merit the brief diet detour.
If only we'd stopped there. Instead, we let our server steer us into an off-road adventure known as Extreme Brownie Meltdown ($6.99): a walnut-packed fudge brownie with an entire Hershey's bar melted on top, then coated with chocolate syrup, sprinkled with bits of chocolate-covered toffee and sided with a scoop of vanilla ice cream. We managed to avoid a full-bowl (sugar) crash by asking for a to-go box right away, foisting most of the decadence off on our co-workers. But the memory lingers—a very different kind of hangover than I had after my first foray to Dick's.•
__________
Second in a month-long series of "possessive men" restaurant reviews.
Please enable JavaScript to view this content.