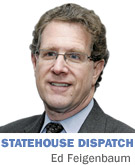 You've heard the talk that the bottom-line reason for the General Assembly to meet this year is to fashion a two-year budget that will carry the state through June 30, 2015.

But you haven't heard discussion about what that budget might consist of, beyond the round numbers and priorities proposed by Republican Gov. Mike Pence and some bland rhetorical responses from legislators.

That's about to change as the House Ways and Means Committee begins work on assembling a budget bill. Its work likely will receive a significant overhaul from the Senate Appropriations Committee before conference committee deliberations begin in late April.

K-12 education spending and the Medicaid outlay will shape the budget session. You should hear soon how House Republicans plan to approach the education-financing component. Expect their plan to be significantly different from the 1-percent increase over last year proposed by Pence.

The small increase has been derided by lawmakers of both parties and education interests as insufficient. It fails to even cover inflation.

Some lawmakers have discussed boosting education funding as much as $300 million to get it back to pre-recession levels. But watch to see how that's presented. Recall that the state in 2012 made a commitment to fund full-day kindergarten with "found" money. Sustaining that changes the baseline assumptions about what constitutes an increase and how much it truly is. That will give supporters and detractors lots of wiggle room in how they characterize the numbers.

Also expect interplay on how the funding should be divvied up, with voucher supporters squaring off against those who do not want to see public schools weakened financially.

More amorphous in the budget process is just how to address the health care issue.

The state must decide how to handle participation in a health insurance exchange, and also decide on any Medicaid expansion. Now that the federal Affordable Care Act has been upheld by the U.S. Supreme Court, it has become less likely the state will be able to skate in either of these areas.

The state continues to seek a waiver from federal Medicaid bureaucrats to accomplish an insurance exchange through the Healthy Indiana Plan and its health savings account feature. But the HIP route is unlikely to win federal approval, despite its bipartisan support and record of success.

Even as Republican Sen. Pat Miller, chairwoman of the health care committee, works legislatively to run things through the program she created years ago with Democratic Rep. Charlie Brown, Democrats have begun to push for the governor and Republicans to open a debate on how health care reform will be addressed in Indiana. The budget will be their opening opportunity for this.

Rep. Tim Brown, the Ways and Means chairman, will be the point person for House Republicans on the fiscal aspects of health care matters. As a physician, he understands how many of these elements shake out in practice, and will be able to parry Democrats who are starting to paint the issues in economic development terms.

Democrats in both the Senate and the House frame Medicaid expansion as a no-brainer. They note that Indiana hospitals spend almost $3 billion annually treating the uninsured, a cost ultimately borne by middle-income Hoosiers in the form of higher insurance premiums and taxes.

Democrats also will seize upon a new report commissioned by the Indiana Hospital Association that concludes expanding Indiana's Medicaid program would generate up to $3.4 billion in new economic activity in the state and support more than 30,000 jobs through 2020.

Add into the equation that conservative Republican governors in Michigan and Ohio have just opted to expand Medicaid—despite their distaste for the underlying Obamacare measure—and Indiana becomes the hole in the doughnut. All of our border states are now backing expansion, and the adjacent-state GOP support is chipping away at Pence's argument.

As the governor seeks to place every key issue in a jobs and economic development context, he may be boxed into a corner on this one as budget outlines emerge.•

__________

Feigenbaum publishes Indiana Legislative Insight. His column appears weekly while the General Assembly is in session. He can be reached at edf@ingrouponline.com.