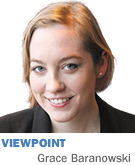 It was my privilege to testify recently before the House Roads & Transportation Committee in support of House Bill 1011. I joined more than three dozen citizens, community leaders and elected officials to share our support for mass transit in central Indiana.
We came to tell our representatives that an improved transit system keeps our air clean and our families healthy. Buses and light rail conserve fuel and cut carbon emissions. Investing in mass transit also provides the best return on tax dollars later. Ultimately, an integrated transit system would make it easier for all of us to get to work, to school, to the doctor's office and to the grocery store.
I came to talk about another benefit of mass transit to central Indiana: attracting and retaining young professionals—my own peers and friends. I am a 22-year-old Duke University graduate, living in Carmel and working downtown. Returning to Indianapolis as an adult has opened my eyes to a vibrant city I never fully appreciated as a child, with its big-city attractions and small-town hospitality.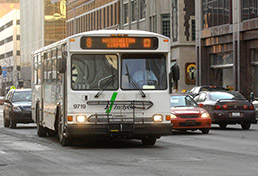 The IndyGo bus system would get a boost from mass transit. (IBJ file photo)
Yet, in spite of all Indianapolis has to offer, the numbers tell a different story. The Urbanophile's Aaron Renn calculates that downtown Indianapolis lost 15 percent of its private-sector jobs between 2000 and 2010. In that decade, Marion County as a whole lost more than 45,000 jobs. To Renn's point, the impact on the urban core can hurt all of central Indiana.
Indiana ranks last in the nation for retention and employment of college graduates. According to Indianapolis Star statistics, just under half of Indiana's college graduates leave the state each year. And only about a quarter of Indiana's workers between the ages of 25 to 34 have college degrees, compared with almost 40 percent nationally.
For Indiana's economy to stay productive, Indianapolis must make itself more attractive to young college graduates. When deciding where to live, many of my peers choose the city first and the job second. We want to live in a place that reflects our values.
Increasingly, our values do not include cars. A Deloitte study revealed that almost half of us prefer access to the Internet over access to our car. That's not surprising when you consider my generation suffers from a mountain of student debt and the Great Recession's repercussions. CNN has projected that the average debt of a graduating member of the class of 2012 amounts to nearly $29,000, equal to the average price of a new car.
But if the graduate already owns a car, are the maintenance bills and cost of gas worth battling traffic each day? Or, does the graduate move to a city that offers cheap, flexible transportation without the headache of parking, traffic jams and payment plans?
Indianapolis cannot afford to lose in that trade-off. IndyGo's bus system costs just $1.75 per ride, or $60 per month. Yet it doesn't reach everyone it could. Our public transportation could do so much more with such a small increase in investment as outlined in the Indy Connect plan.
While I own a car, I take the Indy Express Bus to work. We all have a choice to make. Will the Legislature pass House Bill 1011 to let local people decide on funding for mass transit, as it should? Will we, the citizens, invest in our city's future?
Mass transit is my best choice as a young professional. I believe it is the city's best choice, too.•
__________
Baranowski is associate managing editor of Giving USA, the annual report on charity in America published by the School of Philanthropy at Indiana University. Send comments on this column to ibjedit@ibj.com.
Please enable JavaScript to view this content.