Fresh from the IBJ A&E Road Trip to see "War Horse" in Cincinnati, I'll be on the road again on April 27 with a busload of IBJ readers, this time to Chicago, to see the on-its-way-to-Broadway musical "Big Fish"—the story of a man, his son, and some very tall tales.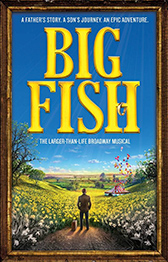 (Image courtesy of The Hartman Group)
The world premiere production carries with it an amazing lineup of talent. First, there's Tony-winning star Norbert Leo Butz, one of the most dynamic, charismatic musical theater actors I've ever seen. After seeing him off-Broadway in "The Last Five Years" and on Broadway in "Catch Me If You Can" (alas, I missed "Dirty Rotten Scoundrels"), I decided I'd be willing to see him in anything.

He's paired with fellow Broadway stars Kate Baldwin ("Finian's Rainbow" and "Wonderful Town") and Bobby Steggert ("Ragtime," "110 in the Shade").

They'll be working with Director Susan Stroman ("The Producers," "Crazy for You"), writer John August ("Frankenweenie," "Corpse Bride") and composer Andrew Lippa ("The Wild Party"). It's set to open on Broadway this fall. But we'll be seeing it months earlier.

Care to join me for the trip, which includes the show, lively discussion along Interstate 65, and some on-the-road surprises? For more cost information or to make a reservation, contact Interlude Tours at 913-0387, or reservations@interludetours.com.•

__________

This column appears weekly. Send information on upcoming arts and entertainment events to lharry@ibj.com.