John Anderson doesn't consider himself an artist. An electrical engineer by training, he enjoys the creative process—something he doesn't get to do much in his day job at a pharmaceutical company. So he "makes art" on his own time, and two years ago put together his first so-called DrawBot to bring his ideas to life.
"I can do my art on the computer and have the robot transfer it into something physical," he said of the DrawBot, now in its second iteration.
Last summer, he showed off his artistic robot at a Big Car Service Center "friendraising" event and began talking to staff there about building a version for the not-for-profit.
Now he has two of the machines on his drawing board—and enough money to buy the necessary parts, thanks to a $1,000 "Nice Grant" awarded this month.
"I've already got a shopping list," he said with a chuckle.
Anderson plans to build one robot that will be permanently installed at the west-side Service Center, endlessly inscribing artwork on a giant dry-erase board. A second, portable version would be available for area residents to borrow. He hopes it will be used to create murals.
"I'm not advocating anyone break the law … but it would be cool to have it spawn some street art," he said.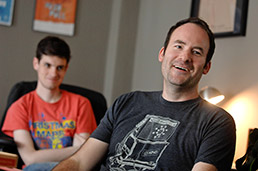 Smallbox CEO Jeb Banner wants to see how grant recipients do before committing to more funding. (IBJ Photo/ Perry Reichanadter)
His project was one of 10 to receive funding through the inaugural Nice Grants program, an initiative that aims to give high-potential community projects a financial boost.
Local Web marketing firm SmallBox and consumer-ratings service Angie's List provided the money—$5,000 each—and chose 10 ideas to back with $1,000 grants. Now the fun part begins.
"Within a few months, we should be able to see if it has an impact," said SmallBox CEO Jeb Banner, whose team came up with the grants after earning a performance-based bonus last year. Angie's List matched the donation last month after learning about the program.
Nearly 200 applications were submitted, and the winners emerged from a group of about 50 finalists. Banner was impressed by the diversity of ideas.
"They were strong ideas across the board," the local entrepreneur said. "There were easily another 10 or 20 we could have funded."
Winning projects run the gamut from urban beekeeping to a "coder dojo" encouraging girls to learn computer programming. SmallBox will follow their progress on its blog, providing exposure in addition to funding.
"This is not just about money," Banner said. "We're looking to give them a push."
And if all goes as planned, their successes will improve the community.
"We love this idea and hope to see it grow," Angie's List namesake Angie Hicks said in a statement. "Indianapolis is already a pretty nice place. These projects are destined to make it even better."
Banner said the grant program could continue if the funded projects indeed make a difference, though he acknowledged that not every idea is likely to be a slam dunk.
"I would be surprised if there isn't at least one failure," he said.
Grants also went to:
• Bee Public, which aims to expand urban beehives in the Fountain Square area and other Indianapolis cultural districts.
• Clifton-on-the-River Green Tomato Festival, which plans to build a bus shelter near the corner of 36th and Clifton streets as part of a harvest celebration.
• Freewheelin' Community Bikes, which wants to teach kids about bicycle maintenance and offer stipends to apprentice bike mechanics.
• IndyGo PUPstop, a People for Urban Progress-led initiative that aims to re-use seats from Bush Stadium at bus stops.
• Cataracts Music Fest, which is looking to build participation in the annual cultural event.
• Earth Art Labyrinth, which wants to build, document and market a nature-inspired labyrinth and host a one-day workshop on the art form.
• Visualize Indy, which would commission local graphic artists to create licensed info graphics that portray various aspects of Indianapolis.
• PROJECTiONE, a design group founded by two Ball State University graduates that is looking to move to Indianapolis from Muncie.
• Coder Dojo Indy, which would recruit female volunteers/mentors and increase the number of girls participating in dojo activities, encouraging them to explore technology and computer programming.•
Please enable JavaScript to view this content.