Think Indiana University's men's basketball team needs a national championship to make the needle move on donations? Think again.
The Hoosiers' resurgence over the last two seasons has already put bucks in the bank. And lots of them.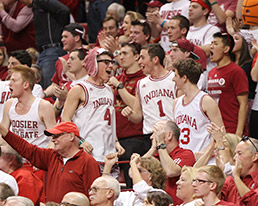 IU has sold more student season-ticket packages for basketball this season than it has in more than 30 years, said Fred Glass, the school's athletic director. (AP photo)
Giving to the IU Varsity Club—the athletic department's fundraising arm—and money designated for athletics through gifts to the IU Foundation grew more than $1 million in the fiscal year ended last June 30. With the team now leading the Big Ten and ranked No. 1 nationally, IU officials think that amount could increase significantly.
Donations are just one way IU can cash in. Royalties from the sale of licensed merchandise, according to school officials, have increased 31 percent over last season, through Feb. 18. Last year, licensed merchandise sales were up 15 percent over the year before. Combined, that represents another mid-six-digit windfall, IU officials said.
IU charges companies an upfront licensing fee, then gets a cut of sales—usually 5 percent to 20 percent of the gross.
A Big Ten championship would certainly boost that increase, sports business experts said, and a national championship could push licensing revenue increases near $1 million during this fiscal year alone.
A rabid fan base hungry for the school's first national championship since 1987 has created an enormous opportunity for IU.
And the pipeline of hardwood talent that's on the way bodes well for future giving—and other athletic department revenue growth.
Naming-rights deal?
All this success even has IU Athletics Director Fred Glass talking about a naming-rights deal for Assembly Hall "if someone came forward with a sizable gift." He said there's a higher comfort level with naming the building for an individual donor rather than a company, and he said Assembly Hall could be kept as part of the moniker.
No deal is pending, Glass said. Still, such talk would have been ludicrous just two years ago, in the midst of one of IU's worst losing streaks ever.
Glass doesn't hesitate to defer credit for the success.
"It is impossible to overstate the impact [Coach] Tom Crean has had not only on Indiana basketball but Indiana University," Glass said. "I can't go anywhere without someone going on about how well Tom Crean represents the university."
So impressed is Glass with Crean that he has twice extended his contract, earlier this year raising his annual salary more than $500,000, to $3.16 million.
Creativity needed
IU could get more of a financial bump from its latest run of success if the program weren't already revered. The following for the boys in the candy-striped pants is so strong that, even during the worst years, the program has been in the top 10 nationally in home attendance and revenue.
During the 2008-2009 season, when the team finished 6-25 in Crean's first year, it still generated $15.2 million, rivaling conference powers Michigan State University and Ohio State University in the cha-ching category and outgunning all other Big Ten schools.
But that kind of through-thick-and-thin following also means less of an upside when things go well. How do you take advantage of a couple of great seasons when the building is already full and programs and video boards are already stuffed with ads?
"They'll have to be creative, but any good salesman will look for new inventory to sell," said David Morton, a local sports marketer who formerly sold advertising and promotional inventory for IU's sports broadcasts.

Glass
Glass said IU is "about maxed out" when it comes to in-stadium signage and other advertising opportunities. Glass refuses to put a corporate logo on the court's surface.
Morton thinks IU could still raise another million dollars through stadium avenues. The school has traditionally been careful not to over-commercialize Assembly Hall—especially under former coach Bob Knight.
In recent years, IU has added sponsor messages to video sideboards and the overhead scoreboard. Some school officials believe adding too many sponsor messages inside Assembly Hall cheapens the experience fans have come to expect.
"From a consumer standpoint, we're light years beyond that," Morton said. "Consumers understand that college athletics is commercialized now."
For existing sponsorship deals that expire after this year and advertising in outlets like the game program, IU could raise the rates as much as 10 percent, Morton said.
While the 17,472-seat Assembly Hall is sold out, Glass could increase ticket prices. He said any increase will be "modest." Glass could also require alumni ticket-buyers to donate more to the athletic department to retain their tickets.
From cold to hot
Merchandise revenue was the first thing to spike as the Hoosiers took off last year after three losing seasons under Crean. It was a welcome reversal. Licensing revenue was either flat or down a bit each of the four years leading into last season, officials said.
Revenue from merchandise sales is expected to eclipse $2 million this year.
"Our licensing business is up in two ways," said IU spokesman Mark Land. "We're getting 12 to 16 inquiries a month from companies that want to license IU products. That's double what it was running before last year. And the success of the team is clearly being reflected in the amount of IU items being sold."
If IU could top $2 million in revenue from licensed products sales, it would rank among the top NCAA basketball powers, said Mark Long, who headed IU's licensing endeavors from 2002-2008.
"The problem for IU is that basketball doesn't push the sale of licensed goods near as much as football does," Long said. "A top football program can make 10 to 15 times more in licensing revenue than a top basketball program."
Long attributed the disparity to a huge line of goods tailored for tailgating and what he calls "a massive football culture" that gives rise to large fan bases.
IU's traditionally weak football program means basketball revenue is more crucial to the athletic department than is typical at other schools.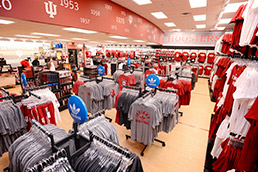 In January, IU moved its gift shop out of the basement and into a newly constructed store on Assembly Hall's main floor to increase sales.(Photo courtesy of Mike Dickbernd/IU Athletics)
Of the 25 biggest money-making college basketball programs, only five others rely on basketball revenue as heavily as IU does, according to data submitted by the schools to the NCAA.
In recent years, IU basketball revenue has accounted for 25 percent to 31 percent of total athletic department revenue, a higher percentage than any other Big Ten school. Basketball revenue at Ohio State, Michigan and Penn State is about 15 percent of the athletic department pie.
"With the continuing arms race in college athletics, Indiana has to leverage every asset they have," said Rick Horrow, a Florida-based sports business expert and author. "Their basketball program is clearly their biggest asset. And after a season like this, it's bigger than it has been in a long time."
Trend-busting gains
IU's biggest opportunity lies in alumni bank accounts.
"By far the biggest financial opportunity is to leverage this success into increased fundraising," said Mark Rosentraub, a University of Michigan professor and sports business expert. "Sports are a good way—arguably the best way—to bring a national alumni base back to the mother land."
It can be difficult to draw a direct correlation between the success of a school's athletic teams and overall giving—in part because large, one-time contributions can skew the picture.
But overall annual giving to the IU Foundation—the school's fundraising arm—has increased from $114.7 million during Crean's first year to $154 million last year.
More telling is the amount of money donors requested be given to the athletic department. That amount has increased each year Crean has been at IU, growing from $11.2 million during the 2008-2009 school year to nearly $14 million last year. That's a significant increase from the $9.68 million donors requested be targeted to athletics in 2005-2006, when Mike Davis departed as coach and Kelvin Sampson took over.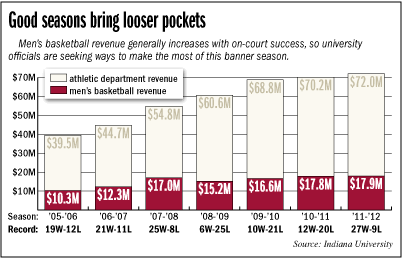 Even more impressive is that the donor gains during Crean's tenure have been during the Great Recession, when charitable giving in general has suffered considerably.
"There has definitely been a group of folks—alums and program supporters—that have regained their enthusiasm for the program," said Phil Isenbarger, a member of IU's 1981 NCAA basketball championship team and a partner in the local law office of Bingham Greenebaum Doll.
Out of Knight's shadow
It's not as though Crean hasn't had detractors.  IU fans became impatient as Crean's teams racked up more than 20 losses each of his first three years. Last year, IU broke out with a 27-9 season and a trip to the NCAA tournament Sweet 16. This year, the team is 24-3.
But it's not all about winning.
"Tom Crean has done all the right things, all the right way," Isenbarger said. "The support is exponentially higher under Crean than it was under Kelvin Sampson, and Sampson was winning. But none of the IU players are making the police blotter; they're getting good grades and graduating."
Every one of Crean's players, school officials said, either has graduated or is targeted to graduate within five years of enrolling.
Fourth-year players Jordan Hulls and Derek Elston are already working on master's degrees and junior Victor Oladipo and sophomore Cody Zeller are on target to graduate by the end of their third year, school officials said.
The team's average GPA has consistently been above a 3.0, Glass said.
That impressive academic performance has drawn the attention of Bart Kaufman, an IU graduate and baseball player who has also been a major donor for years.
"Mike Davis and Kelvin Sampson left the program in shambles in terms of the graduation rate, and that's one thing I think a lot of alumni and supporters didn't like," Kaufman said. "To me, the way they win under Tom Crean is as important as the winning itself."
In only his fifth season at IU—the second winning one—Crean, IU supporters said, is drawing favorable comparisons to Knight, who led the school to three national championships in the 1970s and 1980s.
"When Coach Knight was there, there were two shows: the program and Coach Knight," Isenbarger said. "Now there's just one draw: the program."
Kaufman, owner of locally based Kaufman Financial Corp., likes it that way.
"In the end, Knight's approach wore on alums and eroded IU's brand," he said. "Tom Crean is achieving excellence with grace."•
 
Please enable JavaScript to view this content.