FINALIST: Volunteer
Judge Gerald S. Zore
Indiana Blood Center
The Indiana Blood Center needs 620 donors each day to meet the needs of the 60-plus hospitals it supplies. If everyone were as conscientious about donating blood as Judge Gerald Zore, it would have a surplus of whole blood.
Zore, 71, has been donating blood since his college days at Marian College (now Marian University). He recalls his biology teacher, Sister Adelaide of the Order of St. Francis, encouraging him to support the blood drive.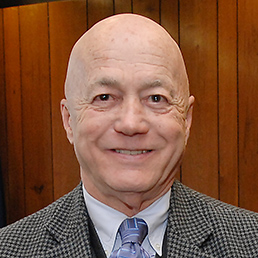 (IBJ Photo/ Perry Reichanadter)
He's been volunteering ever since. Zore continued to donate blood even during the three years he spent in Washington, D.C., working at the Federal Trade Commission. Since returning to Indianapolis in 1971, he's donated blood once or twice a month.
"I just got in the habit of volunteering," Zore said. "I know there's a need, and I know it helps people. It's just the right thing to do."
Matt Clem, a phlebotomist with the Indiana Blood Center, estimates Zore has donated blood 736 times, dedicating, besides the blood, an estimated 1,100 hours of his time to help people he will never meet.
Zore started out donating whole blood, but when he became aware of the need for platelets, he switched to donating platelets and plasma. The process takes about two hours instead of the 45 minutes it takes to draw whole blood, but he always makes time.
"I've always felt good about it," he said. "It's just so easy to work it into my schedule. I can stop on my way home. Or stop on the way to work. Sometimes I'll come down on Saturday morning, depending on my schedule."
The Indiana Blood Center depends on people like Zore to donate platelets on a regular basis because the shelf life of platelets is so short—only five days compared to 42 days for whole blood. Unlike whole blood, which can be donated every 56 days, platelets can be donated every seven days. They are critical for patients undergoing cancer treatments, bone marrow or organ transplants and other procedures. Donating platelets saves lives.
"Judge Zore is a very kind man," Clem said. "His commitment to our cause is remarkable. Judge Zore donates every two weeks, yet never asks for anything in return. He doesn't donate for the incentives; he donates because he cares about helping others."
Zore grew up on the west side of Indianapolis and went to grade school in Haughville. He attended Cathedral High School. He earned money as a substitute teacher while attending IU School of Law at IUPUI (now Indiana University Robert H. McKinney School of Law).
Zore became a judge in 1974 and served in the Civil Division for 36 years, moving to Probate Court in 2011.
Beside the Indiana Blood Center, Zore volunteers his time to the organizations that gave him the opportunity to be where he is today. He is actively involved with the Indiana Supreme Court's Commission on Race and Gender Fairness, serves on the board of directors for the Indiana University Robert H. McKinney School of Law Alumni Association and serves on the boards of trustees for Cathedral High School and Marian University. In addition he serves on the advisory board for Noble of Indiana.
"I always feel good about volunteering," Zore said. "I'm hoping this will encourage other people to do it."•  
Please enable JavaScript to view this content.