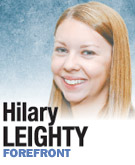 Arguably one of the most passionate and polarizing debates in the General Assembly this session is the allocation of the transportation budget. Gov. Mike Pence and many legislators agree that money should be spent on repairing deteriorating roads and constructing new highways.
However, the lawmakers disagree on where to generate the money. The most controversial transportation project is the completion of Interstate 69.
I-69 brings out strong feelings from supporters and adversaries alike. The opposition seems to be centered in Bloomington, where I have encountered the opposing views on campus and throughout the community.
Opponents believe that an interstate will hurt the environment and increase greenhouse gases. Some are concerned about spending scarce state resources on a new interstate rather than repairing existing roads.
Being from the directly affected small town of Washington, I am undoubtedly a supporter of I-69. Southwestern Indiana is the only part of the state without an interstate. House Speaker Brian Bosma was quoted as saying, "We can't be the Crossroads of Indiana and not invest in highways and bridges."
Many don't realize that supporters have been lobbying for the interstate for more than 50 years. The advantages the interstate provides are truly boundless. An interstate provides a much safer road to travel than the long, winding, two-lane roads that previously connected Evansville to Indianapolis.
In addition, in the short time since construction began, I have noticed significant economic growth in Washington. Restaurants are busier, hotels are overbooked, and we now have a shortage of available rentals.
The road is open from Evansville to Crane Naval Weapons Center, and the portion from Crane to Bloomington is under construction.
Construction from Evansville to Bloomington was paid for by Gov. Daniels' Major Moves program. However, there are few funds for the remaining stretch from Bloomington to Indianapolis.
The total cost of building from Evansville to Bloomington was $1.5 billion. It is estimated that the cost to build from Bloomington to Indianapolis will be another $1.5 billion due to more densely urbanized development and more expensive property acquisitions. Only $95.7 million is left in Major Moves for I-69.
Many legislators have looked at gasoline taxes, a major source of revenue for the Department of Transportation, to help fund I-69. However, this revenue is projected to decrease steadily because of more-fuel-efficient cars.
The upshot is that lawmakers must find a new solution to complete the interstate.
Legislators have discussed solutions from another public/private partnership, to a state toll road, to tapping into the state's reserves. This legislative session, Pence unveiled his budget proposal, which put forward a 10-percent income tax cut across the board. Many lawmakers believe this tax cut should be forgone to fund transportation priorities such as I-69.
This is the answer.
The state has managed to provide Hoosiers with tax relief and economic growth while the rest of the country suffered through the worst economic crisis since the Great Depression. We are so lucky to have benefited from such courageous leadership.
However, even a Libertarian would agree that one of government's most basic functions should be to provide roads. Roads breed new business and stimulate economic growth. A new road is an investment that will last decades and pay great dividends.
While Hoosiers may forgo a 10-percent income tax break for a few years, future generations will thank us.•
__________
Leighty, an IU junior, is president of the IU College Republicans. Send comments to [email protected].
Please enable JavaScript to view this content.