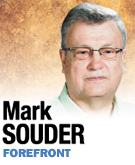 Gov. Mike Pence doesn't just want a tax cut for Hoosiers. A tax cut was foundational to his campaign and his philosophy of conservatism: Growth comes faster when individuals and corporations spend their own money, because it is more productive (leveraged better), more diversely spread (less likely to be bet on winners and losers), and more reflective of actual markets.
Beneath this premise is an assumption that government will provide basic services but also that the big problems in America are not due to lack of sufficient funds for governments.
Our governor is not exactly one of the pot-backing, anti-war, abortion-ducking, gay-marriage-waffling, Ayn Rand worshippers who believes all government is evil. But then again, he's not Karl Rove. Pence does not exactly see himself as a reincarnation of Ronald Reagan. For example, he didn't go to Hollywood to act in the movies. But his does seem a similar image when he looks into a mirror.
Reagan's "Time for Choosing" speech motivated me to join Young Americans for Freedom. I helped purge the long-haired, pot-smoking Ayn Rand people who burned their draft cards at the 1969 YAF National Convention. As Indiana College Republican chairman in 1970, I flew to Arizona to side with the Reagan youth faction backing Morton Blackwell, whom the Bush faction ousted to install Karl Rove. You surely didn't think these battles were new, did you?
To Republicans, ideas matter, so we brawl over them. Rove and I worked together, except when we didn't. Ron Paul has the unique distinction of being the only person in the world to call me a libertarian when I was under criticism.
Compared to the Obama world, we are actually pretty united. We oppose socialist macro-economic policies, we prefer private-sector business over government, we fear a nanny state at all levels, we believe in the importance of culture and the uniqueness of America, we believe in states' rights, and we hate taxes. We are arguing—intensely—important variations of those principles, but the Republican Party cannot win if conservatives don't swallow hard and vote together.
The current differences among the governor, House Speaker Brian Bosma and Senate leader David Long are less extreme than normal Republican infighting.
They are exacerbated by a few key points:
1. Pence is a "macro" guy who delivers Reaganesque statements even when asked specific questions, whereas Bosma represents a large group with lots of micro interests as well, and Long is herding cats.
2. Unlike Congress, the Legislature can't annually remain in session until Christmas Eve.
3. Because of long and short sessions, Indiana can't punt decisions with continuing resolutions.
4. Indiana actually has to balance budgets.
5. Republicans control Indiana, so they can't just blame the president. They must govern.
It is safe to say that most Hoosiers consider our governor to be a conservative. Few consider Bosma a Hoosier Obama. I have known Long since he succeeded his right-wing father-in-law Fred Hunter on the Fort Wayne City Council. If Republicans consider Long too liberal, then actual liberals will govern until Christ returns.
The Legislature can't just stiff Pence and the taxpayers who elected him, knowing tax cuts are the core of his approach to governing and the centerpiece of his campaign. Pence is our leader, like it or not.
On the other hand, the governor must move beyond just the rhetoric into details and compromise more than he would like.
Even Mitch Daniels learned to compromise with other conservatives. That worked well for Indiana.•
__________
Souder, a former business owner and Republican representative of the 4th Congressional District, is a political commentator living in Fort Wayne. Send comments to ibjedit@ibj.com.
Please enable JavaScript to view this content.