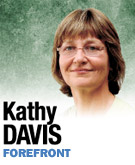 I had a happy Valentine's Day visiting with members of the General Assembly.

It started early with prayer and praise at the Black Legislative Caucus annual prayer breakfast. It's one of those events that everyone attends, leaders from both sides of the legislative aisle, from across the city and the state. Everyone is thankful and hopeful. We recognize statesmen servant leaders like Hurley Goodall and Bill Crawford, and resolve to honor them through our own actions.

Later Valentine's morning, I visited the Statehouse as part of the Noble of Indiana delegation, a happy responsibility as a volunteer board member. Noble was honored with House and Senate resolutions for 60 years of service to people with developmental disabilities. I visited with friends in the hallways. People with disabilities delivered Valentines to their legislators. There was a warm feeling in the people's house.

As I walked the halls that I walked as lieutenant governor, a volunteer, an agency head and a city controller, I thought about our super-majority in both houses. If I was concerned that a steamroller would chug through the Statehouse this year carrying a super-majority super-conservative social agenda, that appears not to be the case.

Legislative leaders are choosing to be measured, even magnanimous. People are listening to one another. We are reminded not to paint members of a political party with the same broad brush.

There are folks in the GOP seeing advantages to expanding Medicaid, and the harm of changing the constitution to restrict the rights of people to marry. Many agree that the people sent them to build a climate where we grow good jobs and develop the right skills in our kids and our work force. And that is what they are working on.

The House will hear a bill that implements the Affordable Care Act provisions by expanding eligibility for Medicaid—capitalizing on an existing system with low administrative costs.

The House budget restores $300 million in funding to schools that was cut during the recession. It's a strong message that the long-term success of our kids and economy is worth an investment—and gives us a bigger boost for our buck than reducing Indiana's income tax.

And House Joint Resolution 6, calling for an amendment to the constitution to prohibit gay marriage and other rights, won't be heard this year. That is good for the climate inside the state and for Indiana's reputation outside the state. It is pro people, pro innovation and pro economic prosperity.

And the Indiana Register shows no sign of state agencies writing rules to support intact families, in response to Gov. Pence's executive order on his first day in office. According to the Census, there are 2.47 million households in Indiana. About 816,000 are "non-family households." Hundreds of thousands of moms or dads are raising kids alone.

If national averages hold, 4 percent to 5 percent of households are same-sex couples. What will it look like when state agencies decide how to support intact families?

It's not all statesmanship in the General Assembly. Some legislators are angling to strip authority from the widely elected superintendent of public instruction, or eliminate at-large members of the City-County Council. Moves that disrespect voters will have voters pushing back.

Readers and leaders, stay tuned and speak up. Consider the impact of new law. Ask your representatives to support innovation, work, learning and children. May the path we started down in 2013 and enjoyed on Valentine's Day continue through St. Patrick's Day, Easter, Passover, Cinco de Mayo and 2014.•

__________

Davis is a former Indiana lieutenant governor who owns and operates the Indianapolis technology firm Davis Design Group LLC. Send comments on this column to ibjedit@ibj.com.