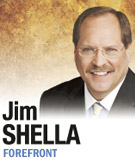 Do the politicians care what nonvoters think?
House Speaker Brian Bosma recently took issue with the WISH-TV/Ball State Hoosier Survey because, he said, it wasn't a voter poll. When challenged, he said that he cares what everybody thinks, but the message he delivered was that the opinions of voters matter more than those of adults who don't get to the polls.
The conversation came up because Bosma, and Senate President Pro Tem David Long, decided to delay the debate over the marriage amendment for a year. (The amendment would place a ban on same sex-marriage in the Indiana Constitution.) The Hoosier Survey of 602 people conducted in December found that 54 percent of adults in Indiana are opposed to the amendment and just 38 percent support it.
Bosma discounted that result while expressing his belief that the amendment would pass the General Assembly, if a vote were taken, and that it would also pass the statewide referendum that would follow.
The Hoosier Survey doesn't limit its sample to registered or likely voters as election polls do because it's not a horse-race poll. It measures opinions regarding public policy. It was conducted by Princeton Survey Research Associates International, the same folks who conduct the Pew Research polls. And, by the way, public policies such as a ban on gay marriage, or for that matter tax cuts, affect everyone, not just voters.
Bosma insists that the decision to put the gay marriage debate on hold is solely due to a court case out of California that will produce a U.S. Supreme Court decision sometime after Indiana lawmakers go home for the year. That decision, the argument goes, could lead to an unconstitutional marriage amendment question's being placed on the Indiana ballot in 2014 with no legal way to remove it.
That would be a problem, but it might not be the biggest problem facing leaders in the General Assembly. A gay-marriage debate this year would distract from the efforts to focus on jobs and schools. It might kill the bipartisan cooperation Bosma has tried to build.
It will also make it possible for more polls to be taken, even voter polls.
Opinions on gay marriage are shifting rapidly. Another Midwestern state, Minnesota, was one of two states to reject marriage amendments in 2012 referendums.
Plus, the marriage amendment considered here would also ban civil unions. That means there's an effect on heterosexual couples, too. The Hoosier Survey found that 55 percent support civil unions with just 37 percent opposed. In fact, the most surprising finding in the poll may be on the question of legalizing gay marriage in Indiana, a question that hasn't even been raised in the Legislature. It produced a 45-percent-to-45-percent tie.
So is the coming Supreme Court decision a reason to delay the debate, or is it an excuse? Are Republicans worried that with gay marriage, much like immigration reform, the public will move away from their point of view? How much pressure are lawmakers feeling from corporate leaders at Eli Lilly and Co., Cummins Inc. and other corporations, leaders who oppose the marriage amendment? By some accounts, those guys are willing to spend millions of dollars to defeat a marriage-amendment referendum.
The reality is that the marriage amendment is the sort of issue that can turn nonvoters, mostly young and moderate-to-liberal nonvoters, into voters. They would also be the sort of voters likely to vote against Republican candidates.
That will make a politician care what nonvoters think.•
__________
Shella is WISH-TV Channel 8's political reporter as well as host and producer of the Emmy-nominated "Indiana Week in Review." Send comments on this column to ibjedit@ibj.com.
Please enable JavaScript to view this content.