With both the 2010 opening of The Wizarding World of Harry Potter at Universal's Islands of Adventure and 2012's New Fantasyland expansion at Walt Disney World, families with theme-park inklings have even more reasons to visit — or revisit — Orlando.
Recent treks to both parks revealed wonderful new and improved worlds where the environments are as important as the rides themselves. Both Walt Disney World and Universal have pushed for immersive experiences in their latest lands, but like anything else at a theme park, whether it's successful for your family depends on, well, your family.
More Disney than ever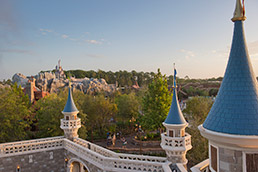 The New Fantasyland expansion at Walt Disney World is the largest in the park's history. (Disney Photos courtesy of Disney)
At Disney, the back area of the Magic Kingdom has been rebranded New Fantasyland — upgrading the area where Peter Pan flies, teacups spin and kids from around the world plant a song in your head that won't leave for weeks.
The real estate here has doubled in size, now including Storybook Circus, an area built around the notoriously long-lined Dumbo ride. There's two of them now, but the boldest innovation here isn't in ride technology, but in the wait: Rather than just stand in line, families are given beepers similar to those in crowded restaurants. Now, instead of standing in the sun, kids have a big-top full of stuff to play on while waiting.
Riders on Disney's Dumbo ride now have an area to play in until notified via beeper that their elephant is ready. (Disney Photos courtesy of Disney)
The danger, of course, is that your kid will have such a good time that he won't want to board when a spot on Dumbo is available.
There are also new character-meeting areas, a crazy water-spraying center ring and, of course, plenty of retail and food. You may also run into a tribe of performing clowns while you soak it all in (or dry off).
The Enchanted Forest, the other section of New Fantasyland, features attractions celebrating the ladies who pretty much saved Disney animation: Belle from "Beauty and the Beast" and Ariel from "The Little Mermaid." The latter gets a ride-through that's perfectly fine and predictable but less interesting than the beautifully designed castle surrounding it. The section of the ride where the fish break out into "Under the Sea" is fun, though. And the fluke is and always will be the duke of soul.
"Beauty and the Beast," however, gets a more innovative treatment, taking character meet-and-greets to a new level.
Kids become part of the action at Enchanted Tales with Belle. (Disney Photos courtesy of Disney)
Enter Enchanted Tales with Belle and you progress (on foot) from a waiting area inside Belle's cottage, through a magic mirror (a truly remarkable effect) and into the castle itself, where kids are cast in a play celebrating the meeting of Belle and her Beast. Once roles—and costume pieces—have been distributed, it's on to the ballroom where an audio-animatronic Lumiere (the candlestick fella, you remember) hosts the play itself, all performed in the presence of a real-life Beauty. The participating kids are then given one-on-one photo ops and souvenir bookmarks.
There's also a Be Our Guest restaurant, of course. And Gaston's Pub (you'll recall he uses antler in all of his decorating. Here, LaFou's Brew is the drink-du-jour every day. It's a must-try, of course, but I recommend getting one to share before you invest too heavily. Frozen apple juice, toasted marshmallow, and mango-passion fruit foam may not be to everyone's taste. Although, yes, I'll have another.
Changes haven't just happened in Fantasyland. If you haven't been to the Disney parks in years, you'll note such recent additions as Toy Story Mania at Disney's Hollywood Studios, where, sporting 3-D glasses, you cruise through a midway, stopping at screens where Woody and company prompt you to use your spring-action shooter to score virtual points. Also, from Pixar, comes Tomorrowland's Monsters Inc. Laugh Floor, a comedy club where animated characters interact with real live audience members in a remarkable—and very funny—use of technology.
If you need more intense new thrills, then best to hit Animal Kingdom's Expedition Everest. Or wait until 2014 when the Seven Dwarfs Mine Train opens.
Universal thrills
…or take a trip across town to Universal Studios Florida, where superheroes and young wizards now dominate the park — actually, a pair of parks — dedicated to "ride the movies" experiences.
The original Universal Studios side, once headlined by the now-defunct "Jaws," "King Kong," and "Back to the Future" rides, now features motion simulators and "4D" theaters devoted to "Despicable Me," "Shrek" and, most successfully, "The Simpsons." Sad to say that the "E.T." ride feels hopelessly dated, although the "Earthquake" experience has been successfully updated, now under the title "Disaster!"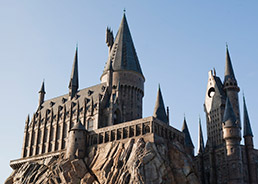 Hogwarts Castle (Universal Photos courtesy of © 2013 Universal Orlando Resort)
The Islands of Adventure side is where the action is. On Marvel Super Hero Island, there's a Hulk roller coaster, an X-Men-themed spinning ride, Dr. Doom's Fearfall, and a Spider-Man simulator. Elsewhere, Dudley Do-Right may not have many young fans, but his themed Ripsaw Falls remains an outstanding water-flume ride. And although the film franchise is on hiatus, the Jurassic Park River Adventure is still a kick.
But the big draw these days here is Harry Potter, whose magical coming-of-age story inspired its own land. Visitors enter — and bask in — a detailed recreation of the village of Hogsmeade, where you'll find Ollivander's wand shop (which wiseacres fans will note was actually in Diagon Alley, not Hogsmeade), Honeydukes Sweetshop (the place for Chocolate Frogs and Bertie Bott's Every-Flavour Beans), and the full-sized engine from the Hogwarts Express (alas, not a ride).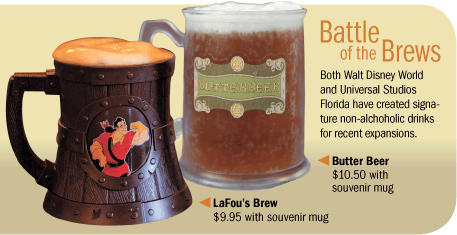 And Butterbeer, of course. The signature drink here, available in regular and frozen, has a butterscotchy, cream soda-ish flavor with a marshmallowy fluff top. Doesn't sound appetizing? Try telling that to the kids in your party, who see the giant barrel-cart of it as soon as they enter.
There are rides in this new land, of course. A mini-roller coaster, Flight of the Hippogriff may help transition kids to the double-tracked, intertwining Dragon Challenge. OK, so the former is a rebranding of the old Flying Unicorn coaster and the latter a tinkered-with version of Dueling Dragons, but who can blame Universal for recycling?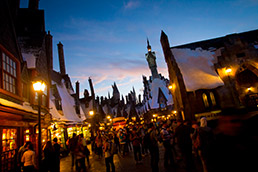 The Wizarding World of Harry Potter at Universal Florida recreates Hogsmeade down to the last Every-Flavour Bean. (Universal Photos courtesy of © 2013 Universal Orlando Resort)
There's nothing derivative about the area's flagship ride, though. Harry Potter and the Forbidden Journey makes the inevitably long wait worthwhile by weaving its line through Hogwarts Castle, where props are on display, Dumbledore speaks, and holographic images of Harry, Hermione and Ron offer instructions for the journey. The ride itself combines dark ride, flight simulation, and immersive animatronics, twisting and turning and, for all the riders know, flying through an adventure whose plot probably is best picked up on the second time around (You'll want to go again, trust me). The first will be devoted to trying to get your breath as you are chased by a dragon, face off against Dementors, and play in a Quidditch match.
I'd call Harry Potter and the Forbidden Journey the best ride in either park….if it wasn't for Tower of Terror. And Toy Story Mania. And Dudley Do-Right's Ripsaw Falls. And Philharmagic. And… .•
Old-school Florida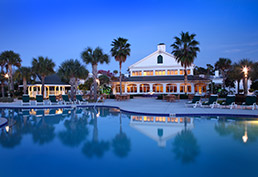 Plantation at Crystal River (Photo courtesy of Plantation on Crystal River)
About 90 minutes from busy Orlando, on the Gulf Coast, you'll find a different approach to Florida vacationing. Here, the pace is slower and the pleasures a throwback to the pre-Disney state of the Sunshine State.
On my recent trek, I took a side trip to Citrus County where, on a good day, there may seem to be more manatees than tourists. Thanks to the temperate springs, this is home to more of these fascinating sea creatures than any other place in North America—and the only place where people are allowed to snorkel with them.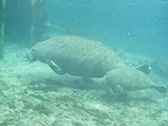 Citrus County has more manatees than anywhere else in North America. (Photo Lou Harry)
My visit came on a day when warm gulf temperatures kept most of them away from Kings Bay, where thousands have been known to congregate. Still, sighting a mother and child—along with some dolphins, baby alligators, and John Travolta's getaway home—made for a very relaxing day.
In addition to offering 18 holes of golf, a terrific restaurant, and such low-key pleasures as croquet and horseshoes, Plantation at Crystal River also has an on-site dive shop, with daily morning trips to prime manatee territory. No experience is necessary (I certainly didn't have any). The best time to visit is January and February, when manatees tend to head into the bay to enjoy the underwater springs.•
Please enable JavaScript to view this content.