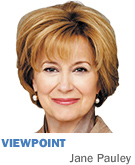 A few years ago at a dinner in Washington, D.C., with some of the nation's leading education reformers, one of them asked if I knew about The Mind Trust.
I've had a long interest in public education and care deeply about the city, so you can imagine how excited I was to learn about a nationally recognized model in education reform in my hometown.
About the same time, I interviewed Washington, D.C., schools Chancellor Michelle Rhee and asked if she'd heard about the group. Her response was as positive as that of my dinner companion. I came to Indianapolis—bringing my son, Ross, a high school teacher, to see about The Mind Trust.
It didn't take long for me to understand why people were enthusiastic. I eagerly accepted an invitation to join The Mind Trust's board.
Everything I've seen in the last three years has convinced me that Indianapolis is poised to dramatically overhaul its K-12 system so that every student has the opportunity to succeed. And Indianapolis is uniquely positioned to be a national model.
The city now has a greater concentration of key organizations and talented people who are working to improve education than any its size.
The Mind Trust was founded on the big idea that innovators drive major change. To be sure, there are talented innovators to be found in the existing education community, but The Mind Trust's idea is to bring innovation to Indianapolis in critical mass by recruiting some of the nation's best, established education groups to the city. The Mind Trust also has started two unique incubators—one for launching ground-breaking education initiatives and one for starting excellent schools.
Through these efforts, The Mind Trust has created in Indianapolis a robust network of 14 of the nation's best education reform groups. Those include Teach For America, Summer Advantage, Stand for Children, Teach Plus, The New Teacher Project and College Summit, to name a few.
Because of this network's transformative scale and effect, ambitious innovators, excellent teachers and policy experts are flocking to Indianapolis. The city is becoming the Silicon Valley of education innovation—a place talented people are empowered to develop and execute innovative plans for improving schools.
The city also boasts a thriving sector of public charter schools in which this rich pool of talent can put the best new ideas to the test. Former Mayor Bart Peterson and his former charter schools director, David Harris, built the nation's first mayor-run charter-authorizing office before starting The Mind Trust. The office has become a national model, having won Harvard's Innovations in American Government Award in 2006, and its legacy of producing great schools has continued under Mayor Greg Ballard's strong leadership.
A study released in December by Stanford's Center for Research on Education Outcomes showed students in Indianapolis charter schools gain an additional two months in reading and three months in math compared with peers in traditional public schools.
Indianapolis is poised for education change, and it didn't take a catastrophe like in New Orleans or an economic collapse like in Detroit to catalyze it. What it took was strong leadership, focused work and a big idea: Innovators drive change.
I have discovered my hometown has a unique history of strong leadership and community-driven buy-in to innovation. This is a historic moment for Indianapolis. To paraphrase a familiar refrain, if we can do it here, it can be done anywhere.
I have never been prouder of my hometown—or more optimistic about its future.•
__________
Pauley, a former journalist at WISH-TV in Indianapolis and co-anchor of NBC's "Today Show," lives in New York. Send comments on this column to ibjedit@ibj.com.
Please enable JavaScript to view this content.