Carmel is finally ready to redevelop the former Party Time Rental site on Range Line Road, a property in which the city has invested $4 million.

The city council this month rezoned the seven-acre site, plus two adjacent parcels, from their former business and industrial classifications to the "City Center" designation, which would allow apartments and retail.

Brainard
The site at Range Line and Carmel Drive is more than a half mile from City Center Drive and the Center for the Performing Arts, but it's seen as a gateway to the area.

Mayor Jim Brainard said he hopes to see the former Party Time building demolished in two to three months, and a request for proposals could go out in the same time frame. The other two rezoned parcels hold an Arby's, which still operates, and office buildings. If those properties are sold as well, a developer could end up with more than eight acres.

Apartment builders are eager to have a crack at the busy corner. Indianapolis-based Flaherty and Collins, which wanted to build more than 400 luxury apartments there in 2011, will submit a proposal, Vice President of Development Chris Kirles said.

"We've been working on the site and the project in general for three years, four years maybe," he said.

Flaherty and Collins' prior effort stalled because the council declined to rezone the site.

Indianapolis-based Flaherty and Collins has yet to build in Carmel, a market where monthly rents start at $1 per square foot, and leasing demand is strong.

Rents in Carmel are similar to downtown Indianapolis and higher than the average in the northern suburbs of 81 cents per square foot, according to a Tikijian Associates market report.

Carmel-based J.C. Hart Co. has several projects in the city, and President John Hart said he wants to do more. He said he likely will submit a proposal.

"Our experience in Carmel has been exceptionally good," Hart said.

J.C. Hart leased all 191 of the units at its 116 Apartments, 116th Street and College Avenue, within eight months last year, Hart said. He thinks recently announced job growth at companies like NextGear Capital and Baldwin & Lyons Inc. will only add to demand.

The council's March 4 rezoning vote could be the first step toward a new level of cooperation between the Carmel City Council and the city's redevelopment commission.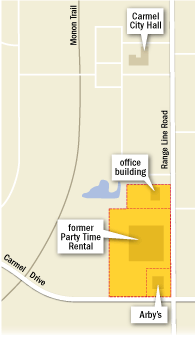 The council will have final approval over all aspects of the Party Time redevelopment, except architecture, design, lighting and signage, under an amendment to the rezoning ordinance. Otherwise, any work in the City Center zone would need only the Carmel Redevelopment Commission's approval.

"I called this a test case," council member Kevin Rider said of the rezoning amendment. "We're trying to create a working relationship between the CRC and the council."

The CRC's independence for years was a point of contention between Brainard, who appoints most of the members, and the council.

The CRC ran up $249 million in debt without council approval and came close to running out of operating funds last year. The council agreed to lend the city's credit to a $185 million bond refinancing, but not before taking oversight of future debt issuances.

The council turned down the Party Time rezoning in 2011 amid questions about the city's ownership stake in the property.

At that time, the commission, which had acquired the property through a sheriff's sale, wanted to make a $3.9 million loan to Flaherty and Collins.

Flaherty and Collins had been working with former owner Paul Zahner when the property went into foreclosure, Kirles said, but his firm wasn't in a position to buy it out of sheriff's sale in 2009.

The CRC stepped in, helping Zahner retain the property and taking over mortgage payments. After the bond refinancing was finalized in December, the CRC paid off a $3 million mortgage. The CRC, which has had a stake in the property since 2010, is now the sole owner.

The CRC has spent $4 million on the site, including sheriff's sale expense, legal fees and taxes, city spokeswoman Nancy Heck said.

Two appraisals performed in February 2012 averaged $4.4 million, Heck said.

Brainard said he wanted control of the Party Time site because of its high-profile location.

"It's very important as you enter the City Center and the City Hall complex," he said.

The site, which sits below street level, could be difficult to work with, but Carmel no longer has the financial wiggle room to offer cash incentives. Council member Luci Snyder noted that the CRC's budget estimates $16.7 million in tax-increment finance revenue to cover $16 million in debt service.

"In the past, we have invested heavily in both infrastructure and buildings to make Carmel an attractive destination," Snyder said in an e-mail. "Now, if a developer wants to build in Carmel, we stand ready to put in the municipal improvements required for that project."

Brainard said he expects the Party Time parcel will be added to the city's TIF area, and some of the additional revenue could help offset the cost of underground parking.

Kirles said his firm could build as many as 450 luxury apartments, if the project included a parking garage.

Brainard said he's not looking to donate the Party Time parcel.

"We have real value there," he said, but "we may bargain on it to get the deal done a little bit."•