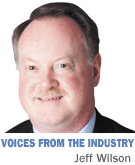 In the midst of headlines reminding us of the high unemployment that has plagued this country for several years, we have a war for talent in the technology field, with companies in Indiana and elsewhere vying to hire an increasingly smaller pool of qualified applicants.
For years, the unemployment rate in technology has been less than half the national numbers. As a result, competition for the best talent is fierce.
But it's not the applicants who are at war. It's the companies who need to fill positions with highly educated, highly talented persons.
The aging of the millions of baby boomers is a major cause of this war. The generations that follow are smaller in number, providing fewer people to take the jobs left vacant by boomers who have retired or who will soon leave the work force.
This gap between jobs and job seekers in technology is also already evident in the medical field. And, the oil and gas industry's exploration and production areas are slated to lose at least 40 percent of their work force over the next five to seven years. Employers have to fight harder—and smarter.
In the scramble to hire the best and brightest, companies are challenged to offer the most attractive compensation and benefits packages.
However, in the haste to fill seats, the war that seems to have been won may be lost if care is not taken to ensure that the employee—who holds the advantage in this employment scenario—is a good fit. And a good fit means a win-win for this war: higher productivity and bigger profits, helping create an even more attractive work environment for the next hires.
Tech employees like many of the same benefits as any other employees, of course, but a flex-time schedule is especially popular. A rigid work environment is not conducive to someone who lives and breathes electronic devices and social media 24/7.
Offering a better benefits package than competitors' always helps win this war for talent. A workplace that is family-friendly, offers healthy and popular benefits such as gym memberships, and has an informal but goal-driven atmosphere makes the new tech person feel welcome and comfortable.
While it once was true that younger employees yawned when 401(k) plans were discussed, not wanting to think ahead to the days of retirement when college days were in the recent past, the economic upheavals that have affected so many have opened even their eyes to the idea of saving for the future.
Along with a benefits package that is geared to match—or even exceed—the expectations of the candidates, an increasing number of companies also rely on another kind of match: using behavioral interviewing to ensure that the candidate is the right fit for the job.
If your firm comes out fighting, armed with the right package of compensation, benefits and skilled interview techniques, you can and will win the war. What follows will be the job offer to the best of the best, a candidate who is almost guaranteed to work out well.
Call it what it is: Victory!•
__________
Wilson, a founder and co-managing partner of Key Corporate Services LLC, a nationwide executive-recruitment firm based in Fishers, is certified in behavioral-based interviewing and employee retention.
Please enable JavaScript to view this content.