As important as a skilled chef is to a restaurant's success, most also would benefit from having another trained professional on hand: an editor.
No, I'm not angling for my dream job ridding the culinary world of typographical errors. Rather, mine is a clarion call for restraint—for culling the multi-page menu down to the best of the best.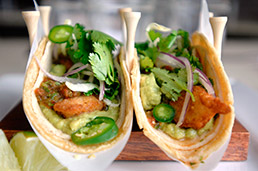 Fried Fish Tacos may or may not be on the rotating menu when you visit Room Four. (IBJ Photo/ Perry Reichanadter)
Trying to please everyone often has the opposite effect. I don't really want nachos with my sushi, and serving both from the same kitchen makes me assume neither will be great.
A limited menu doesn't necessarily ensure excellence, of course, but the target is a lot easier to reach.
Local restaurateur Greg Hardesty hit the bull's eye at Room Four (4907 N. College Ave., 925-7529), which changes its one-page a la carte menu daily. Like sister restaurant Recess on the other side of the hostess stand, it builds dishes around fresh local and regional ingredients. The basic lineup stays the same even though the choices vary: soup, salad, sandwiches and tacos.
We lucked into a Friday night table with no waiting, but the tiny eatery filled fast. Still, our server was as friendly as she was efficient, never making us feel rushed.
We started with the Chicken Pozole ($11), a hearty stew with a depth of flavor that suggested days of cooking—a big plus for my home-cooking husband who insists time is the most important ingredient in any recipe.
The "traditional garnishes" the menu promised without explanation included shredded cabbage and slivers of red onion—both served raw on top of the soup to add some crunch—along with cilantro, avocado and lime. We shared the generous bowl, which could have been a meal by itself.
Next up: a juicy, old-fashioned burger ($16) made with meat from Fischer Farms Natural Beef in Jasper and adorned with all the standard fixings. I didn't see a source listed for the supple-yet-substantial buns, but they clearly came from a bakery, not a bag. Crispy fried potatoes served on the side provided some textural balance.
We also tried all three tacos of the day ($6 each): pork belly, fried fish and pork Milanese (also fried). All impressed, starting with a presentation that involves golf tees and plastic-wrapped wood. Two soft corn tortillas could barely contain each culinary concoction. Every bite tickled the taste buds.
Dessert is similarly simple—and sensational. Warm-from-the-oven cookies stuffed with classic candy bars instead of chocolate chips. The sole flourish, a side of house-made vanilla whipped cream, was nice, if unnecessary.
Or maybe that's just the editor talking.•
—Andrea Muirragui Davis
__________
Third in a month-long series of farm-to-table restaurant reviews.
Please enable JavaScript to view this content.