The number has always stuck in Geoffrey Bannister's head: 1,947. That was Butler University's enrollment in 1989.
"We were running at a deficit budget and our enrollment was in decline," said Bannister, 66, who served as Butler president from 1988 to 2000. "Butler had lost its edge."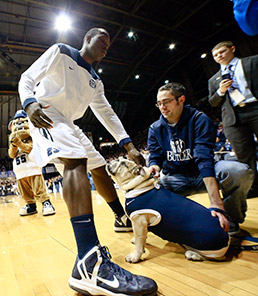 The Butler Bulldog mascot is now considered one of the top collegiate brand images nationwide. (Photo courtesy of Butler University)
Bannister had an idea to get that edge back. Make the lowly men's Bulldog basketball team a national power, and use it as a marketing tool to engage alumni, increase annual giving to the school, and recruit more and better students and instructors.
It seemed preposterous. After all, in 1990, Butler had put up losing records in 13 of its previous 16 seasons.
By now, everyone knows the plan launched by Bannister and carried forward by his successors Bobby Fong and James Danko has been a slam dunk.
The on-court successes—including amassing winning seasons 21 of the last 23 years—have been well-documented, but the basketball plan also has boosted enrollment and fundraising to levels not even Bannister could have imagined. The basketball blueprint resulted in a marketing plan—complete with help from Disney to design the logo and mascot—that has given the tiny university a brand approaching that of the goliaths of college athletics and academics.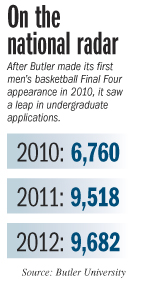 Attendance for home games at Hinkle Fieldhouse has gone from about 3,000 in the late 1980s to about 7,900 per game for 16 home games this year. With more games and better opponents, total home attendance has tripled from the 1980s, to 126,386 this year.
That success has translated to growth for the university as a whole: Butler's enrollment is now at 4,200. Fueled by runs to the NCAA Final Four in 2010 and 2011, admission applications have increased from 6,760 in 2010 to 9,682 in 2012.
While the school is nearing enrollment capacity, Butler officials said the increased applications have allowed it to improve its students' overall academic qualifications.
Annual giving at Butler is also up. The school's haul has doubled—hitting $13.2 million with 11 weeks left in the 2013 fiscal year—since Bannister rolled out his plan.
Giving to the school's athletic department is even more impressive. From 2008 to 2012, giving more than doubled, to $1.45 million. The department expects to exceed $1.5 million this fiscal year, which ends May 31. Those increases don't include the $13.3 million raised since June 2010 as part of the Hinkle Campaign to refurbish Hinkle Fieldhouse.
"It's safe to say the increase in support we saw from 2008 to 2010 gave us the confidence to launch the Hinkle Campaign," said Rachael Burt, Butler's executive director of alumni and engagement programs.

Bannister
The growth of Butler's basketball team has been so dramatic that the school used the juice to jump to a bigger conference this year: The Atlantic 10. That move has opened East Coast marketing opportunities that not even Bannister could have dreamed about 20 years ago.
Danko has gone on the road to conference games in Philadelphia, New York and Washington, D.C. Not only has the school coordinated alumni events during each road game, but Danko has done interviews with some of the nation's biggest media outlets, helping to amp up Butler's brand far beyond basketball.
"The games are more than just games," Burt said. "Whether they're at home or away, we treat them as events—a way to engage students, alums and others."
Worthy investment
Though the move to the A10 has cost Butler more money than it has generated, Danko said it's been a good investment.
Butler is a private school and not required to make its budgets public, but it's clear the basketball budget has gone up considerably even before the conference move. In addition to renovations at Hinkle Fieldhouse, Coach Brad Stevens has seen his salary more than triple, to about $1 million.
Still, marketers think the exposure is well worth the expense.
"Butler is a model, especially for small schools, in how to use athletic excellence to broadcast a message about academic excellence," said Milt Thompson, president of Grand Slam Cos., an Indianapolis-based sports marketing consultancy. "No school does it better, period."
While much of the effort has been scripted, some of it is not. When Butler basketball players talked to the media about going back to class the day of their Final Four practice, those weren't planted lines.
"We constantly get asked who does our players' media training," said Tom Weede, Butler vice president of enrollment management. "There's no media training. What they say is genuine. They're well-spoken and put an emphasis on education because those are the kind of students that attend Butler."
Beyond student recruitment and fundraising, there's an added benefit to the exposure.
"We know now that, when our students send resumes to New York or wherever, people are much more likely to recognize the name Butler University," Weede said. "And market research shows us that recognition is equated with quality."
The exposure outside the state is showing up in Butler's student body. In 2010, 54 percent of Butler students were from Indiana. Now, more than 56 percent are from outside Indiana.
"A person from New York brings a different perspective than someone from [rural Indiana]," Weede said. "A diversified classroom more closely mimics the type of world our students will work in. We now have students from 46 states attending Butler, and we think that's an important part of the experience here."
Butler's basketball team has been so successful that a newly formed powerhouse conference is reportedly recruiting the Bulldogs to join in the next year or two.
"The exposure from that move could really move Butler to a whole new level," Thompson said. "Considering where they've come from, it's incredible to ponder."
Knight, Keady to the rescue
Initially, though, the plan was not seen as an automatic score.
When Bannister unveiled it to the Indianapolis Star and told the paper he wanted Butler "to be competitive with Indiana and Purdue" in men's basketball, that triggered a call from then-IU Coach Bob Knight.
"He told me I didn't know a thing about basketball," Bannister said. "I told him that I already knew that."
Despite Knight's skepticism, he agreed to help Bannister formulate a growth plan. Bannister also solicited the help of then-Purdue University Coach Gene Keady and then-Indiana Pacers President Donnie Walsh.
"Donnie Walsh deserves a lot of credit," Bannister said. "He really helped us fine-tune our plan."
The main pillar of the plan, Bannister said, was a 25-page business blueprint compiled by Barry Collier, who was then entering his second year as Butler's coach. Collier is now the school's athletic director.
The plan was finely detailed.
"It wasn't just how to recruit better players," said Bannister, who is now president at Hawaii Pacific University. "It included connecting to the community, marketing and a whole lot more. Barry had considered everything: where the band and cheerleaders should sit, how the Fieldhouse should be configured, how we could improve the interior of the facilities for players and fans without affecting the building's historical integrity. It was an amazing plan."
'Insane' idea
But selling it would be tough.
"At first people said, 'You want to invest in what?'" Bannister recalled. "It was a pretty bold move at the time. Some of the faculty thought I was insane."
But Bannister quickly gained the trustees' support.
"Fundamentally, the decision to pursue excellence in basketball was a marketing decision," said Tom King, a 1966 Butler graduate who served on the university's board for 24 years from the late 1970s through the 1990s.

Danko
"There was a proper amount of investigation and due diligence, healthy questioning. But it was so authentic. It was seen as an ideal way to distinguish this small school," King added.
Once the trustees bought in, things began to fall into place quickly. It seemed every decision made—from coaching replacements to player recruitment—was gold.
Even little things seemed to make a huge difference. Then-trustee Tom Elrod solicited the help of some associates at Disney to design the mascot and logo. Disney designers did more than $500,000 worth of work for $10,000, Bannister said.
"The Disney designers said we should have something friendly enough, yet a bit scary," Bannister said. "We wanted it to appeal to kids and adults."
Then, Butler communications guru Chris Denari and Collier came up with the plan to use a live Bulldog mascot in a major marketing thrust.
Now, the Butler Bulldog rivals the University of Notre Dame leprechaun as the most recognizable mascot in the Midwest. The mascot this year has been the focus of articles in the Washington Post, The New York Times, Forbes and the Huffington Post.
Bannister called the effort to market the school through the basketball program "a relay race," with the torch picked up "beautifully" by his successors.
"One reason this effort has been so successful is that there's been continuity in the commitment to it through changes in coaches, athletic directors and even university presidents," Grand Slam's Thompson said. "At every turn, they've tied the tradition of this institution into a ground-breaking growth strategy."•
Please enable JavaScript to view this content.