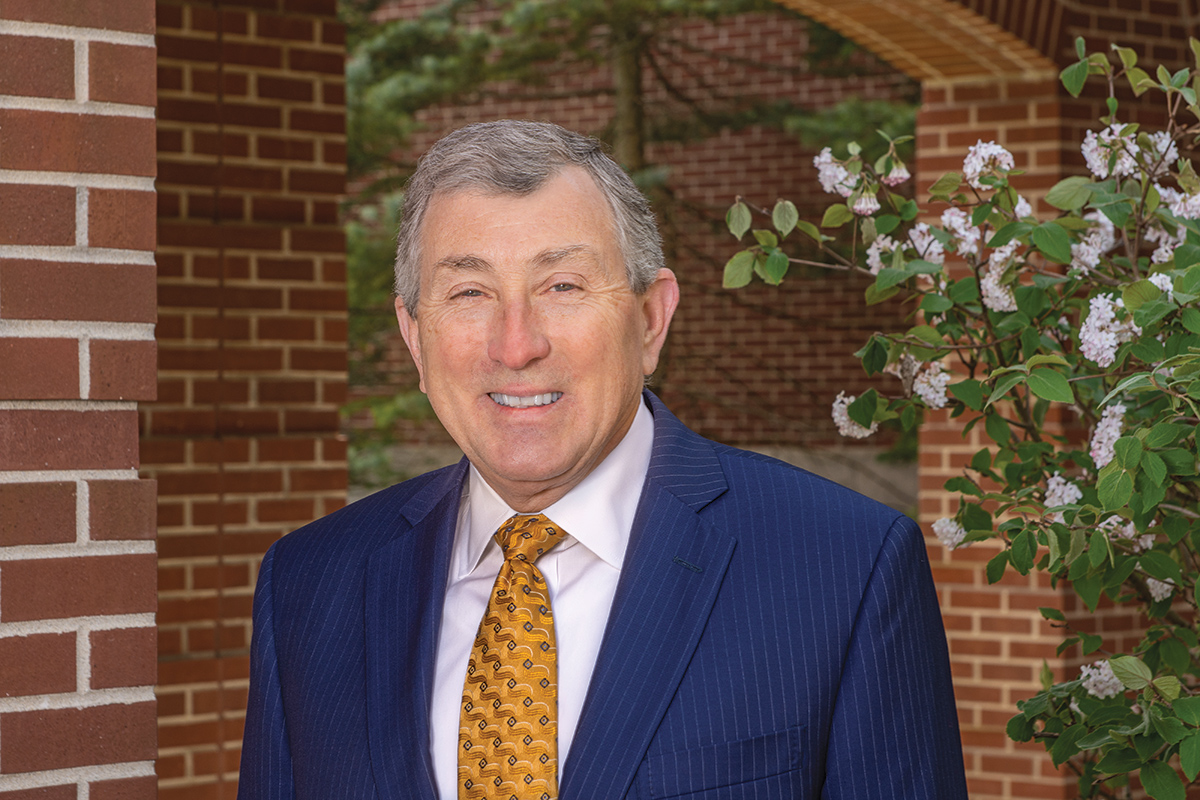 Kerry Prather became acting president of Franklin College in January 2020 and one month later was named president through June 2022.
He accepted the role shortly after the board of trustees terminated the employment of the college's previous president, Thomas Minar, and just before the pandemic began.
In March, the board announced that Prather will continue to lead the institution until at least July 2024 and later this month will officially be inaugurated as the college's 17th president. He's worked at the college in some capacity since 1982, holding various roles as needed.
What roles have you served at the college?
So, this is my 40th year. … Throughout most of that time, the two positions that I held jointly were director of athletics and head men's basketball coach. Along the way, at various times, I have been assistant dean of students, assistant director of admissions, acting vice president for enrollment management, acting vice president for administration. I think that's all.
What's kept you at the college for so many years?
In a word, people. It's been a wonderful place, not just to work, but it's been a wonderful place for our family to basically live.
Cindy [his wife], the bulk of her professional career has been on the faculty here at the education department. The kids [Katie, who graduated in 2013, and Robbie, who graduated in 2017] went from riding bikes on campus to going to school and graduating from here. All of that time, the colleagues and the friends that we've had associated with the college have just become our extended family.
Along the way … I had several job offers from other places. We just couldn't imagine having elsewhere everything that we had developed here, especially in terms of the relationships.
What are some of the achievements you've played a part in over the years you're most proud of?
It's growth. When I came here all those years ago, it was a period of time of slumping enrollment. We've watched that build back up, which has been huge.
And I think just the development of programs and opportunities for students. I can't honestly remember, but I think when I came here, we had 12 sports. We now have 21.
The technological bandwidth of the institution has just dramatically changed. … The other thing that I think has dramatically changed is the diversity of the campus.
Before becoming acting president in 2020, was it a position you had your eye on?
Never in my wildest dreams. No. I was completely happy and content where I was. I understood the need, and I understood from the board's perspective what they felt the institution needed at that time. … It's not one of those things you would say no to.
What goals do you have for your tenure?
It's interesting when you get beyond crisis management. It's not that there are no crises afoot at the moment, because we are still managing the COVID situation, but it's exciting to now start thinking about, what does the future hold for us?
We have an enrollment growth agenda, which I think we have built a solid foundation for. We have some ambitious fundraising agendas … and I think we need to continue building out the distinctiveness of Franklin College, which is the comprehensive nature of our commitment to engaged learning.•
Please enable JavaScript to view this content.