Warren Buffett, chairman of Berkshire Hathaway Inc., in his shareholder letter of March 1, 2013, took a page out of Bob Knight's new book "The Power of Negative Thinking," a twist on the best-selling treatise of yore by Norman Vincent Peale.
Buffett said of his mistaken investment in the textile business, "I wanted the business to succeed and wished my way into a series of bad decisions, but wishing makes dreams come true only in Disney movies; it's poison in business."
Knight deconstructs these wish-y-washy euphemisms, including "oh well, the sun will come out tomorrow" and "don't worry honey, everything will be all right." He paints them as excuses for failure to prepare and execute. Knight says, "Good things come to those who wait—if they work like hell while waiting."
The title notwithstanding, there is nothing negative about Knight's book. According to Knight, being alert to the possible negatives in any situation is the best way to bring about positive results. The book, written with Bob Hammel (any book written with Hall of Fame journalist Bob Hammel is worth reading), is told from the perspective of coaching basketball, using sports jargon throughout.
But it's not just about basketball. It also tackles politics, history and literature, all with the theme, "get off your ass and prepare if you want to win—at anything." After reading this book, you could be convinced that the South would have won the war if only it had been led by General Bob Knight.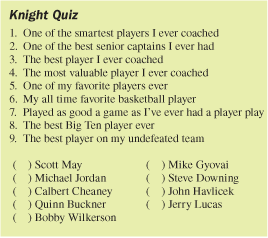 Followers of Coach Knight won't be surprised at the sign Knight put up in a locker room when Burger King was advertising with its slogan "hav
e it your way." It read: "This ain't Burger King. We'll do it my way."
Other Knightisms: If you believe it's not whether you win or lose, but how you play the game, you should be in writing or broadcasting. And if you think you can be whatever you want to be, jump out of a tree and try being a bird.
As to the power of religion, Knight remembered he had a player who made the sign of the cross before every free throw. "I told
 him to quit it—not because the act offended me; he was a lousy shooter, and I told him he was giving the church a bad name."
The book is autobiographical. From the early days of high school coaching to those final days at Texas Tech, Knight revels in his triumphs, including each NCAA championship. Some of his stories are oft-told but still enjoyable. You can relive the defeat of Michael Jordan-led North Carolina in the 1984 NCAA regionals, the undefeated 1975-76 season and the brilliant no-time-out at the end of the 1987 championship game. Do you ever get tired of remembering Keith Smart's last shot?
Take this book to the beach this spring vacation, or, better still, send a copy to Warren Buffett. Maybe he could use a few more pointers.•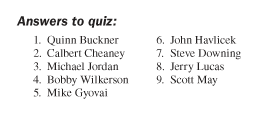 __________
Maurer is a shareholder in IBJ Corp., which owns Indianapolis Business Journal. His column appears every other week. To comment on this column, send e-mail to mmaurer@ibj.com.
Please enable JavaScript to view this content.