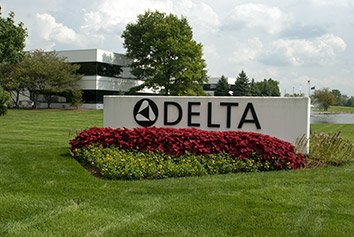 The sluggish housing recovery has Delta Faucet Co. banking more on existing homeowners swapping out old plumbing fixtures for newer, costlier ones as its parent company cuts costs.
Indianapolis-based Delta's parent, Masco Corp. in Taylor, Mich., has historically relied on 1.5 million U.S. housing starts each year to generate sales for its plumbing fixtures, cabinetry, paint and other home supplies.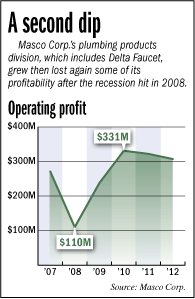 But with new-home construction coming in shy of 800,000 for 2012 and projections for 2015 still below the norm, the market has yielded a rough adjustment for Delta and its sister companies.
Masco has responded by shifting more of its focus to supplying remodeling, repairs, commercial construction and global construction projects.
Even so, Delta President Richard O'Reagan told IBJ in an e-mail that the recovery of the housing market has helped. The 782,000 housing starts last year was up from 612,000 in 2011.
"The U.S. housing market is showing signs of improvement, and we're seeing a nice lift at both trade and retail," he said.
About 360 people work at Delta's Indianapolis headquarters, which is up slightly from before the recession.
The company's factory in Greensburg has been hammered, however. The work force there is 141, down from 860 five years ago, when it was one of the largest employers in the city of 12,000.
"It's almost like they're static," said Marc Coplon, executive director of the Economic Development Corporation of Greensburg and Decatur County. "There's not many in the community that might say that Delta is getting better—or that it's getting much worse. There's just not much of anything."
Jobs disappeared in Greensburg as Delta shifted work out of state, a strategy that helped Masco boost margins.
Sales for Masco's plumbing products division—most of which is Delta and German subsidiary Hansgrohe—rose to $3 billion in 2012 from $2.9 billion in 2011. But revenue was still down from $3.3 billion in 2007, before the recession.
The division's $307 million operating profit in 2012 was up from $271 million in 2007, but down from its most recent peak of $331 million in 2010.
Delta has revamped its products in recent years. The higher development and marketing costs associated with the changeover are what caused profit to dip from where it was a couple of years ago, Masco CEO Tim Wadhams told investors in February.
Since Delta introduced water-efficient and touch-activated faucets under the Delta and high-end Brizo brands in 2008, they have become a major focus for the company.
The entire plumbing fixture industry is in a race to lower products' water consumption in an effort to entice consumers to upgrade, said Barbara Higgens, executive director of Plumbing Manufacturers International trade association.
"Each company kind of skins the cat in a different way," Higgens said. "Believe it or not, there's a lot of technology in what we do."
John Strong, president of Economy Plumbing Supply Co., said customers at his company's two Indianapolis showrooms have expressed interest in the newer products, but sales don't always carry through.
"It's still an expensive faucet, so it's only going to appeal to a higher-end part of the market," Strong said. "So they aren't flying off the shelves. But they are building momentum."
Many analysts pay little attention to Delta and the rest of the plumbing products division, fixating instead on struggles in other parts of Masco's business.
Masco overall lost $87 million in the fourth quarter, a big improvement from the $573 million loss recorded in the same period a year earlier.
Investors, buoyed by the improvement, pushed shares up from $17.79 to $20.01 on Feb. 12, the day of the announcement. They have since settled around $19.•
Please enable JavaScript to view this content.