The most striking difference between the new downtown Napolese (30 S. Meridian St., 635-0765) and its 49th Street forebearer isn't the uptick in appetizer and salad prices. Nor is it any change in menu content.
Like its predecessor, this Napolese specializes in artisanal pizzas, each irregularly made from hand-formed dough, lightly sauced (or not sauced at all) and topped creatively with farm-to-table goods with a Patachou-group-consistent emphasis on freshness.
What's different, primarily, is the air space.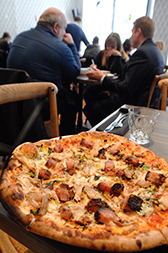 The #57 pizza at Napolese includes Smoking Goose chicken and jowl bacon. (IBJ Photo/ Perry Reichanadter)
Whereas the first Napolese has a crowded rustic bistro atmosphere where conversations spill across tables and getting across the room requires some careful maneuvering during busy times (which is just about all the time), the newbie has a more comfortable high-ceilinged cafeteria vibe, classy enough for a business lunch but relaxed enough to take the kids (just control them, OK?).
I've found that the most effective strategy at Napolese, whichever location, should involve balance. Here, it's easy to be lured into the more creative offerings, which can become overwhelming. Napolese does simplicity well, something that should not be underestimated.
Let's say, for instance, that you are dining with a pair of co-workers and none of you objects to sharing. You could, as I did on a recent meal, order both the Pig in a Blanket ($8) and the Roasted Vegetable Ratatouille ($7).
Where's the mistake? Each is a worthy dish on its own.
Well, the bread wrapped around the Smoking Goose sausage and the delicious house-baked focaccia used as a foundation for the latter veggie mix make the meal too bread-heavy, especially with requisite pizza on the way as the main course.
We also took a misstep when it came to our pizzas—but the fault was, again, not in the kitchen but in ourselves. Rather than look for balance, we went for novelty—trying the No. 57 ($13) with Smoking Goose smoked chicken and jowl bacon, roasted Brussels sprouts and provolone, as well as the Smoked Salmon ($14) with dilled crème fraiche, capers and roasted leeks.
The former would have been fine paired with a simple Margherita pizza ($10). But together, they were overwhelming. The latter option started with a delicate taste—a taste would have been enough—but two slices in, water glasses were drained from an overload of salty capers.
Still, the dough overload didn't keep us from being gluttons for, well, gluttony and ordering the Sweet Pizza ($10) for dessert. Topped with Nutella, chocolate chips, powdered sugar and a gilding-the-lily scoop of gelato (we chose caramel flavored), it's worth a stop even if you've dined elsewhere.
Postscript: A few days later, I returned to Napolese on my own and indulged in an intimate lunch with a simple, delicious Freestyle pizza ($9) topped with Fishers Farm braised short rib (an added $4).
A terrific middle ground between the simple and the esoteric, the short rib pie gave me something unique but familiar enough to still be comfortably called pizza. That's the one I'll return for.•
—Lou Harry
__________
Last in a month-long series of farm-to-table restaurant reviews.
Please enable JavaScript to view this content.