Dance Kaleidoscope sported a French accent for its March 14-24 program, pairing a reprise of 2009's Jacques Brel-fueled "Frere Jacques" with a new celebration of the music of Edith Piaf.
Both French music icons are well-suited to the short, character-driven dance pieces that choreographer David Hochoy specializes in. But Brel and Piaf both earned their reputation in large part by singing from the gut and not holding back emotionally, pouring lifetimes of hard living into their songs. That puts a unique demand on dancers: They have to physically be as honest as the singers are vocally or the whole thing can seem like artistic carpetbagging. And they need to dodge the trap of coming across as if they are merely illustrating music that doesn't need illustration.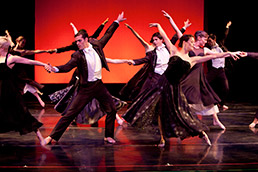 Dance Kaleidoscope gives Edith Piaf songs a ballroom spin. (Photo courtesy of Crowe's Eye Photography)
I'm thankful to say the DK dancers present well. Brel's cynical "Jackie" and his aching "Desperate Ones" invite Hochoy to sculpt bold personalities from his company—albeit with a tendency to take lyrics too literally ("Marathon" has dance teams with numbered backs; "Carousel" creates the expected speeding-up circles). At the program's best, the songs popped with new life.
The second half initially had trouble finding its thematic footing—with "Milord" being particularly confused in its intent. But once Jillian Godwin and Zach Young took off with a passionate/dispassionate "Mon Dieu" and then the company filled in for a series of ballroom-ish numbers leading to a spirited "La Vie En Rose" and a goosebump-inducing "Non, Je Ne regret Rien," the intended fusion of singer and dancers was reached.
__________
Sometimes in a relationship, you fall hard right away. Other times, you spend time with someone, enjoy the company, then suddenly realize you are in love.
American Pianists Association fellow Aaron Diehl scores a strong first CD release. (Photo Courtesy of John Abbott)
The same can hold true for music. Case in point: I enjoyed giving a first listen to "The Bespoke Man's Narrative" (Mack Avenue), the new CD from Aaron Diehl, top fellow at the 2011 American Pianists Association jazz competition. His invention, his precision and the ensemble work he draws from the rest of his assembled quartet is apparent from the first notes of his own composition, "Prologue," and continues with his approaches to Ellington, Ravel and others.
But only when I came to his variations on George Gershwin's "Bess, You is My Woman Now" did I realize how lost I was in the recording. Here, Diehl begins with fascinating caution, as if not wanting to wake his beloved subject. That delicacy weaves through the eight-plus minutes, finding a heartbreaking simplicity in the "Morning time/Evenin' time" moments and modernizing the middle section while never trivializing it. Gorgeous.
__________
One of the many, many pleasures of Shakespeare is that his characters' relative values can shift from production to production. In one "Hamlet," Polonius can seem almost incidental. In another, he can be key.
Listen in on a discussion of "Twelfth Night" or read a high school term paper and the focus, no doubt, will be on the central triangle: Duke Orsino loves Olivia, Viola loves Orsino, and Olivia loves Viola, thinking she is a he.
But in Acting Up Productions' Prohibition-set "Twelfth Night" (through March 24), two unlikely characters become near equal players, turning the triangle into a more complicated geometric shape. To be clear, this isn't a violation of Shakespeare's text—the words, except for a few transposed period songs—are his. But the seemingly greater attention to the fool Feste (here a sultry singer) and Viola's long-lost twin brother, Sebastian, proves refreshing.
Presented at the Wheeler Arts Community with the audience at tables on two sides, the configuration seems meant to evoke a speakeasy. Unfortunately, it also served to make the handful of people I saw it with too aware of how small the crowd actually was.
A shame, since this production has a number of things going for it, including—unlike in many a Shakespeare comedy—an actress, Lauren Briggeman, who offers a believably terrified woman early on who convincingly later passes for a young man. With all the shtick and silliness, it is during those emotional moments when Viola learns of her brother's death and, later, can't quite believe her eyes that he is alive, that this otherwise entertaining-but-inconsistent production shines brightest.•
__________
For more recent reviews, visit www.ibj.com/arts.
Please enable JavaScript to view this content.