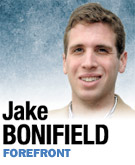 As the first governor since the Civil War to win election with less than 50 percent of the vote, Mike Pence has a political capital problem. And it's starting to show.
His goal of a 10-percent income tax cut has been met with a lukewarm reception from House and Senate leadership and is in jeopardy of being left out of the new budget.
The reticence of fellow Republicans to support the cut has at times seemed to mystify an administration whose only tangible policy goal is stalled and in danger of dying.
It must have been an exciting moment for the newly elected governor. Sent to the Statehouse after 12 years in Congress, the heir apparent to a legacy of pragmatism bequeathed by an enormously popular predecessor. A largesse built over eight years during which Daniels amassed a trove of political capital. And now it was Pence's to spend.
Plenty of lottery winners (not the ones on the Hoosier Lotto billboards) could tell you what happens next.
Down the hall from his new office, Pence surely noted that both chambers of the General Assembly were filled with walkout-proof majorities of allies, like cheering fans filling the end zone, just waiting on him to walk across the goal line. Nowadays, they look more like defensive linemen.
Pence is betting his first year in the governor's mansion on his only tangible policy goal of note, cutting the state income tax from a repressive 3.4 percent to 3.06.
Get excited. The average Hoosier would keep a meager $3 more per week, at a cost to the state of $750 million. Fiscal conservatism at its finest.
After capping property taxes—and in so doing creating a new third rail in Indiana politics—the state is now confronting what municipalities have grappled with for years, namely the inconvenient truism that fewer taxes means less revenue.
This prudent opposition has some unlikely heroes, too.
Speaker of the House Brian Bosma has noted that, just 15 years ago, flush with reserves and faced with a similar choice, dual income and property tax cuts left the state $1.3 billion in debt six years later.
Bosma, Senate President Pro Tem David Long and others have slowly but admirably come to embrace the limits of reckless cuts. They have rightly recognized the need to restore education funding and use revenue to address infrastructure needs that cost the government and drivers millions.
And now, with the money from the 75-year toll road lease all but gone, so, too, is support for a small-minded, low-impact boondoggle.
Last month, after delivering his increasingly desperate sales pitch to a group of local government leaders well versed in the real price of indiscriminate tax cuts, Pence got the dreaded one-clap. Not a great photo op for a politician used to flattering frames.
For his part, Pence continues to preach positivity, even as he rules out compromise. Yet, the education of a governor is not always pleasant, particularly for one whose tenure in Congress revealed an aversion to substance, and comfort with divisiveness that does not bode well for the few remaining fans of his tax cut.
Now, as we enter the final month of a long and rudderless session of the General Assembly, the governor's minuscule tax cut has taken on new importance and may well define the scope of his influence for several years.
Suddenly, the tax cut no one asked for has become the fight he can't afford to lose, yet may not have the strength to win.•
__________
Bonifield is a senior political science major at DePauw University and president of Hoosier Youth Advocacy, an organization focused on increasing youth participation in the Indiana General Assembly. Send comments on this column to [email protected].
Please enable JavaScript to view this content.