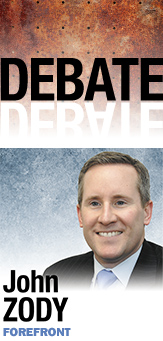 Question: The Indiana Republican Party has enjoyed a string of election successes. The party holds all but three national offices, all but one statewide office, and has super-majorities in both houses of the General Assembly. Will the party grow complacent or overreach?
Answer: With super-majorities in both chambers, there's been plenty of chatter about whether Republican lawmakers will stay focused on their campaign promises to build our economy and create jobs.
The question for the GOP is not whether they'll overreach, but when.
The answer: when they stop fighting one another.
As a former gubernatorial adviser and congressional chief of staff, I don't think I've ever seen government as divided—on one side of the aisle, no less—as we see now at the Statehouse.
From education funding to Medicaid expansion to taxes and the future of our state budget, Republicans can't seem to agree on anything.
For what must be the first time in Indiana history, an incumbent governor is relying on outside special interests to push his legislative agenda to members of his own party.
The governor's 10-percent income tax cut, which would cost taxpayers more than half a billion dollars, has little support among GOP fiscal leaders at the Statehouse. Within the first three months of his term, he's counting on television advertising to shore up support for the proposal.
The truth is that in Indiana, unlike in Washington, we're a bit more pragmatic when it comes to our bottom line. We're required to pass a budget, and we have to fund the programs we believe will benefit our state.
That inherent pragmatism has pitted moderate and extreme Republicans against each other. It sets the stage for a showdown at the end of this session.
Are we going to spend our time debating women's health issues, attacking voting rights and working families, and denying insurance coverage to 400,000 Hoosiers, or are we going to grow our economy and help dozens of counties reduce their unemployment rate below 10 percent?
After all, despite eight years of GOP rhetoric, the amount Hoosiers make on the national dollar has barely budged. We're worse off, and no one is looking out for the little guy.
The conundrum Republicans face is less about overreach than self-awareness.
In the 2012 election cycle, Democrats knew we had fewer resources to win statewide, and we made sure we nominated strong candidates.
We elected a U.S. senator and surprised the nation by ousting a Republican superintendent of public instruction whose personality overshadowed an important debate about K-12 education. We also came incredibly close to winning the governor's race.
That was possible because Democrats were a unified force, and we promoted a common-sense agenda that will help build Indiana's middle class from the inside out.
We'll work with Republicans where we can to find common ground, but we'll shine a harsh but substantive light on the GOP priorities we believe will harm Indiana and our middle class.
While Statehouse Republicans battle one another to see who can get furthest to the right, the sad truth is, no one's steering the ship. That's a huge loss for Hoosiers, but it's also a chance for Democrats to lead with ideas that will get our state back on track.
As the newly elected chairman of the Indiana Democratic Party, that's a conversation I look forward to having with all Hoosiers.•
__________
Zody is chairman of the Indiana Democratic Party. Send comments on this column to ibjedit@ibj.com.
Please enable JavaScript to view this content.