Sometimes, it's not really about the food.
That doesn't mean you want what you are eating to be bad—or even mediocre. But there are times you don't need it to be great.
Occasionally, a higher priority is for a waiter or bartender observant enough to sense your mood. And for atmosphere and a volume level that suits that same mood.
What you need, in short, is a good food-with-your-drink spot. And this month, we hit four, starting with newcomer Bakersfield Mass Ave (334 Massachusetts Ave., 635-6962).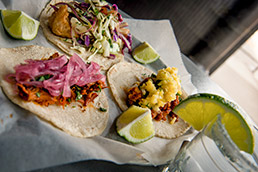 Tacos—and liquor—dominate the menu at Bakersfield Mass Ave. (IBJ Photos/Eric Learned)
While the name comes from California, the restaurant now filling the storefront formerly occupied by Bazbeaux actually hails from Cincinnati. There and here, the faux-rustic saloon serves a limited menu of basic Tex-Mex appetizers plus tacos, tortas and salads.
You start, of course, with Chips and Guacamole ($6), the latter a bit salty but perfectly scoopable. The red salsa had more character than the green, but here at Bakersfield, you might not even hear the crunch while trying to talk over the loud music and louder conversations.
If returning, I'd pass on the Corn Chowder ($4), a thin, creamy mix that could use a dose of character. Better was the June Salad ($6), featuring arugula, Mandarin oranges, a bit of jalapeño and pepita—tiny flat pumpkin seeds providing a refreshingly different taste you'd never find at a Taco Bell.
Bakersfield offers eight different tacos in house-made soft tortillas, allowing you to combine two or three (or four or five) into a side-less entrée. My vegetarian friend ordered the uninspired Raja ($3), featuring a few thin strips of poblano and bell peppers and ejotes (green beans), and a more interesting Huitlacoche ($4), with corn truffles, roasted poblano, corn, onion and cotija cheese.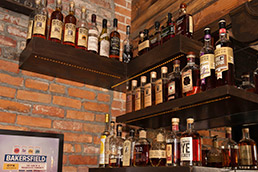 I took the carnivorous approach, starting with the Pastor ($3), in which pineapple and pickled onion helped detail a scoop of chili-marinated pork. Better still was the Cochinita Pibil ($3) where braised pork is accented with achiote, pickled onion, habanero salsa and cilantro. Any of the above can be sparked with house-pickled jalapeños for an additional $1. (Note: The meat offerings and the veggie selections were served on the same platter, which might bother serious vegetarians.)
Dessert? I asked.
My waiter's response? The boss told him that, if anyone asks, suggest a shot.
It's that kind of place.
Early evening on a Monday, the crowd was lively and loud and service was friendly—if challenged navigating in the tight space. (There's more room downstairs but that wasn't offered as an option.) A perpetual loop of "High Noon" played on the TV screen—refreshing after one-too-many sports bars.
"The right and the wrong," says a character in that classic, "seem pretty clear here."
But he might have added: "When you are hungry after a night on Mass Ave, right and wrong don't matter as much as extending the night with your friends."
And I suspect many will be doing just that with Bakersfield's inexpensive fresh tacos, a beer or two, and maybe even a shot for dessert.•
–Lou Harry
__________
First in a month-long series of food-and-a-drink eatery reviews.
Please enable JavaScript to view this content.