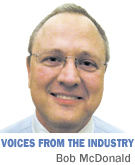 The statistics we hear so often are clear. As a community, we are not in an enviable place. We smoke more, exercise less and weigh more than the national average, resulting in more diabetes than average.
These statements are more than just statistics. They represent collective decisions and behaviors by fellow citizens day to day. However, there is reason to believe the needle is moving in the right direction.
Data-driven collaboration
A coalition of more than 60 public- and private-sector organizations has formed to mobilize the community to address the key health behaviors of smoking, exercise, nutrition and weight.
This Top Ten Coalition works to improve Indianapolis' ranking from its current 43rd among the 50 largest cities to 10th or better. The measurements are made annually using the American Fitness Index developed by the American College of Sports Medicine, an Indianapolis-based organization that is taking a national leadership role to improve community fitness.
Strong progress
One of the above metrics that has received much focus locally has been our smoking rate. For decades, the rate in Indianapolis has been greater than the national average.
Many public- and private-sector initiatives, including two smoking bans implemented within Indianapolis, are signs of the strong community interest in this topic.
These efforts are making a difference. The fitness index data show that, over the past four years, the smoking rate has decreased at least 1.8 percent, to 2-1/2 times the national average of 0.7 percent.
Prevention leadership
Nearly 80 million Americans are pre-diabetic.
Nearly 10 years ago, Dr. David Marrero of the Indiana University School of Medicine began a collaboration with YMCA of Greater Indianapolis for diabetes prevention that continues to this day.
The best way to prevent pre-diabetes from developing into diabetes is to lose weight. Reducing body weight 5 percent reduces the five-year risk of developing diabetes more than 60 percent.
Marrero developed a year-long course taught by trained YMCA staff that consistently delivers weight reduction within this range. The activities were published, and the YMCA of the USA has adopted it as a signature program for nationwide implementation.
In June 2012, the Baltimore, Md.-based Center for Medicare and Medicaid Innovation launched a demonstration project with the YMCA of the USA. Through this demonstration, 10,000 Medicare beneficiaries will receive the class. The work was cited in an editorial of the prestigious New England Journal of Medicine last year as a promising model for preventing diabetes.
Indianapolis showing resolve
Indianapolis started out with low rankings in community-wide health assessment due to high historical rates of smoking, obesity and diabetes, and low rates of exercise. A public-private partnership has been formed to "move the needle."
The past data on smoking indicate that, as a community, we can improve faster than peer cities, and we can make progress against them when we show resolve.
Finally, in the area of diabetes prevention, Indianapolis is viewed nationally as a pioneer. While we have many challenges, we have strengths to leverage.
Our community's health is the result of decisions that more than 1 million of us make each day: decisions to smoke or not, to eat or not, to work out or not.
In the end, we can only change ourselves, and by changing ourselves, change our community. •
__________
McDonald is president of Aledo Consulting, chairman of the Health & Wellness Committee of the YMCA of Greater Indianapolis, and a member of the Steering Committee of the Top Ten Coalition. Views expressed here are the writer's.
Please enable JavaScript to view this content.