There's a big difference between good and good enough—especially when it comes to bar food. Most of us don't expect much culinary magic from our neighborhood watering holes, so we're pleasantly surprised when such spots produce something interesting.
Such is the case with Flying Shrimp Gastropub (10462 Olio Road, Fishers; 336-3500), the newest occupant of Geist strip-mall space that most recently housed an uninspiring Bubbaz Bar & Grill.
Owner Matt Leckrone's experience as a hibachi chef at a Japanese steakhouse shows on the menu, which includes ambitious offerings like the Flaming Salmon Pouch ($17) in addition to the typical array of deep-fried and cheese-smothered goodies.
We played it safe, starting with the Flying Shrimp Bread ($10) and an order of Crispy Pork Rinds ($7). The restaurant's namesake appetizer features a creamy mixture of seafood—crab and shrimp, at the very least—covered with melted cheese on a slab of crusty French bread. To say it is addictive doesn't do it justice. The fresh-from-the-fryer pork skins, coated with Cajun seasoning at our server's recommendation, were similarly impressive.
Next up: the Footlong Bratwurst ($10), which appeared to fall a bit short on size but nevertheless delivered extra-large flavor. Cooked with smokehouse bacon (which we happily found nestled between sausage and bun) and served with sauerkraut and red onion slices, it had a satisfying snap with each bite. And we had no complaints about the price, which also includes soup or salad and a choice of side.
We actually made a second visit to try the White Chili, since the popular side dish was sold out on our first trip. It was worth the wait. The thick, creamy soup marries chicken, white beans, artichoke hearts and mushrooms with a subtle mixture of traditional chili spices, packing a welcome punch.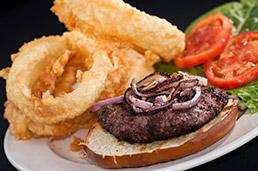 A garlic pepper rub upgrades the Grilled Bison Burger at Flying Shrimp Gastropub. (IBJ Photo/ Eric Learned)
The Grilled Bison Burger ($9) is locally sourced and formed into patties in-house, the only explanation our server could come up with for the leaner-than-beef burger's being so tender and juicy. It also was perfectly prepared, the tasty garlic-pepper rub shining through. We were apprehensive about the side of Dragonfly Rings—onion rings coated with a batter made from Upland Brewing Co.'s hoppy Dragonfly IPA—but the sweet onions must have counteracted the bitterness of the beer.
We passed on dessert and somehow managed to resist the temptation of half-priced martinis that sounded just as decadent. Among the options: caramel apple, Irish cookie dough and red velvet cake. Magic, indeed.•
–Andrea Muirragui Davis
__________
Second in a month-long series of food-and-a-drink eatery reviews.
Please enable JavaScript to view this content.