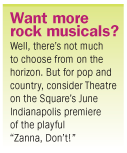 Early in most musicals, you'll find an "I want" song. Belle wants "adventure in the great wide somewhere." Tevya tells us, musically, that he wants to be a rich man and Eliza Doolittle sings of that enormous chair in a mythical room "far away from the cold night air." The list goes on.
It makes perfect sense, though, that the title anthem for the musical "American Idiot" (the tour of which blasted into Clowes Hall April 2-7) starts with the entire cast singing about what they don't want.
"Don't want to be an American Idiot," rages Johnny (Alex Nee) and his cohorts. "Don't want a nation under the new media.
Johnny's crew (there's nobody older or younger in sight) has no idea what they want to do with their lives, only what they don't want to do. They don't want to live in suburbia. They don't want to be like their parents. They don't want to take whatever is shoved on them by TV.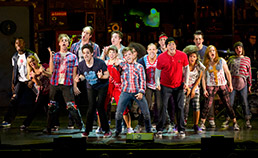 The company of "American Idiot." (Photo courtesy of Litwin)
Such attitudes, if expressed at the next table from you at a coffee shop, might send your eyes rolling or cause you to gulp down the rest of your Frappuccino and head for the door. But through the skillful work of show creators Billy Joe Armstrong, Michael Mayer and a non-Equity cast, "American Idiot" becomes something more than just a musical complaint session: It becomes a terrific, intensely rocking piece of musical theater, worthy of a place on a short list with "Hair" and "Spring Awakening."
For the record, I approached the show fairly ignorant about Green Day's music. I did hear songs I recognized ("Wake Me Up When September Ends," "Boulevard of Broken Dreams"), but, honestly, if you had asked me beforehand to name two of the band's songs, I couldn't have done it. My ignorance, though, only shows that, for those who don't mind non-traditional core characters, lyrics laden with f-bombs, high-volume musical intensity, and a big pile of youth angst, "American Idiot" isn't just for its characters' demographic group.
Plot? Johnny and his disillusioned buddies want out of suburbia. One's escape plan ends with the pregnancy of his girlfriend. Another tries to find meaning in military service. Johnny hits the big city, finding both love and drugs, with the latter pushing the former away. But Johnny is no Pippin or Candide. Optimism isn't in his DNA. But love surprises him. And even when he does take action, it doesn't make the world wonderful—only, perhaps, tolerable.
While "American Idiot" has define-a-generation links to "Hair," the Broadway show it most recalls is the Billy Joel/Twyla Tharp dance piece "Movin' Out." That, too, focused on high school friends who take different paths into the world. More to the point, though, "Idiot" and "Movin' Out" are each stylistically true to themselves. Each creates its own distinct movement vocabulary.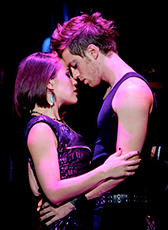 Alyssa DiPalma and Alex Neein. (Photo courtesy of JTurner Rouse Jr.)
Of course, the moves in "American Idiot" look nothing like those of "Movin' Out." Its choreographic palette consists largely of a kind of controlled thrashing. Company members rush from the wings to hurl themselves into songs. They leap into beds, flip through windows, and spin each other on scaffolding with precision but without seeming over-rehearsed. When they are almost-but-not-too in-sync, the dancers startlingly highlight the show's themes of connectiveness/disconnectiveness. The fact that original choreographer Steven Hoggett wasn't even nominated for a Tony Award is just shortsighted and wrong.
I loved the aggression of the show. It has a "this is what we are" confidence that leads to perhaps a few too many middle-finger raises and crotch grabs,
but also seems to know that its characters are speaking their own youthful truth—which may or may not be your more experienced truth. As with a good production of "Hair," you don't have to buy into the characters' world view to have a satisfying experience.
There's a telling moment when Johnny explains how he acquired the money for
his escape from the suburbs—robbing a convenience store. Moments later, he tells his disbelieving friend that he actually borrowed the money from his mother. It's a moment both funny and sad, underlining Johnny's need to rebel, whether he has something solid to push off of or not.
Unlike with many non-Equity tours, the design doesn't feel compromised by budget. The television screens are overwhelming—as they are in most sports bars—and smartly incorporated into a unit set that can feel like the back of a theater, a prison, the inside of a short-circuited brain, or a big city, depending on the choices of the lighting designer and director.
This production could use a St. Jimmy (the drug connection) with a stronger presence. Its female characters are sketched even lighter than the main men are. There's extraneous flying that seems to be a sign of a lack of confidence in the show's ability to compel without spectacle.
Still, "American Idiot" is a show I was ready to see a second time even before the black wall of a curtain went down.•
__________
This column appears weekly. Send information on upcoming arts and entertainment events to lharry@ibj.com.
Please enable JavaScript to view this content.