Applications to three of the four law schools in the state are in free fall as prospective students think twice about taking on mountains of debt at a time job prospects are dim.
Law schools at Indiana University, IUPUI and the University of Notre Dame have seen applications plunge as much as 31 percent in the past two years.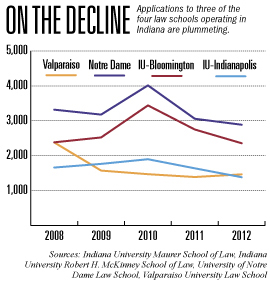 Only Valparaiso University has escaped the downdraft since the schools' heyday three years ago.
The trend is so abrupt that Gary Roberts, dean of the IU Robert H. McKinney School of Law in Indianapolis, openly frets about his options.
"If the falloff is too great," Roberts said, "we may have to consider lowering the admissions standards just to be financially viable."
Law schools are not accustomed to scarcity. Applications swelled as students sought refuge from the recession, peaking in 2010, but as law firms adjusted to the economy by cutting back on hiring, more and more potential students got cold feet and backed away.
As of mid-March, law schools across the nation had received 49,603 applications, down 17 percent and 30 percent, respectively, from the same time in the prior two years, according to the Law School Admission Council in Newtown, Pa.
In Indiana, applications have dipped most at the Maurer School of Law at IU Bloomington—31.5 percent from 2010, to 2,358 last year.
The Law School at Notre Dame is down 28.1 percent, to 2,888.
The McKinney School has fallen 27.1 percent, to 1,385.
Valparaiso is down only five applications, to 1,467—because, a spokesman said, the school is traditionally selective in whom it admits and keeps class sizes small.
Experiences like those of Teresha Twyman and Kelsey Raves, both of whom graduate from the McKinney School in May, spark fear in would-be students.
Twyman took the bar exam in February and is set to graduate next month. But she has no job prospects and a mound of debt approaching six figures.
"I can see why it is a concern, but it wasn't a concern for me," said Twyman, 27, of Indianapolis. She started law school four years ago just as the legal job market began to dry up.
Now Twyman and Raves, 25, of Pittsburgh, are stuck with few options.
"I'm open to whatever I can find," Raves said. "I've been submitting applications for jobs that don't start until August, but I haven't found anything yet."
It's a topic local attorney Paul Ogden has addressed on his Ogden on Politics blog.
"The new people have it the worst because they're graduating with six-figure debt and no jobs," he said. "Check out the attorney job sites; there just aren't many openings advertised."
Before the recession, law school students often parlayed summer associate work into full-time gigs after graduating.
Not anymore. The percentage of interviews resulting in summer associate offers fell slightly in 2012, to 44 percent, according to data from NALP, formerly the National Association for Law Placement. The nadir for summer associate hiring remains 2009, when just 36 percent of interviews resulted in offers.
The declines translate to a steep loss in revenue for the universities. Tuition at the McKinney School, for example, is $23,240 for Hoosiers and $43,015 for out-of-state students.
Cutting class sizes to maintain stricter admissions standards translates to lower revenue. But accepting students that otherwise wouldn't have made the cut dilutes those admissions benchmarks.
In Chicago, law schools at Loyola and Northwestern universities announced in March that they would cut their incoming class sizes 10 percent as the schools try to better align their graduates with the shrinking job prospects.
"There's no question that we can bring in as many [students] as we want, but we want to retain the quality of student," Roberts said.
The McKinney School is looking at ways to cut costs and increase recruiting. The school also has approved a one-year master's of law degree for students who don't plan to become lawyers. The first class could begin in fall 2014, Roberts said.
Last year's application number was the lowest at Notre Dame in six years, Dean Nell Jessup Newton said. Yet the university has maintained its first-year class size at about 180 students due to its intense selectivity and high quality of applicants.
"If I had to bring in 400 students, I think it could be affecting us more," she said.
It's harder to get a sense of how the drop might be affecting IU in Bloomington. Interim dean Hannah L. Buxbaum offered her only comment via email: "We've had significant spikes in applications recently, particularly in the early 2000s and again around 2010, and we're seeing our application volume return to more normal historical levels," she wrote.
IU-Bloomington law professor William D. Henderson, who's written extensively on the issue, warns of the potential dangers for some law programs.
"We're headed into troubled waters," he said. "The first step is that law schools will go out of business."•
——————————————————————————————————————————————–
Indiana Tech presses ahead

An Indiana college is pressing forward with the opening of its law school despite the declining interest in a legal degree.
Indiana Tech in Fort Wayne will welcome its first class of law students this fall at its flagship Allen County campus during one of the worst times imaginable.
Law school applications are falling nationwide and have dropped the past two years at three of the four law schools in Indiana.
Indiana Tech launched its plans to build a law school before the bottom fell out. But the law school's new dean, Peter Alexander, remains undeterred. With $16 million spent on a new building, it's hard to abandon ship now, he argued.
"You go back three, 3-1/2 years, we were still OK in terms of admission," Alexander said. "It wasn't until last year that we saw a significant downturn and then the bottom fell out this year."
He's banking on an unusual curriculum that combines classroom and practical education to draw students. With commitments from more than 100 entities around the state, Alexander said, third-year students will have opportunity to embark on a 40-hour externship with a law firm or judicial office.
He's targeting 100 students for the first-year class, though he admits that might not be attainable.
"Now that we've seen the marketplace," Alexander said, "our board of trustees is committed to opening the law school with whatever number we have."
Annual tuition is $29,500.•
——————————————————————————————————————————————–
Help offered in finding jobs
The Indianapolis Bar Association has launched a program to help improve law students' chances of landing a job.
The Attorney Apprentice Program, which started in March and runs through April 19, includes a total of 10 hours of training in such areas as civil litigation, criminal practice and procedure, and transactions.
Organizers say the sessions help give students the experience they lack by missing out on summer associate jobs at law firms that have scaled back on hiring.
"We determined we needed to come up with a practical program to teach law, because they're not getting the training," said Rebecca Geyer, a lawyer and member of the bar association's Lawyers Helping Lawyers Task Force.
About 40 students are participating in the program. The cost is $250, but the bar association offered scholarships to underwrite the cost for 35 of the participants, Geyer said. Students receive a certificate upon completing the program.
The program has been well worth the time for Kelsey Raves, who graduates from the McKinney School at IUPUI in May.
"As someone who's about to graduate, it's terrifying how little I know," she said. "[Law school doesn't] teach you how to file motions. That's really invaluable."•
 
Please enable JavaScript to view this content.