Stereotypically, going out for a few beers does not involve pickled beets and/or arugula.
But once you get past the brew lineup at Twenty Tap (5408 N. College Ave., 602-8840), those, in combination, are among the first things that greet you from the Starters menu.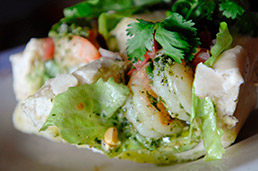 Sautéed shrimp populate the deliciously sloppy Chimichurri Shrimp Roll at Twenty Tap (IBJ Photo/ Perry Reichanadter)
And that dish is not alone in its curiosity value. Sure, there are fries and burgers here, but you'll also find Winter Panzanella Salad with roasted butternut squash, spinach, pickled shallots, and apples ($8), and a Roasted Mushroom Reuben ($9). It's as if your friendly neighborhood fried-and-nothing-but bar was taken over by "Chopped" competitors.
Well, maybe that's a bit of an exaggeration. While its fare would never be mistaken for the choices down the road at the Red Key Tavern, Twenty Tap's food isn't intimidating or overly esoteric. The tastes are basic but intriguing and a pervading sense of freshness may help you rationalize indulging in an extra drink before taking a cab home.
For instance, on a recent visit, the Daily Soup ($3.50/$5 or a $1 side dish upgrade) was a creamy, smooth sweet potato. A cup was just enough. The aforementioned Pickled Beets ($7) with arugula were served with housemade Ricotta, balsamic and olive oil with a hint of lemon zest, making it straddle the farm fence between appetizer and salad. Either way, it worked.
The Steak Salad ($8) parked a sliced filet atop a bed of romaine and Napa cabbage, dressed up with red onion, grape tomatoes, jicama, and peppadew dressed in lime-cilantro vinaigrette, resulting in a substantial entrée. A Tex Burger ($9) was serviceable but not spectacular with an ample amount of bacon and a generous dose of onions and smoked provolone fighting for attention and losing out to the barbecue sauce.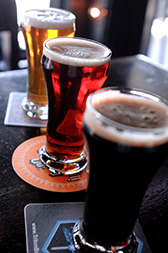 Everything goes down easier with a flight of local beer. (IBJ Photo/ Perry Reichanadter)
Better—and more surprising—proved the Chimichurri Shrimp Roll ($9). Sautéed rather than fried shrimp packed the bun, along with avocado, Bibb lettuce, fresh pico and chimichurri sauce (primarily olive oil and lemon juice) with nothing really to hold it together except your balancing ability. That, to be sure, could be impaired by an extra flight of beers. (You might spend more time choosing from among the 38 craft beers on tap than you spend with the menu entrees.)
No matter what you opt for, though, the Beer-battered Cheese Curds ($7) are mandatory. You'll get a choice of two of the five aiolis—sriracha, chipotle, horseradish, chimichurri and roasted garlic—to dip them in, but you'll be popping these straight from plate to mouth in no time.•
– Lou Harry
__________
Third in a month-long series of food-and-a-drink eatery reviews.
Please enable JavaScript to view this content.