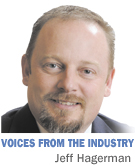 Strategic planning for market-sector success in commercial real estate has always been difficult and risky, but the past five years of the recession have only compounded this uncertainty.
Before 2008, most contractors were accustomed to strategically planning target sectors three to five years out, which would allow them to build relationships with potential clients over time. But when the bottom fell out and financing institutions began rewriting lending programs and underwriting requirements, projecting which markets and clients would be able to fund projects became a crapshoot.
Accurate market-sector planning these days most certainly will not exceed two years, and more realistically, one.
For the construction industry, this evolution has been dramatic, with both good and bad developments.
An example of a good development is the fact that innovation has been a primary focus as contractors have had to differentiate themselves to compete for limited opportunities.
A negative evolution has been potential clients' shifting to thinking of contractors as a commodity in lieu of a value-add partner, thus driving margins dramatically lower and a number of quality firms out of business.
Unfortunately, contractors are our own worst enemy regarding this challenge, as we continue to accept more and more risk for less reward. As industry opportunities increase, I hope this scary trend will subside.
So will there be more opportunities soon? One national forecasting service projects $7.4 billion of construction spending in 12 Midwestern states this year in a segment The Hagerman Group calls the commercial vertical market: hotels, retail projects, office buildings, entertainment venues and parking garages. This represents 33 percent of the forecasted projects in all market sectors in the Midwest and 10.7-percent growth compared with 2012 expenditures.
Furthermore, this service forecasts an additional 2.3-percent growth in 2014 over 2013.
Drill deeper into the details, and it can be noted that the greatest construction spending of the commercial market is office followed by retail.
Layer on top of this forecast that housing construction is growing and the reality that retail typically follows rooftops. It would seem obvious to redirect business development toward commercial opportunities and build relationships with retailers and office developers.
So the one- to two-year market strategy should focus our growth on that market, correct? Hold on …
Another reputable service forecasts $545 million of construction spending in Indiana this year, which represents only 17 percent of the total market projection. While this study also forecast retail and office, respectively, as the leaders in the commercial market, the 17-percent market sector is significantly different from the 33 percent forecast in the Midwest.
Whoops. Better call the business development folks back in and regroup!
Another red flag is that not many financial institutions are rushing out to do a lot of commercial/retail deals without significant collateral, including one's firstborn.
In their defense, that mandate is being pushed down upon them, and in reality most institutions are doing everything they can to promote capital spending.
So, back to the pressing question: How do contractors plan viability when no one really knows where capital growth will be over the next few years?
I truly believe that, these days, it is a mixture of research, networking, listening and some good luck. There is significant pent-up demand for both new and renovation work in all sectors. Some industries are growing rapidly, which will force new construction.
Our legislative body is hard at work reviewing and issuing bills that I hope will place more money back into the commercial space, thus allowing for capital expenditure.
The opportunity to plan, price and replan projects has not slowed, which again is positive (in a slightly sadistic way) and encouraging.
All of us in commercial construction hope that 2013 and beyond will allow these projects to be financed and developed so our industry can rebound, thrive and be revered once again as a true value-add partner.•
__________
Hagerman is president of The Hagerman Group. Views expressed here are the writer's.
Please enable JavaScript to view this content.