It stands to reason that the bar parked atop Cerulean, the creative restaurant at the art-infused Alexander Hotel, wouldn't settle for standard pub food. French fries? No. Chicken wings? None in sight. Smoking Goose lamb bacon with sweet potato, poached egg and truffle salt? You've come to the right place.
Park yourself in one of the many comfy chairs, saddle up to the bar (where you can watch the food crafted), or take a table on the balcony overlooking what will someday, developers hope, be a stunning corner of downtown. Whichever you choose, you'll soon find yourself puzzling over Plat 99's menu, which starts with period cocktails organized by year (e.g., 1922's Monkey Gland and 1934's Twelve Mile Limit Fizz). No designated driver? Then you could break the bank on Diet Cokes, which come in adorable small bottles at an insulting $4 a pop.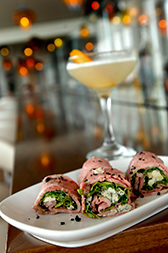 Period cocktails mix with creative cuisine at Plat 99. Here, Natural Beef Roulade is joined by a Corpse Reviver from 1930. (IBJ Photo/ Perry Reichanadter)
The food menu features small plates meant for sharing but not necessarily for understanding at first glance. Beets ($7), for example, bear little relation to what you would find served up family-style at Hollyhock Hill. Here, they come green; chopped small; flavored with horseradish, pecans and a sherry vinaigrette; and hidden among micro greens. They're best once all the flavors are combined.
Similarly, the Riverbend Blue Grilled Cheese ($8) may sound like something you can make at home. But have you tried including thinly sliced pear and onion in the mix? And parking it between pieces of sunflower bread? Smart decision-making from the kitchen and the highlight of our meal.
Nearly as successful was the Natural Beef Roulade ($11), with blue cheese, arugula and truffle vinaigrette rolled in with the meat. And the Braised Pork Belly Slider ($7)—actually, two of them on the plate—might look like fat on a bun, but cherry chutney and crisp red onions made this another winner.
At Plat 99, you can also go with a plate of Smoking Goose Cured Meats or Local Cheese ($4-$6). If you're only drinking, you won't go hungry either. The casually dressed servers bring complimentary bags of truffle popcorn just for showing up.
We were less impressed with the Housemade Donut ($6). If you are going to tackle that junk-food staple and claim it as your own, it had better be a sharp improvement over what you find in the office break room on a Friday. Or, at least, delightful in its own decadent way. Here, the subtle cherry filling only served to make an uninspired dough pie mushy rather than interesting. Better was the Bete Noire ($7), rich slices of chocolate cake with housemade pistachio brittle. Advice to management: Bag the brittle and have it available to go. It would make a great tip to add to the baby sitter's pay. Or a wonderful late-night snack back in the hotel room.•
—Lou Harry
__________
Fourth in a month-long series of food-and-a-drink eatery reviews.
Please enable JavaScript to view this content.