City officials will have at least four proposals to consider for redevelopment of a downtown parking lot where Market Square Arena once stood.
Executives from locally based Browning Investments, Flaherty & Collins Properties, Keystone Group and Milhaus Development told IBJ during an informal survey of potential bidders that they intend to submit proposals, which are due to the city by April 22.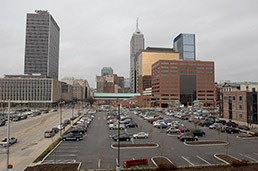 The northern section of the former Market Square Arena site is gaining interest among several local developers who intend to submit proposals. (IBJ photo/ Perry Reichanadter)
The developers declined to share specifics of their plans. But proposals are expected to include a high-rise building well beyond four stories above a major retail component on the ground level, according to a city fact sheet.
(IBJ Update: Six bidders respond to city's request with projects ranging between eight and 52 stories. Click here.)
The renewed interest in the site, where previous attempts at redevelopment in 2004 and 2007 failed, comes after Mayor Greg Ballard called for new proposals during his State of the City speech in March.
What's different this time is the city is seeking redevelopment of about half the former arena site in hopes a smaller development might have a better chance of success.
The targeted property is the northern 1.96 acres directly east of the Indianapolis City Market at the northeast corner of Market and Alabama streets. The area is now segmented into parking lots from Washington Street north to Wabash Street. City officials hope a project on the northern half will help generate demand for future development on the southern half.

Flaherty
"We're hopeful, or we wouldn't have gone out with the [request for qualifications] at this time," said Deron Kintner, deputy mayor of economic development. "We're continuing our stance that we want the market to tell us what the highest and best use is."
One of the likely uses is apartments. Both Flaherty & Collins and Milhaus are residential developers with other large downtown apartment projects under way. And office and industrial developer Browning Investments is teaming with The Whitsett Group, another established apartment developer, principal Jamie Browning said.
Overall, $480 million in residential development, including more than 3,200 units, is slated to begin or be completed by 2017, according to Indianapolis Downtown Inc.
Still, most experts are not yet concerned the market is in danger of saturation. With occupancy rates hovering around 96 percent, it's hard to argue against the new development.
"The amount of multifamily development in downtown Indianapolis is one of the most exciting things to happen in downtown in several years," said John Sebree, national director of multifamily housing at Marcus & Millichap. "Assuming that everything doesn't get delivered to the market on exactly the same day, I think you'll have absorption."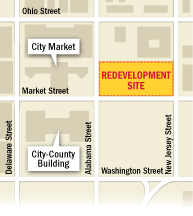 Flaherty & Collins' Cosmopolitan on the Canal complex downtown contains 218 units in a first phase that are 100-percent leased.
The company also is developing an $85 million mixed-use project at Capitol Avenue and Michigan Street called Axis at Block 400. The plan, which incorporates a Marsh grocery store, calls for almost 500 apartments.
Milhaus' most ambitious project, the $30 million Artistry in the former Bank One Operations Center just south of the Market Square site, will house 256 apartments in the first phase. Interest has been so strong in Artistry, set to open in August, that Milhaus plans to release the units to the public sooner than expected.
"I think the market dictates when properties are at the right time for development, and I think this is as good a time as any," said David Leazenby, Milhaus' vice president of predevelopment services.
The first phase of units in the $155 million CityWay by Buckingham Cos. leased up quickly, and workers are constructing hundreds of additional units at the development near Delaware and South streets.
Whether Buckingham will bid for the Market Square redevelopment is unclear. At press time, Buckingham was still evaluating the city's RFQ and had not made a decision, a spokeswoman said.
The continued demand for downtown housing is enough to convince Flaherty & Collins CEO David Flaherty to throw the company's hat in the Market Square sweepstakes.
"When Buckingham opened their [CityWay] deal, we wondered if we would see something at Cosmopolitan," he said. "We didn't even see a blip."
The third time, indeed, might be the charm for the Market Square property.
In 2004, the city approved a $140 million development on four acres at the site that included twin 29-story towers with 450 condominiums, 175,000 square feet of retail, and 700 parking spots. But the project went through several changes and ultimately fell through after the developer failed to secure bank financing because it did not pre-sell enough condos.
The city received two more proposals in 2007 that ranged between $130 million and $150 million. The deals fizzled after negotiations with then-Mayor Bart Peterson's administration stalled over incentives.
The last time, no pre-sale requirements were allowed of the bidders. It likely wouldn't have mattered, as the housing market was on the verge of collapse.
Local real estate experts say the city is wise to call for apartments rather than condominiums this time around because securing financing for condo projects is still too dicey.
Even so, the city is taking a cautious approach, choosing to issue a request for qualifications rather than a request for proposals. The difference is that an RFQ allows a developer to submit general plans without spending tens of thousands of dollars on specific designs.
When the city might choose a redevelopment plan is unclear.
"It could be a couple weeks or a couple months," Kintner said. "But we'll get to it as quickly as we can."•
Please enable JavaScript to view this content.