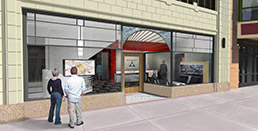 Schmidt Associates will be redeveloping the 500 block of Mass Ave.(Rendering/Schmidt Associates)
The architect chosen to design a massive redevelopment on Massachusetts Avenue is undertaking a smaller project on its own office just down the street.
Schmidt Associates, which occupies three connected buildings on the triangular block between Massachusetts Avenue and Vermont Street, is moving its main entrance to face Mass Ave.
When the firm bought the buildings in 1986, it made better business sense to face Vermont, because Mass Ave was hardly the hot spot it is today, CEO Wayne Schmidt said in a statement.
"Now, 27 years later with the renaissance of retail, residential and restaurants and entertainment along Mass Ave, it's time to turn our main entrance around and face the bustling Mass Ave side," he said.
Schmidt is the architect for the $43 million residential and retail development to be built in the 500 block of Mass Ave on land currently occupied by the Indianapolis Fire Department.
The firm's new address will be 415 Massachusetts Ave., and the new entrance should be open by mid-May.
 
Please enable JavaScript to view this content.