Indianapolis' North American Soccer League franchise has scored 3,000 season-ticket deposits—a full year before the team will take the field.

And with the team expected to unveil its name, team colors and logo in late April, team officials expect another sales spike.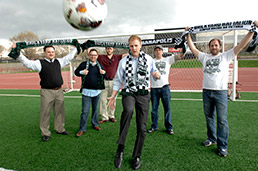 The Brickyard Battalion has nearly 900 members in nine chapters. (IBJ photo/Perry Reichanadter)
Team CEO Peter Wilt calls the local outpouring in the three months since developer and team owner Ersal Ozdemir announced his plans to bring professional soccer to Indianapolis "phenomenal."

It never would have happened, Wilt said, without the efforts of a little-known not-for-profit called the Brickyard Battalion.

Richey
"Having a team here is a dream for us," said Derek Richey, one of the Battalion's eight founders and its CEO.

The formation of a pro soccer team in Indianapolis started out as more of a bizarre fantasy that only true sports fanatics can imagine. Richey, a 41-year-old marketing executive, and two soccer-loving pals, Brett Corbit and Jared Skinner, formed a Facebook page in 2009 for a make-believe pro soccer team they called Racing Indy SC. The word Racing is pronounced—in the tradition of European soccer—with an 'ah' sound instead of a long 'a' sound.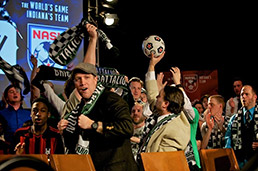 Brickyard Battalion members celebrated in January as the city's new soccer team was announced at a press conference at the JW Marriott. (Photo courtesy of Brickyard Battalion)
Word spread through soccer hangouts—such as Chatham Tap on Massachusetts Avenue and Union Jack's Pub in Broad Ripple—about the website. Soccer nuts began to flock there by the hundreds.

"It was our way of showing our support for the sport," said Richey, the son of an Army veteran and Indiana University graduate. "It was a way to unite and show people how strong this soccer community is. We've also had a lot of fun with it."

Richey, whose mom is German-born, spent part of his youth in Europe where he watched some of the world's best soccer teams.

"I was taken by the atmosphere and how the support groups back the teams [in Europe] and set the tone at home games," Richey said. "That's what we want here."

As strange as operating an imaginary team may seem to most adults—and maybe even children—it wasn't enough for this city's most rabid soccer fans.

A second contingent, led by local restaurant manager Justin Wiese, launched a real support group for the imaginary Racing Indy SC team.

Playing off the imaginary team's name and the city's motorsports heritage, Wiese named the support group the Brickyard Battalion, and launched a Facebook page that proved just as popular as the imaginary team's.

In 2010, Battalion member Daniel Eccles took the fantasy to a new level. No longer content with supporting a fantasy team, he launched a website called "Bring an MLS Team to Indianapolis." Together, the three Facebook pages collected more than 3,000 followers.

The three groups had numerous gatherings, produced and sold merchandise, and made a considerable clatter on social media. In short order, they had become a sizable soccer mob—the good kind. And Ozdemir, president of Indianapolis-based Keystone Group, took notice.

Ozdemir
Ozdemir, a Turkish immigrant and Purdue University graduate, was a huge soccer fan who had kicked around the idea of forming a local pro team.

"Before starting a soccer team in Indianapolis, I had to be confident there would be sufficient support for the long term," Ozdemir said. "[The Brickyard Battalion] was a sign of that."

Shortly after Ozdemir hired CEO Wilt, who was the founding general manager of Major League Soccer's Chicago Fire, Wilt met with Battalion members.

"I've been around a lot of soccer teams and support groups, and let me tell you, these guys are amazing," Wilt said. "The formation of this team would not have happened without the passion of the Brickyard Battalion. They're not advocates, they're evangelists."

No cheerleader rah-rah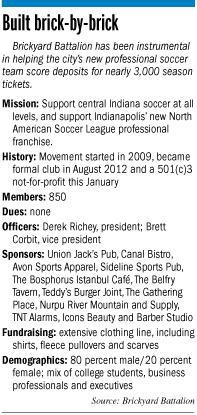 They're also independent. Brickyard Battalion members will quickly point out they're not a team-run fan club.

"We do a lot in conjunction with the team, but we make our own decisions," Richey said.

Local team officials often confer with Battalion leaders to get the fans' feedback on certain proposals and initiatives. For instance, such feedback helped Wilt and Ozdemir conclude that a centrally located soccer-specific stadium, preferably downtown, will be critical to the team's success.

The team will play its first two or three seasons at IUPUI's track and soccer stadium before building an 8,000- to 10,000-seat stadium with surrounding retail and residential developments, Ozdemir said. IUPUI officials said they're still finalizing a deal for the team to play at its campus facility.

The three local soccer support groups united under the Brickyard Battalion moniker in 2012 and received 501(c)3 not-for-profit status in January.

While supporting the new NASL franchise is one of its chief initiatives, Richey said the group supports soccer in central Indiana at all levels, including youth soccer, adult leagues and other community initiatives.

"Our whole mission is to make people in this community as passionate about this great game as we are," Richey said. "Part of that is making sure people are aware of this team wherever we go."

Operators of the local NASL franchise applaud the Battalion's autonomous nature.

Independent support groups have long been the backbone of soccer, said Tom Dunmoe, former chairman for Section Eight, the Chicago Fire's support group.

"This isn't like the NBA or NFL where the rah-rah is generated from the Jumbotron or cheerleaders," said Dunmoe, who was recently hired as vice president of marketing and operations for Ozdemir's soccer organization, Indy Pro Soccer. "The independent nature of these support groups gives you a sense that you're creating the culture of the team in the way the fans want."

Growing force

The Brickyard Battalion has nearly 900 members in nine chapters stretching from just north of Louisville to Muncie, and group leaders are confident they'll be at or above 1,500 members by the time Indianapolis' NASL team kicks off in April 2014. If the Brickyard Battalion gets to that size, they'll be bigger than support groups for 13 of the 19 Major League Soccer teams.

The Battalion also has 11 corporate sponsors, a number that has begun to grow since the announcement of Ozdemir's team, Richey said.

The success of IU's soccer team, as well as strong soccer movements in places like Carmel and Lawrence, has fueled growth in the local movement, Richey said.

"Our support group is already twice the size of some of the MLS support groups," he said.

The club's major fundraising mechanism is merchandise sales, including more than 400 scarves at $20 each and hundreds of shirts and fleeces ranging in price from $10 to $27.50.

"All the money goes right back into growing the Brickyard Battalion and its mission," said Richey, who, like the rest of the group's officers, is an unpaid volunteer.

So impressed by the group was Zach Adamson, a Democratic City-County councilor, that earlier this year he introduced a resolution recognizing the Battalion's contributions to the city.

"It's grass-roots efforts like theirs that make this city strong," Adamson said.

There are still skeptics that doubt Ozdemir's grand soccer plans will work. A number of professional soccer teams have failed in Indianapolis over the years.

"Those teams failed because they never had the proper community support," Richey said. "We're here to change that."

James Hope, president of the Crocketteers, the support group behind San Antonio's NASL team, said he's seen few efforts as organized as Indianapolis' before a team launches.

"I don't care what league you're talking about, The Brickyard Battalion is on the path to being one of the best support groups in the nation," Hope said. "They've done all the hard work it takes to build a solid fan base there."•