Indiana's county-owned hospitals have rushed to acquire nursing homes in the past two years, opening a much-needed revenue stream for both the hospitals and the long-term-care facilities.
But there are signs the additional federal revenue that has driven these purchases and helped fix up the nursing homes could come under threat.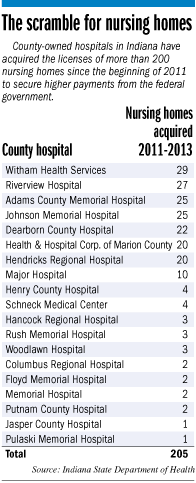 In March, the federal agency that oversees the Medicare and Medicaid programs sent out a letter saying it would give additional scrutiny to the programs county-owned hospitals have used to pull in extra nursing home revenue from the federal government.
That scrutiny now affects more and more hospitals around Indiana. Since 2011, Indiana's county-owned hospitals have acquired the licenses of 205 nursing homes around the state—many of them far from the campuses of their new owners.
In Indianapolis, any changes to nursing home reimbursement could hit Wishard Health Services particularly hard. The county-owned hospital system's 59 nursing homes generated cash flow of $104 million last year—money that is particularly helpful to Wishard as it pays for the $754 million replacement hospital it's building downtown.
Wishard officials say they are not concerned about changes to the program. But they and other hospital executives are monitoring the situation.
Hospitals across the region, from Witham Memorial Hospital in Lebanon to Johnson Memorial Hospital in Franklin, say they launched the nursing-home buying spree to improve their quality and to gain greater control over the facilities where their patients often go after receiving treatment in a hospital.
And the nursing home operators say they gain expertise and resources from the hospitals to help them do a better job keeping patients healthy after they have been hospitalized.
Those explanations are true enough. But the nursing homes also allow the county-owned hospitals to bring in about 40 percent more revenue from the state-federal Medicaid program.
"This program allows critical-access hospitals and rural-independent hospitals, like Witham, to remain solvent in a very competitive marketplace—which benefits not only the patients in the nursing homes we serve, but also in our own back yard by remaining open to care for our residents," wrote Ray Ingham, Witham's CEO, in a written response to IBJ's questions.
That extra revenue was first seized upon by Wishard in 2003, when the county-owned hospital was drowning in red ink. Since Wishard's success with the strategy, 20 other county-owned hospitals in Indiana have followed suit, bringing in hundreds of millions of dollars in additional revenue to themselves and to their nursing-home partners.
Here is how the arrangements work: Medicaid rules allow governmental entities—which county-owned hospitals are—to pay their state Medicaid agencies extra fees that will trigger higher federal matching funds, up to a point that lets them receive the maximum federal payments. These extra payments, which are even greater than the extra fees, are known as "upper payment limit," or UPL, payments.
Because the Indiana Medicaid program pays nursing homes at rates well below the maximum federal rate, the difference is substantial.
"The influx from the federal level can be significant," said Larry Heydon, CEO of Johnson Memorial Hospital. He said his hospital receives an extra $65 per Medicaid patient per day—or an increase of about 39 percent—because of the "Upper Payment Limit" funds.
Johnson Memorial Hospital acquired 25 nursing homes in 2012 and 2013. Only one of them is in Johnson County and only nine of them are within 40 miles of the hospital's campus.
Johnson Memorial obtained 20 of its nursing home licenses through sublease agreements with Miller's Health Systems, a nursing home operator based in Warsaw. Johnson Memorial is working with Miller's to obtain eight more nursing home licenses this year.
Heydon said he is worried that Congress or the Centers for Medicare & Medicaid Services—the federal agency that oversees those programs—will crimp the growth of those payments in the future.
"I'm concerned if there are any changes. And there may actually be some changes," Heydon said. "If the state of Indiana had higher Medicaid [payment] levels, then these programs wouldn't mean as much to us hospitals. But the fact that it's a very, very low payment rate, makes these programs very important to us."
Other hospital executives said they are not worried about the CMS agency cracking down on the UPL payments to nursing homes.
Brian Tabor, a lobbyist for the Indiana Hospital Association, said he thinks the program is safe—particularly in Indiana.
"There may be other states that have not made changes to their UPL programs for a number of years," Tabor said. "But because we've made some recent changes here, I'm not really concerned in Indiana."
Reeling in reimbursements
The fate of the UPL program is important because in recent years both hospitals and nursing homes have faced numerous cuts to their already-low reimbursement rates.
For hospitals, the 2010 Patient Protection and Affordable Care Act called for $155 billion in cuts to hospital reimbursement over a decade. Then the fiscal-cliff deal on Jan. 1 this year chopped out another $15 billion. And Congress' budget sequester, which hit March 1, looks ready to sap another $10 billion.
The federal Medicare program cut reimbursement to nursing homes 11 percent last year, and rates will decline another 2 percent this year because of sequestration cuts. Payments from the state of Indiana for the Medicaid program also were cut 5 percent in 2012.
Those two programs account for more than 90 percent of revenue at most nursing homes in Indiana.
As a result, nursing homes in general have delayed needed improvements to their facilities, said Patrick Boyle, CEO of Miller's Health Systems.
Because Miller's subleased 20 of its nursing homes to Johnson Memorial Hospital, the hospital now records the revenue from those facilities on its books.
In addition to making lease payments, Johnson Memorial also pays Miller's a management fee to run the facilities. Neither organization would disclose the amounts of those payments.
Other hospitals actually have acquired the nursing homes from their former owners and then paid them a management fee.
Riverview Hospital in Noblesville did a bit of both. It got into the nursing home business in 2011 by acquiring nine homes from Bloomington-based CarDon & Associates and paying to rent the facilities.
In 2011, Riverview paid CarDon a total of $13 million, or nearly 27 percent of the $49 million in net patient service revenue the nursing homes generated that year.
The nine nursing homes brought Riverview $1.2 million in additional operating income—a 28-percent increase to Riverview's operating income from the previous year.
Riverview now has acquired the licenses to 27 nursing homes since 2011—with only 11 of them within a reasonable driving distance of its hospital campus.
Riverview's recent activity has been exceeded only by Witham, which has acquired 29 nursing homes since 2011.
The nursing homes boosted Witham's net patient service revenue by nearly $37 million in 2011. Witham CEO Ingham said the rules of the program have so far prevented any of that revenue from flowing to Witham, although he expects the money to benefit Witham in the future.
Because of President Obama's 2010 health reform law, nursing homes and hospitals are under increasing pressure to make sure patients that have to go to a hospital do not have to go back for the same issue. The federal Medicare program is starting to dock hospitals' pay if they have abnormally high rates of patient readmissions for the same issues within 30 days.
"Everyone has an interest in that discharge process," Boyle, CEO of Miller's Health Systems, said. "They've always had that, but the way the new law is written, there's even more."•
Please enable JavaScript to view this content.