Zionsville's new economic development plan calls for ramping up commercial activity in the predominantly residential community—just not at the expense of the mom-and-pop shops that give the Boone County town its charm.
Main Street is paved with bricks and lined with independently owned businesses, a source of pride for the quaint community. But a handful of high-profile vacancies and a growing number of non-retail uses along the strip present challenges for merchants who depend on foot traffic to deliver customers to their doors.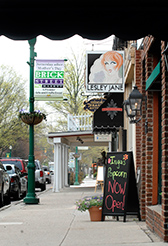 Inga's Popcorn has filled an empty storefront that housed a men's clothing store. (IBJ photo/ Perry Reichanadter)
"That is one of our biggest assets, even in terms of drawing new businesses," said Town Council President Jeff Papa. "It is really vital that we find ways to keep what we have there and attract more. We take that very seriously."
Officials hope an extensive market study will provide the road map they need to steer the district in the right direction. The Zionsville Economic Development Commission is finalizing a request for proposals for the analysis.
A draft version of the RFP asks consultants for ideas for recruiting new anchor tenants and recommendations on the appropriate mix of businesses to keep the area viable despite "intense competition from the edge of town."
That competition will only increase if Zionsville's desirable demographics spur commercial investments in the community, as called for in its strategy for economic development.
The plan, a broad vision for the southeast corner of the 52-square-mile community, is expected to guide policy, zoning and infrastructure decisions over the next 10 to 15 years.
Its goals include attracting high-quality employers by enhancing marketing efforts and improving government processes, but the plan also emphasizes the importance of retaining existing businesses—particularly those downtown—and helping them grow. Protecting Zionsville's small-town aesthetic also is a priority.
"Main Street has some challenges, and the market study will tell us what works and what doesn't," said ZEDC Chairman Charlie Edwards.
Parking is an issue, for example, along with what he called a "unique set of circumstances" that comes with the existing, aging infrastructure downtown.
Edwards and others said some churn is inevitable in any retail environment, and the current vacancies simply underscore the importance of having a shared vision for Main Street.
"As we have turnover and new tenants, we need to know what would be desirable so we are prepared to fill vacancies in a way that makes sense," he said. "We want businesses that feed off each other."
Merchant Inga Smith has seen that philosophy in action. She opened Inga's Popcorn in the village April 20 and almost instantly started seeing neighboring business owners send customers her way.
It was an encouraging start for Smith, who lives on Main Street and tested interest in her candy-coated gourmet popcorn at the Zionsville farmers market last summer.
"This is a very, very supportive community," she said. "There's such a family feeling."
Still, Smith said she has caught some flak from other merchants over her decision to close the shop on Sundays, something she might reconsider when she's able to hire some help. Until then, she said, "I need a day off."
Among her other early observations: the abundance of offices occupying prime retail space. Smith acknowledged the difficulty of turning away any tenant, but said she'd like to see more small businesses like hers in the village.
Business owner Bob Goodman puts it more bluntly.
"Offices are bad for Main Street," said Goodman, an Indianapolis resident who opened Robert Goodman Jewelers in Zionsville 13 years ago and is involved in the community as a member of the ZEDC, the Zionsville Chamber of Commerce board and the Zionsville Merchants Association.
Although he has his own opinions about the current mix in the business district, he has faith that the upcoming market study will provide the hard data necessary to identify and address Main Street's needs.
"This is tough stuff, so you've got to be very patient, very thorough. Otherwise, you're throwing darts at the wall," Goodman said. "I can't walk up and down the street telling people what to do. You need to have facts."
That's why the town is looking for expert analysis, said Wayne DeLong, Zionsville's director of planning and economic development.
So what happens if the ideal business mix doesn't match the current array of retail, commercial and service options? That, too, remains to be seen.
"That's the question," DeLong said. "How far do you go to manage your own destiny versus letting the free market work?"
It's easier to control new development using tools like zoning restrictions and architectural requirements. A $3 million mixed-use project planned for Zionsville Road and 106th Street, for example, is intentionally replicating Main Street's period look in hopes of extending the business district a few blocks south.
Dubbed South Village of Zionsville West, the three-building complex anchored by a Bub's Burgers restaurant is seen as a valuable connection between the historic village and new office development expected along 106th if a deal to acquire 80-plus acres of land from Dow Chemical Co. goes through.
"Employees could walk to the village on their lunch hour and buy a sandwich and a souvenir," said Papa, the town council president. "We're looking to create foot traffic for businesses that are already there."
Linking the new and old also would draw attention to the troublesome intersection of Sycamore and Main streets, where an old Citgo gas station property has stood vacant for years due to a complicated ownership arrangement that has hampered development.
PNC Bank recently closed a bank branch at the same corner, prompting the town to investigate the possibility of acquiring the property and a neighboring parking lot it already rents on an annual basis.
"It's definitely an opportunity for the town to maximize the redevelopment potential of that area," DeLong said. "As a community, we don't want the gateway to downtown to be vacant lots and undeveloped property. … But it also provides some edginess. It makes people ask, 'What's happening here? What's happening next?"'•
Please enable JavaScript to view this content.