The location, overlooking the main drag in Broad Ripple, may be familiar. So, too, may be the patio dwellers packing the place on weekend nights. But there are definite changes at Sabbatical (921 Broad Ripple Ave., 253-5252), the latest libation purveyor taking the spot where La Jolla once held steady. That was a restaurant people talked about a lot more for its populous deck than for its cuisine, something Sabbatical is trying to change.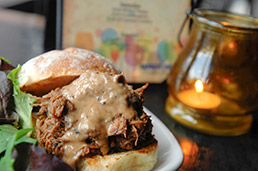 Sliders come stuffed at Sabbatical. (IBJ Photo/ Perry Reichanadter)
Oh, the deck is still there. And the service remains laid-back and friendly. But there's been a concentrated effort to bump up the menu, demonstrating ambition if not always the ideal execution.
Take, for instance, the S'Mocha Pepper Brisket ($8) and the Spicy Tequila Pulled Pork ($8). In each, the innards were fine. The former featured slow-cooked beef brisket rubbed with coffee, Mexican chocolate, crushed black peppercorn and spices and finished with a bit of portabella cream sauce. Bring on a bowl of that.
Unfortunately, I didn't opt for the simple slider option. My brisket was served in fried wonton tulips. The crunchy fried cups not only were difficult to manage, but also fought with the flavor of the meat and its adornments. The same issue was multiplied with the pulled pork, in which the alcohol in the tequila seemed not-quite cooked off (yes!) but the cups and a fried onion garnish trivialized the dish.
More successful was the Red Pepper and Bean Dip ($7), with uncomplicated veggies and triangles of nan for dipping into the cheese-covered puree of roasted red pepper, garlic and kidney bean. I could have dipped all night.
The Stuffed Portabella ($9) included diced vegetables and Cajun remoulade topped with melted cheese and fresh herbs. The toppings were a bit soupy, but overall it would make an acceptable vegetarian choice.
For dessert, the kitchen seemed to be working too hard to detail the Banana Bread Cookies ($7) when more attention should have been paid to simply baking them to a more satisfying, less-doughy consistency. Better was the Fudge Cake ($7), a gluten-free concoction that was actually quite tasty, especially when served hot. As in piping hot.
Of course, one may legitimately ask how much if any of that matters when you are gabbing and noshing and people-watching over St. Germain French Gimlets and Apple-spiced Hot Toddys. (Yes, the drink menu has changed, too.)•
—Lou Harry
__________
Last in a month-long series of food-and-a-drink eatery reviews.
 
Please enable JavaScript to view this content.