As a rule, I dodge reviewing benefits in this column. That's because, at most fundraisers, the emphasis is less on performance and more on persuasion: While some entertainment may be provided, the primary mission is to encourage donations. That's all well and good—and necessary—but it's not something that usually can or should be reviewed.
I make an exception, of sorts, with Spotlight, the jaw-dropping organizational feat that results each year not only in significant funds raised ($367,000 this year for the Indiana AIDS Fund), but also in a wonderful arts smorgasbord of a show. At the April 22 event, 20 performers and groups from central Indiana showed their stuff, just about all to very positive effect. One flaw at Spotlight, though, is that, apart from a blurb in a packed printed program, not much is offered to connect the audience to the performers they've just fallen in love with. Sure, most are probably well aware of the Indianapolis Symphony Orchestra, the Indiana Repertory Theatre, the Indianapolis Children's Choir, et al., but some guidance may be helpful regarding some of Spotlight's lesser-known groups.
For instance, Know No Stranger. Not familiar? Well, that could be because the group's schedule seems to function at whim, as does its programming, which focuses more on experiences than it does on polished presentation.
At Spotlight, the ragtime collective of creative minds inventively concocted "Wildwood," the tale of a bear and its forest acquaintances. And while the story itself was fairly pedestrian, the execution was surprising and delightful, using projections, puppets and a conveyor belt to literally keep the story moving.
Want more? Know No Stranger will be part of the May 11 "Get Down on It" event celebrating the opening of the Cultural Trail. Feeling adventurous? On May 18, the group hosts a 24-hour Scavenger Hunt that could take participants as far as Bloomington or Lafayette. Objects to be scavenged might include a live, unharmed pigeon or a newspaper from event day with all the puzzles solved. You get the idea. Maybe. Game? Visit www.knownostranger.com.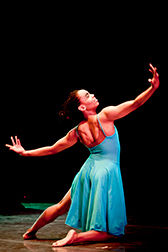 One benefit of the annual Spotlight event is new audiences encounter the likes of Nicholas Owens Dance Company (Photo courtesy of Gray Dragon Photography)
Dance highlights at Spotlight were many, and while Butler Ballet, Dance Kaleidoscope and Gregory Hancock Dance Theatre have set seasons, Kenyetta Dance Company and Nicholas Owens Dance Company do not (yet). Alas, while both companies presented strongly at Spotlight, neither has a show on the horizon to promote. I'll be watching for them both, though, so stay tuned for news in my weekly A&E e-blast.
Bobdirex, one of the new-to-Spotlight presenters, is the moniker for the theatrical creations of Bob Harbin, a former talent executive for Fox in L.A., where his responsibilities included finding talent for "Beverly Hills 90210," "The X Files" and "In Living Color."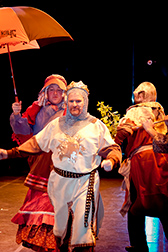 Spamalot produced by Bobdirex. (Photo courtesy of Gray Dragon Photography)
Since retiring and returning to Indy, Harbin has been directing plays throughout the city and under the Bobdirex shingle. Offering a holiday concert/revue and full musical just about every season, this summer he'll direct "Monty Python's Spamalot" at the Athenaeum. As the Spotlight audience sampled, Charles Goad will be clanging the coconuts together as King Arthur. It opens June 14. Info at bobdirex.com.
Near the end of Spotlight, audiences can always count on a song from Steven Stolen, managing director of the Indiana Repertory Theater, host of WFYI'S "Stolen Moments" and, most relevant here, the man behind the Meridian Song Project. That ongoing series of free concerts, held at Trinity Episcopal Church, features Stolen and guest artists in eclectic programs that could include George Gershwin, Burt Bacharach, Benjamin Britten or just about anyone else whose songs can soar. Stolen's next Meridian Song Project program is May 24. It's titled "25" and marks the anniversary of his move to Indianapolis.
Few poets get to perform in front of crowds as big as those at Spotlight. Few, too, could make their spoken word
creation a program highlight. Tasha Jones seems to pull that off every year, this time by heart-wrenchingly painting a picture of her challenges as an artist, mother and abused partner. In the next few months, she'll be performing in Atlanta, Seattle, San Juan … and at the Marion County Juvenile Center. More at Iamtashajones.com.
Harder to define is The Fourth Wall, a trio of musician/dancers who garnered some attention for their work in the Phoenix Theatre's 2012 holiday show. Here, armed with trombone, flute and percussion instruments, they played a medley of 1970s tunes while in near-constant motion, coming off like a very talented home-schooler marching band. The Fourth Wall does a lot of work on the road—May takes it to Evansville, June to Altamont, July to a flute symposium at West Virginia University, August to New Orleans—as well as in schools. Info at thefourthwallensemble.com.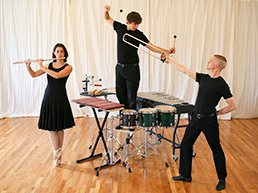 The Fourth Wall (Photo courtesy of Hannah Spence and Steven Silberstein)
Finally, a select audience knows about Asia LaBouche, the cross-dressing lip-synch-er who always closes the first act of Spotlight. Douglas Mellinger—a former Miss Gay Indianapolis—wisely enhanced his act with a quartet of energetic dancers turning "Knock on Wood" and "Gangnam Style" into the joyful anthems they were meant to be. Mellinger is a Saturday night regular at Talbott Street as part of "The Ladies of Legend." Details at talbottstreet.com.•
__________
This column appears weekly. Send information on upcoming arts and entertainment events to lharry@ibj.com.
Please enable JavaScript to view this content.