Property owners in a largely agricultural area southeast of Geist Reservoir are vowing to fight involuntary annexation by the town of Fortville, calling the plan a blatant land grab.

Fortville is seeking to annex almost 6,000 acres to the west, tripling the size of the Hancock County town and adding $53.5 million to its property tax base.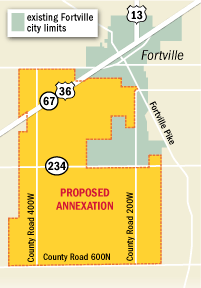 Town officials did not respond to inquiries from IBJ, but a summary of Fortville's fiscal plan for providing services to the targeted territory described the annexation as "a means for providing for the orderly and planned growth of the municipality."

Opponents see the proposal as a desperate effort to capture additional tax revenue for the town, which has seen income drop as the result of statewide property tax caps. But adding 9 square miles of territory—and the associated services—doesn't make sense if Fortville is having trouble making ends meet now, they say.

"Annexation is expensive," said opposition leader Florence May, who lives in the targeted area despite her McCordsville mailing address. "We think it's a pretty major stretch."

The area targeted for annexation has 240 homes and businesses—mostly farms—and an estimated population of 600, according to the town's fiscal plan summary.

Landowners began mobilizing in late March, when they learned about the proposal via certified letter notifying them of a May 29 public hearing.

About a week later, the first meeting of a group now calling itself Fight Against Fortville Annexation drew more than 100 people to Gary Kingen's farm at the southwest edge of the targeted territory, six miles from the current town limits.

Residents compiled a list of concerns about the proposal. Chief among them: the absence of a comprehensive development plan for Fortville and the annexation area, and a lack of confidence in town officials' ability to manage such ambitious, immediate growth.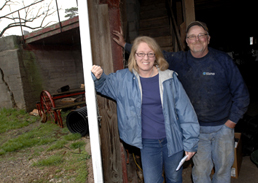 Florence May, left, and Gary Kingen worry about the lack of long-term planning in Fortville's annexation bid. (IBJ photo/Perry Reichanadter)
"This is an annexation with no purpose or direction other than raking money into the Fortville town coffers," May said.

Town attorney Alex Intermill told the Greenfield Daily Reporter that the annexation is a bet on land that is likely to be developed soon, given its location between Fishers and Interstate 70.

"That's where we see the growth coming," he said.

Indeed, Fortville's fiscal plan—approved unanimously at a March 26 special meeting of the five-member Town Council—calls for developers to cover most of the costs of extending municipal services to the annexation area within the required three years.

The town estimates it won't have any financial obligations for providing sanitary sewers and water service, for example, and the plan says gravel roads in the annexation area will be improved as development occurs.

Police protection is expected to cost an additional $15,000 a year.

Hancock County would continue to handle zoning duties in Fortville and the annexation area, according to the plan, and the Vernon Township Fire Department will keep providing fire and emergency medical services.

All told, Fortville expects to spend an additional $245,000 in the first year of annexation, when associated revenue is expected to increase about $420,500.

Although the tax caps would limit the impact on most property owners, May said the town's tax levy would reduce funding for other taxing units—including the cash-strapped Mount Vernon Community School Corp.

Indeed, while the property tax caps the Legislature passed in 2008 provided relief to homeowners, they have strained public budgets that counted on that revenue. State Rep. Bob Cherry, R-Greenfield, said more communities are turning to annexation as a solution, seeking to add revenue by expanding their tax bases.

Cherry co-sponsored a Senate bill that sought to limit the scope of such growth, but it failed to pass out of the House during the most recent legislative session. An interim study committee is expected to review the annexation process this summer as a compromise.

"Usually, you have annexation where growth is occurring and people want services," said Cherry, who does not represent Fortville but is nevertheless familiar with the plans. "In these kind of annexations, you're getting the cart before the horse."

The so-called "western boundary" area Fortville is seeking to annex would increase its total assessed valuation 53 percent, far exceeding the 15-percent limit proposed in the Senate measure.

Cherry said the Legislature needs to address the tax-cap issue and the impact it is having on municipal budgets.

"If I were king, I would put a moratorium on annexations until we can get back and look at fixing the tax problem," he said. "Some communities think this is the solution, but it's not."

A routine State Board of Accounts audit of Fortville finances for 2009 and 2010, the most recent available, found "several deficiencies" in the town's internal controls over financial transactions and reporting. It cited a lack of segregation of duties in the clerk-treasurer's office and a lack of oversight by the Town Council.

The audit also noted the town spent $111,475 on police vehicles with no evidence that it solicited bids.

May said the past missteps make residents question officials' ability to handle more.

"We don't want to see good money go after bad money," she said. "We want to see a plan that shows some prayer of responsible use."

Fortville's Town Council is scheduled to discuss the annexation proposal at its meeting next week, but May said opponents will not be allowed to speak. Still, they're hoping to make their case before the public hearing at the end of the month.

Town leaders must wait at least 30 days after the May 29 hearing to vote on the proposed annexation. If the ordinance is approved, property owners can file a formal remonstrance with the court.

May said most residents believe annexation is inevitable, given the proximity to Indianapolis. But they point to the more measured growth occurring in nearby McCordsville as an example of a smart strategy.

"My hope would be that Fortville learns from this experience and can develop a well-thought-out vision," she said. "That's what they're lacking. There's not even a vision to build a plan around."